Geostorm Could Lose Up To $100 Million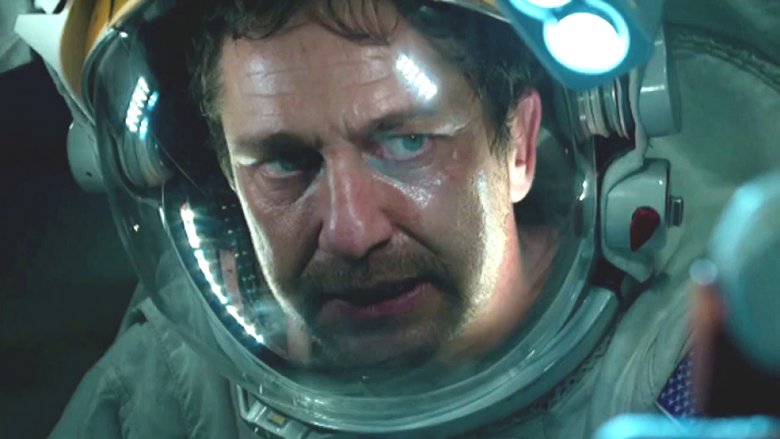 There are disaster flicks and then there's Geostorm.
Arriving 20 months after it was initially scheduled for release, the Gerard Butler action movie finally hit theaters last weekend and promptly bombed in a big way, making just $14 million in the U.S. and $66 million worldwide. But the bigger problem for Warner Bros. is that the movie cost $120 million to make.
As The Wrap points out, that means Geostorm could lose upwards of $100 million dollars, making it the studio's second-biggest flop of the year, behind only King Arthur: Legend of the Sword, which failed to make back its $175 million budget last spring. It's also another bomb for production company Skydance, which co-financed Baywatch with Paramount. That Dwayne Johnson-led reboot made just $177 million worldwide against a $69 million budget.
Geostorm, which stars Butler as an engineer trying to fix a satellite system designed to end climate change, is looking like a financial catastrophe. Box office analysts told The Wrap that Geostorm would likely need to make between $300 million and $350 million worldwide to break even. At the moment, that doesn't look like a sunny forecast. Analysts think it will be pretty amazing if the movie makes $200 million.
The movie has a 13 percent Rotten Tomatoes score and Warner Bros. didn't spend a lot on advertising, which signals that executives didn't have much faith in it. "There really wasn't a lot of advertising for this movie, and that's a sign that WB was willing to cut their losses," said Exhibitor Relations analyst Jeff Bock.
Along with King Arthur, Geostorm is the fifth film with a budget of more than $100 million to bomb at the box office this year. The others are Monster Trucks ($64 million worldwide against a $125 million budget), Ghost in the Shell ($169 million on a $110 million budget), and Valerian and the City of a Thousand Planets ($225 million on a $177 million budget).