The Bones Storyline That Fans Found Completely Ridiculous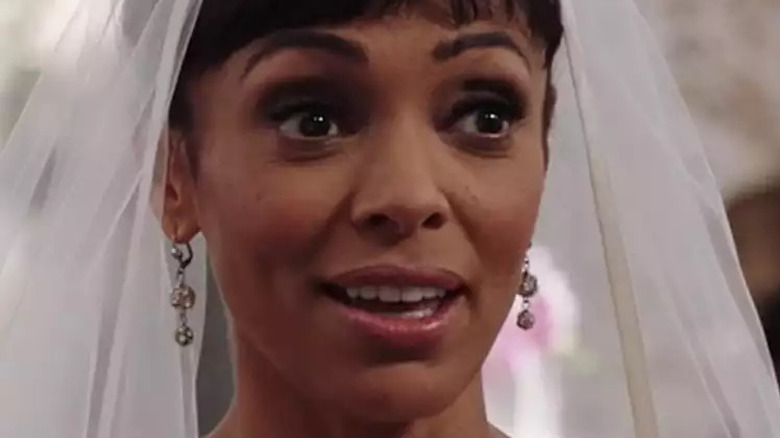 Fox
For 12 seasons, the popular Fox procedural "Bones" took a look at forensic anthropologist Dr. Temperance "Bones" Brennan (Emily Deschanel), her brilliant team, and their loyal interns, known as squinterns, as they assist the FBI, notably Special Agent Seeley Booth (David Boreanaz), with murder investigations. While the series is relatively grounded, some aspects border on the unrealistic.
For instance, forensic artist Angela Montenegro (Michael Conlin) was able to program possibly the most advanced graphics simulation programs, appropriately called the Angelator and the Angelatron, which are usually the Jeffersonian Institute's saving grace in identifying victims. Meanwhile, Brennan not only has three doctorates (in anthropology, forensic anthropology, and kinesiology), making crime-solving fairly easy for her, but also speaks six languages and is the best-selling author of a successful crime fiction book series.
However, there is one specific storyline that some fans found to be completely ridiculous, as evidenced by a Reddit thread on the subreddit r/Bones.
Some fans did not like the killer Christopher Pelant
As fans are aware, hacker turned murderer Christopher Pelant (Andrew Leeds) kills Brennan's friend Dr. Ethan Sawyer (Darin Toonder) and temporarily pins it on her in Season 7, Episode 13, "The Past in the Present." According to the original poster, "It's ridiculous all the stuff they say he can do. It makes him the worst. He has access to so many resources that he shouldn't have." Several commenters shared that they were also unhappy with Pelant's presence on the show.
"It had its moments but it went on for too long and they made him too omnipotent. For a show that claims to try and be believable (wasn't that the excuse for all the Hannah S6 pain) they really went off with the fairies for his evolving storyline," wrote u/Bones206-447. Redditor u/Terrible_Impress6520 also referenced that the hacker was able to steal Dr. Jack Hodgins' (T.J. Thyne) fortune in Season 8, Episode 12, "The Corpse on the Canopy."
While some "Bones" viewers did not enjoy Pelant, executive producer Stephen Nathan shared that both he and creator Hart Hanson are fans of the character while speaking to Collider in 2012. "Hart and I both hate serial killers, as a rule, but we loved this guy. He's just the most interesting multiple murderer that we've ever had on the show," he said.