What Is The Song In HBO Max's Harley Quinn Season 3 Trailer?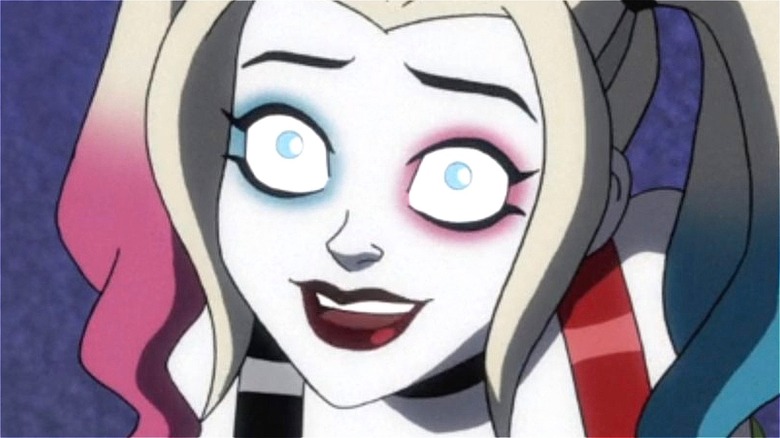 HBO Max
At long last, "Harley Quinn" is set to make its return on HBO Max. The fan-favorite animated comedy series premiered on the now-defunct DC Universe streaming service back in November of 2019. Across its first two seasons, the series not only received consistent critical acclaim (via Rotten Tomatoes), but it also steadily amassed a passionate and dedicated fanbase. Now, over two years after its second season came to an end, "Harley Quinn" is finally on the verge of releasing some new episodes.
The beloved animated comic book series' long-awaited third season is set to premiere on Thursday, July 28 on HBO Max. Unlike the series' first two seasons, which each boasted 13 episodes, "Harley Quinn" Season 3 will be comprised of just 10 installments. Fortunately, despite its smaller episode count, excitement still seems to be high for "Harley Quinn" Season 3 heading into its upcoming premiere. With only a few weeks left before "Harley Quinn" Season 3 debuts on HBO Max too, comic book fans have finally been given a new look at the series' latest batch of episodes.
The season's official trailer packs in plenty of humorous moments and, notably, is set to a song that perfectly matches the rebellious and irreverent spirit of "Harley Quinn."
Harley Quinn's Season 3 trailer uses a song by The Interrupters
The official trailer for "Harley Quinn" Season 3 is set to "Got Each Other" (feat. Rancid) by The Interrupters. Musically, the punk rock jam perfectly suits the anarchic tone of the "Harley Quinn" trailer. However, "Got Each Other" doesn't just work as a tone-setter for the "Harley Quinn" Season 3 trailer. As a matter of fact, the song also connects thematically to the animated series.
The song's lyrics effectively establish it as a rallying cry for everyone out there who might be in need of a found family of their own. That message makes the song a perfect anthem for a show like "Harley Quinn," which has slowly but surely brought its central characters closer together over the course of its first two seasons. The "Harley Quinn" Season 3 trailer hints that the series will continue to focus on strengthening the bonds between its eccentric DC villains as well. King Shark (Ron Funches) even briefly wraps Harley Quinn (Kaley Cuoco), Poison Ivy (Lake Bell), and Clayface (Alan Tudyk) up in a giant group hug at one point in the latest Season 3 trailer.
Of course, the teaser also suggests that the bonds between the show's lovable villains will likely be tested throughout its new episodes. The trailer, notably, shows Harley and Poison Ivy getting into a disagreement over the latter's decision to terraform Gotham City, and it's possible that said rift could lead to the duo breaking up with each other in "Harley Quinn" Season 3.
That said, here's to hoping that the show's third season finds a way to end with Harley, Poison Ivy, and their friends being able to rejoice in the fact that, as The Interrupters' song promises, they've still got each other.