Every American Dad Season Ranked Worst To Best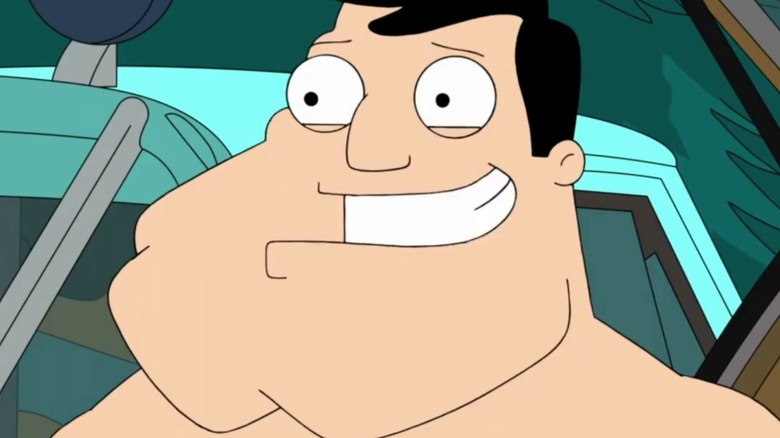 TBS
With over 300 episodes and counting, "American Dad" is one of the most successful and longest-running animated sitcoms on television. Created by Seth MacFarlane and former "Family Guy" writers Mike Barker and Matt Weitzman, the beloved comedy series premiered in 2005 and has been going strong ever since.
While it shares a visual style with "Family Guy," "American Dad" has differentiated itself thanks to its lack of reliance on cutaway gags, a bigger focus on narrative, and its cast of colorful characters. These include the titular patriarch Stan Smith and the lovable alien rogue Roger, who have both brought viewers countless hours of entertainment.
Yet, as is the case with most long-running television shows, "American Dad" has had its fair share of ups and downs. There are plenty of great episodes that have stuck in the minds of fans for years, but the showrunners have also churned out a number of duds that have fallen flat. Here's how every season of "American Dad" stacks up against the rest.
16. Season 12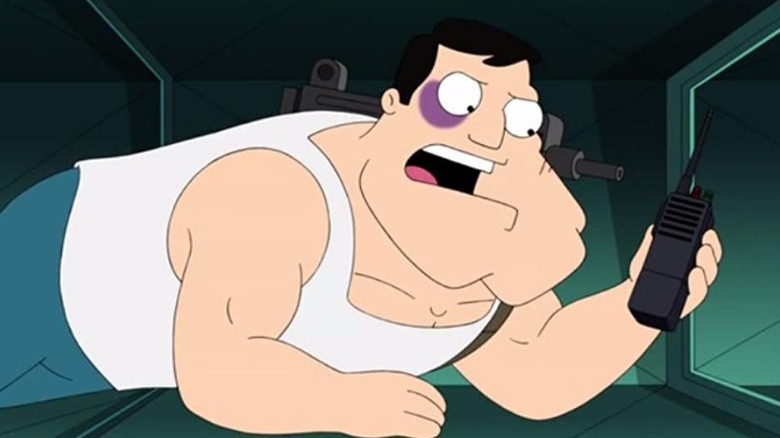 TBS
Season 12 of "American Dad" suffers from the same problem that has afflicted many of the more recent seasons. There are just not enough original and interesting ideas across the entire run of episodes. Most of the episodes tend to fit into one of three different formulas. Some see Stan doing something to upset a member of the family, others see Roger trying to help out but causing chaos, and the rest are generally focused on Steve's naïve view of the world getting him or the family into trouble.
With so little variety in terms of the storylines, Season 12 fails to stand out compared to the rest of the library that makes up "American Dad." Sure, there are some interesting ideas, including the episode "The Long Bomb" where Hayley and Stan finally try to repair their relationship but simply don't know how, yet these are the exception rather than the rule. Ultimately, this season will have done little to bring in new fans and likely not have excited longtime viewers either. There are no real standout episodes or memorable moments.
15. Season 16
TBS
Premiering in April 2021, Season 16 of "American Dad" is one of the weaker seasons of the animated sitcom. Many characters seemed to become caricatures of their former selves, more exaggerated and eccentric than they had been in previous years. The main offenders are Stan, Francine, Hayley, and Steve, who often don't even sound convincing as themselves. Many of the stories also feature more bizarre concepts that seem somewhat out of place.
If you want proof of how poor Season 16 is, just take a look at the low IMDb scores it notched. The episode "Klaus and Rogu in Thank God for Loose Rocks: An American Dad! Adventure" has an average rating of just 5.8, making it one of the worst episodes in the history of the show. While a couple of episodes were good for a few laughs, like "Stan & Francine & Stan & Francine & Radika" and "Little Bonnie Ramirez," the season as a whole is largely forgettable.
14. Season 15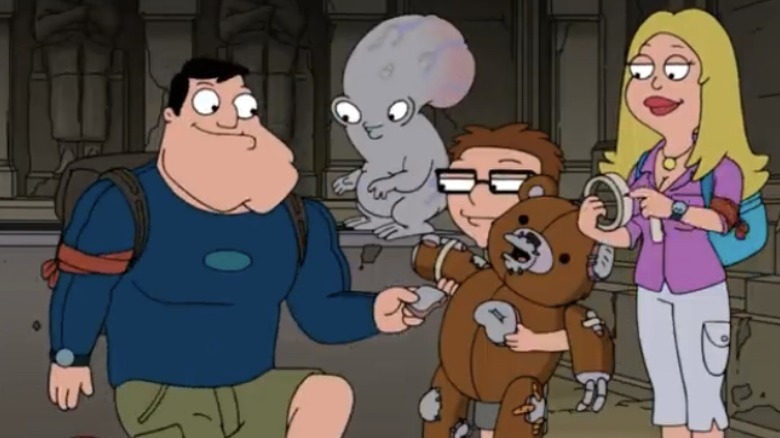 TBS
When "American Dad" transitioned from Fox to TBS, the show began to take on a more experimental feel. Season 15 carried that on, with episodes becoming weirder and wackier than ever before. Granted, the show has never been fully grounded in reality — after all, it features a talking fish and an alien among its main cast — but there's no escaping the fact that, for some people, the bizarre factor has increased just a bit too much. Several episodes in Season 15 even feature supernatural monsters.
The majority of episodes from this largely forgettable season have an IMDb score of 7 out of 10 or less, making it one of the lowest-rated seasons of "American Dad." The likes of "Tapped Out," "Cheek to Cheek: A Stripper's Story," and "The Chilly Thrillies" stand out as some of the worst episodes. Yet, Season 15 did at least have some redeeming features. "300" was a marvelous celebration of everything that makes "American Dad" great and served as a worthy 300th episode for the animated series. "Yule. Tide. Repeat" and "Roger Needs Dick" were also excellent returns to form.
13. Season 10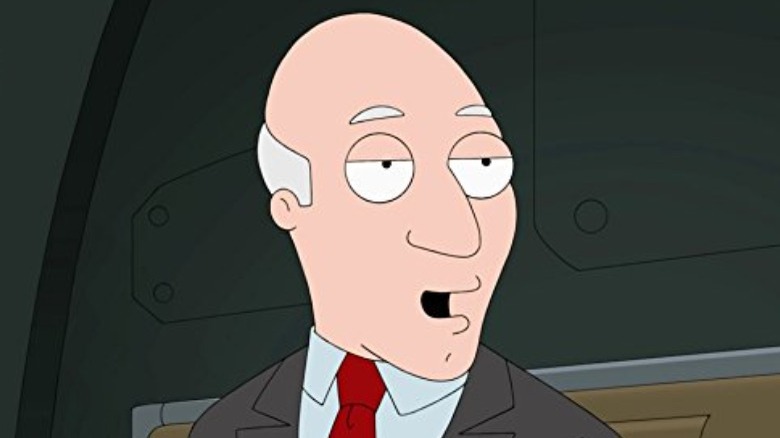 TBS
As reported by AWN, "American Dad" was canceled by Fox and then picked up by TBS. The first group of episodes that aired on the new network arrived in 2014 in the form of Season 10. The Hollywood Reporter also confirmed that co-creator and co-showrunner Mike Barker left the show while the season was in early production, leaving Matt Weitzman in overall charge of the direction of the series.
While later seasons proved to be received poorly in general, Season 10 had its fair share of standout moments. Episodes such as "Holy S***, Jeff's Back" and "Big Stan on Campus" were jam-packed with jokes and there were even some great guest stars across the season, including the likes of Stephen Fry, Josh Groban, Uma Thurman, and Sinbad. Even with the highlights, though, the season is massively brought down by "American Fung" — widely considered to be one of the worst "American Dad" episodes ever.
12. Season 13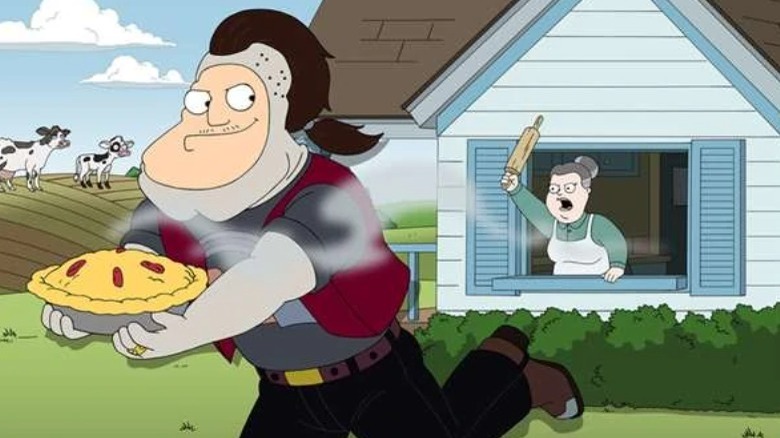 TBS
Season 13 is unique in that it is spread across three different years. It technically started in December 2017 with a Christmas special, with the first batch of regular episodes coming in February of the following year. After a run of 12 episodes, there was a hiatus until the show returned in February 2019 with the remaining nine installments. One of the better examples of the more recent seasons, most of the episodes were fairly well-received by fans.
This season gave us "Persona Assistant" and "Death by Dinner Party," two of the best episodes from the show. "Persona Assistant" involved Roger becoming incapacitated from his years of taking on different personas, prompting Stan to become his personal assistant to help him. Meanwhile, the second is a spoof of Agatha Christie-style murder mystery films such as "Clue" and sees the family attempting to discover if one of them is actually a secret killer. Of course, there are a fair few episodes that are not quite as good, including "Santa, Schmanta," "The Census of the Lambs," and "Railroaded."
11. Season 14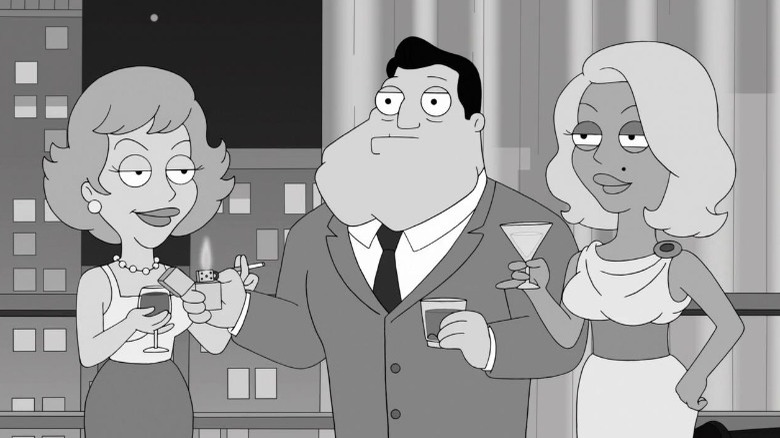 TBS
While Season 14 had a number of episodes that fans may not have loved all that much, such as "Demolition Daddy" and "Hamerican Dad," it does make up for it in other areas. It was something of an experimental season, seemingly attempting to breathe new life into a series that had started to trend downwards. This led to episodes like "Wild Woman Do" where Francine and Jeff teamed up, a duo that had previously not spent any significant time together.
There is one episode that distinguishes itself from the rest. "Rabbit Ears" is the fourth installment, airing in May 2019. In it, Stan becomes obsessed with a mysterious black-and-white show that he watches on a TV set he discovers in the garbage. It's as disturbing as it is funny, with the episode becoming more and more meta as it reaches its conclusion. Although it doesn't exactly answer every question it raises, the episode won plaudits from critics and is one of the highest-rated episodes on IMDb out of the entire series.
10. Season 11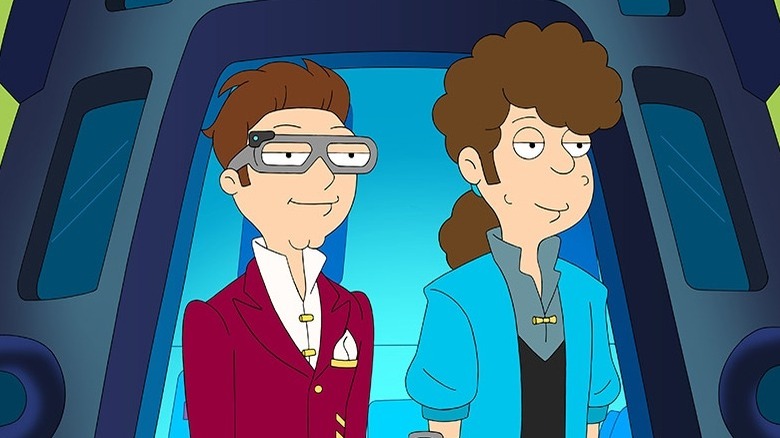 TBS
Season 11 was the second season to air on TBS after the show's move from Fox. It saw a large number of guest stars, with Joan Cusack, George Takei, Missy Elliott, Tyrese Gibson, Billy Bob Thornton, Patton Oswalt, and Jordan Peele just a few of the many stars who had voice roles across the 22 episodes. It also marked the departure of characters such as Terry Bates and John Sanders following the exit of Mike Barker from the show, as he had voiced them throughout the previous ten seasons.
"Kiss Kiss Cam Cam," "Standard Deviation," and "Garfield and Friends" are definite low points, but there are plenty of highlights as well. In fact, Season 11 boasts two of the very best "American Dad" episodes in the form of "The Unincludeds" and "The Two Hundred." Airing back-to-back but unrelated in terms of story, one features Stan exploring a post-apocalyptic world while the other sees Steve and Snot trying to alter their futures. Both received critical praise and are among the most memorable episodes ever.
9. Season 8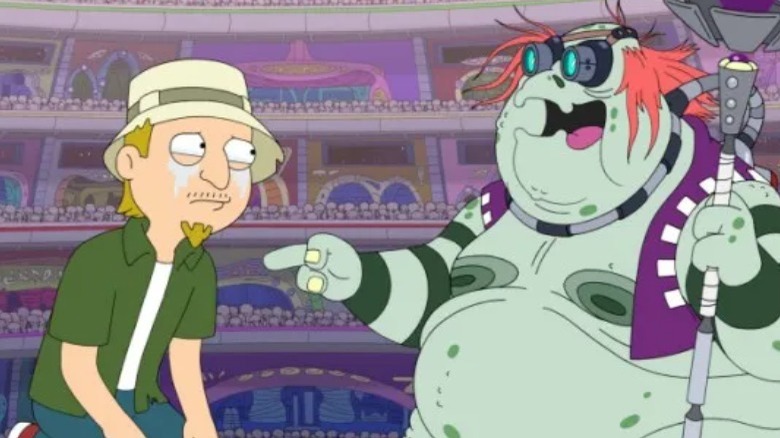 FOX
Despite containing a large number of average episodes, Season 8 boasts several important and highly successful outings. "Adventures in Hayleysitting," "Finger Lenting Good," and "Blood Crieth Unto Heaven" could all be considered classics. What marks all of these episodes out is that they show the characters developing in new and interesting ways. This provides extra depth to their personalities and keeps things feeling fresh.
There's also a sense that dynamics between the various family members are changing somewhat throughout the season. For example, "Adventures in Hayleysitting" sees Hayley and Steve working together for once, while "American Stepdad" sees Roger marry Stan's mother, significantly altering the relationship between the two characters. Nowhere is this more apparent than in the episode "Lost in Space."
Praised by the AV Club and many others, "Lost in Space" is the culmination of an arc that started in the episode "Naked to the Limit, One More Time," in which Roger reveals himself to Jeff for the very first time. It's unusual for the way it focuses entirely on a single individual rather than the wider cast, as Jeff explores an alien spaceship alongside Sinbad.
8. Season 6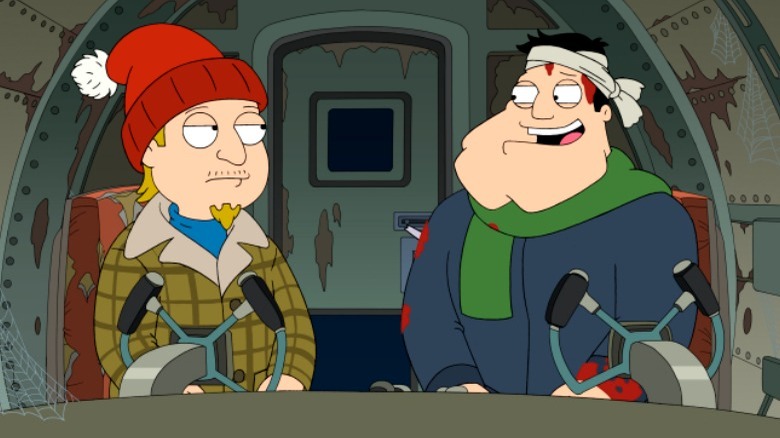 Fox
Season 6 is something of an outlier compared to many of the other early seasons of "American Dad." With an average rating of around 7.4 out of 10 on IMDb, it's not a bad batch of episodes by any stretch of the imagination. In fact, it has some of the most memorable entries from the entire show, with the likes of "Best Little Horror House in Langley Falls," "For Whom the Sleigh Bell Tolls," and "Fart-Break Hotel" all standing the test of time. The Christmas episode, in particular, was filled with laughs as Santa attempts to get revenge on the Smiths after Steve accidentally shoots him.
There's no real standout in terms of poor episodes, with "Gorillas in the Mist" earning the lowest rating but still holding a respectable score. This is indicative of the overall quality of the early seasons of "American Dad," when many viewers consider it to be in its prime. Other notable moments include guest turns from Sarah Chalke, Jason Alexander, and Burt Reynolds, who played a young girl named Cami, a hypnotherapist, and a senator, respectively.
7. Season 4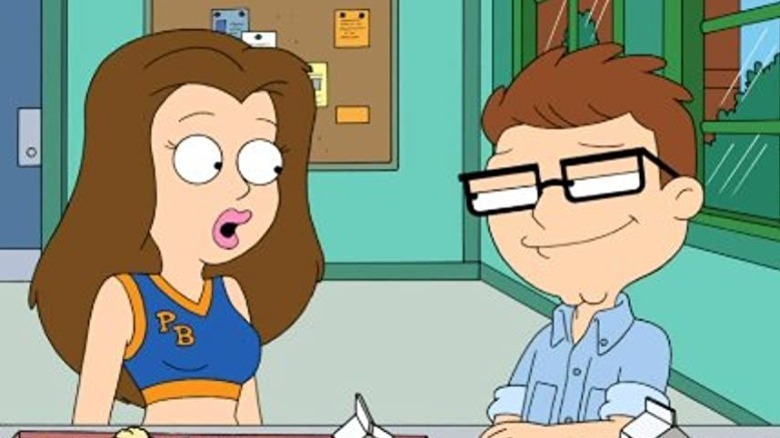 FOX
As one of the earliest seasons of "American Dad," Season 4 is fondly remembered by fans. Drawing consistently high IMDb ratings across all of its episodes, there are no real weak entries here, but none of them really stand out as the best that the animated series has to offer, either. It's the kind of output you'd expect for a show that was hitting its stride and establishing itself.
The opening episode of the season was nominated for a Primetime Emmy Award for Outstanding Animated Program (for Programming Less Than One Hour), but it was ultimately beaten by the "South Park" episode "Margaritaville." The season was also met with strong viewing figures, reaching highs of 7 million according to TV by the Numbers. The likes of Cinema.com also praised Season 4 for its varied storylines and laugh-out-loud jokes.
Season 4 came at a time when the writers were still trying to be current and political, meaning there's a lot of different themes explored that would be pushed aside in later years. Episodes deal with issues such as gun control, but as Matt Weitzman told CinemaBlend, current events are something that the show would soon steer away from because episodes take so long to come out.
6. Season 9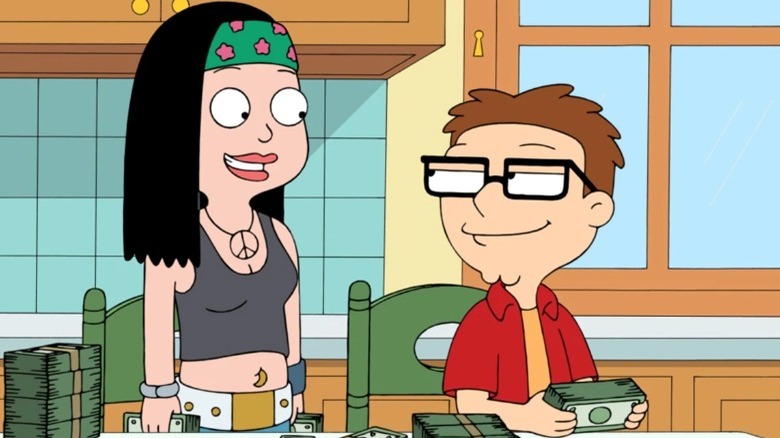 FOX
Season 9 is another example of "American Dad" being steady and consistent. There are no truly exceptional episodes in this batch, though there are some standouts in the form of "Poltergasm," "Familyland," and "Faking Bad." There are one or two dull installments, but there are no major failures, meaning that most fans will enjoy this set of 23 episodes. The 9th season also marked the final time that "American Dad" appeared on Fox before its move to TBS and included three previously unaired episodes.
This season was also notable because it featured Mariah Carey as a guest star in the episode "Kung Pao Turkey." She voiced a redneck character in what was her first ever voice role. Carey was not the only high-profile celebrity to feature, with Zooey Deschanel, Olivia Wilde, Terry Crews, Robin Thicke, and Gary Busey all lending their vocal talents to the season. "The Simpsons" actor Nancy Cartwright even made an appearance as Bart Simpson.
5. Season 7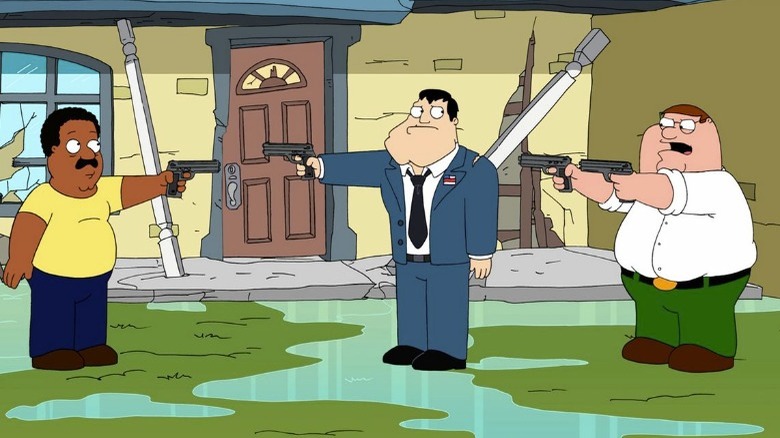 FOX
With "American Dad" reaching its 7th season, the writers took the opportunity to try and keep the series feeling original. There were bigger and more dramatic storylines, with Roger traveling to the Middle East where he meets Ricky Martin, and a rogue Hot Tub voiced by Cee Lo Green attacking the family. The lowest-rated episode was "Stan's Best Friend," with the rest of the season generally being well received by fans and critics alike.
The episode "Hurricane!" was originally intended to air as part of the previous season but, as Collider reported, it was delayed due to the deadly tornadoes that made up the 2011 Super Outbreak. This crossover episode, which has an IMDb rating of 8.0, sees the Smith family stay at home during a tremendous hurricane at the insistence of Stan, with hilarious but frightening consequences. At the end of the episode, Stan meets Peter Griffin and Cleveland Brown, both of whom were involved in the same hurricane.
4. Season 1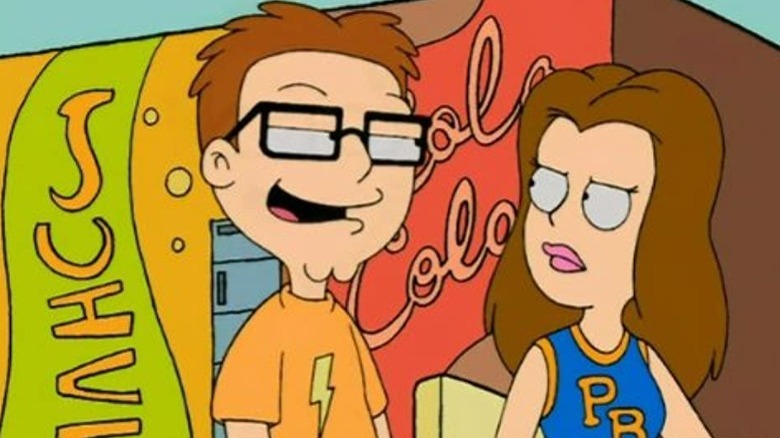 FOX
Making its debut in 2005, "American Dad" was originally meant to be a replacement for "Family Guy," with the creators telling IGN that Fox greenlit the project to keep fans of the previous show satisfied. From the beginning, the conflict between the conservative Stan and his liberal daughter Hayley was central to the show. It first aired straight after the Super Bowl in February, and the next six episodes followed in May. The second group of 16 episodes came in September, causing confusion as to what can be considered the first season.
The pilot proved to be a ratings hit, attracting 15 million viewers according to The Futon Critic. The rest of the season saw this number drop sharply, but it was still a success in most regards and episodes such as "Homeland Insecurity" drew praise. Ultimately, the first season was a strong start to a series that continues to impress to this day.
3. Season 2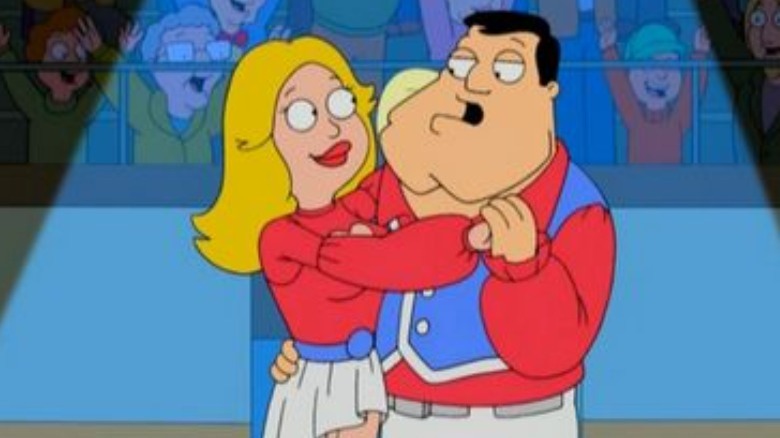 FOX
For the most part, Season 2 was an extension of its predecessor. The 19 episodes that made up the season set up more of the family relationships and fleshed out the characters, giving viewers a more thorough understanding of exactly what makes the main cast tick and what motivates their actions. Stan gets the chance to show off sides to his personality that were previously hidden away, making him a more likable protagonist. This was best exemplified in the episode "Of Ice and Men" when Francine discovered Stan's love of ice-skating.
The season received widespread praise from critics, who pointed out that every episode was consistently funny with no weak links. DVD Talk noted that even the worst episodes of the season still offered viewers a good time. Meanwhile, The Hollywood Reporter confirmed that the episode "Lincoln Lover" had been nominated for an award at the 18th GLAAD Media Awards.
2. Season 5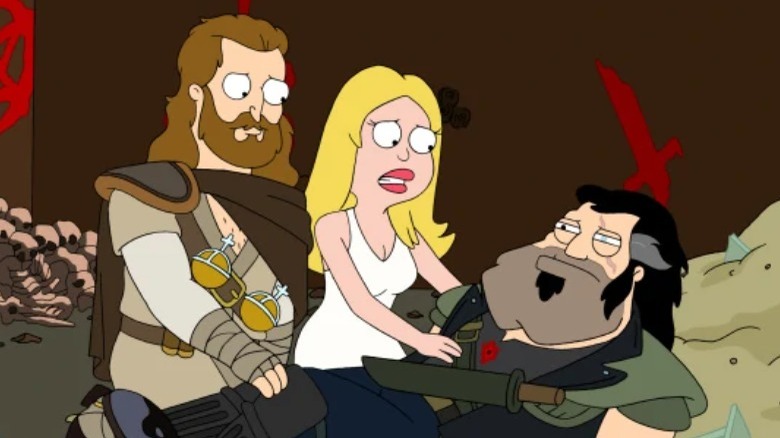 FOX
Like most long-running shows, "American Dad" has a golden period. Season 5 could be said to be right in the middle of this period, which arguably runs from the debut season up to Season 9. So, it should come as little surprise that it contained an incredibly strong collection of episodes. None of them score lower than 7.1 on IMDb and the season as a whole has an average rating of almost 7.6.
Season 5 boasts some truly great installments that are among the best "American Dad" has seen. These include "Bully for Steve," "In Country... Club"," and "Great Space Roaster." There's also "Rapture's Delight," widely considered to be one of the greatest episodes from the show's long history. Forced to remain on Earth after being denied access to heaven during the Rapture, Stan teams up with Jesus to take on the antichrist in a bizarre but endlessly entertaining adventure.
1. Season 3
FOX
Season 3 stands out among the many seasons of "American Dad" for a number of reasons. It marked the move from traditional animation to Flash for the first time, giving the show a crisper and more vibrant appearance. It was also one of the shortest, in large part due to the 2007–2008 Writers Guild of America strike. Yet, despite this, it remains the best received, with the highest average rating on IMDb.
The Christmas episode "The Most Adequate Christmas Ever" was a particular highlight, while episodes such as "Dope and Faith" and "The Vacation Goo" are also all-time classics. Perhaps the best episode of the season (and maybe even the best episode ever) came in the form of the James Bond parody "Tearjerker," set outside of the usual continuity. Stan takes on the role of a secret agent as he tracks down the titular villain (Roger), who is attempting to make the whole world cry. The episode was so popular that it received a sequel episode years later, Season 8's "For Black Eyes Only."