American Pickers Star Mike Wolfe Does The Most Heartwarming Thing Behind The Scenes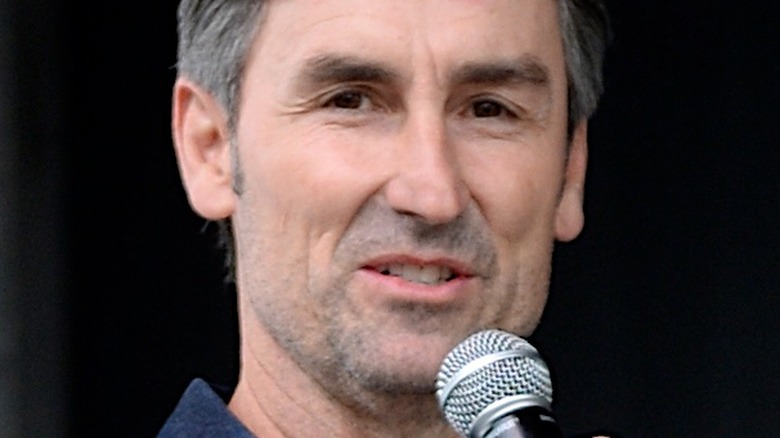 Jason Davis/Getty Images
A lot of people may assume they know Mike Wolfe of "American Pickers" pretty well at this point. After all, his show has been playing on History since 2010 and has gone on to air hundreds of episodes with Wolfe at the center. He's gone across the country spreading his knowledge and purchasing an array of valuables, from motorcycles to old toys. He really seems to know his stuff, but he's so much more than just a history buff with a penchant for anything that goes fast.
On top of traveling around the United States looking for the next great find, Wolfe also operates his own store — Antique Archaeology. It's at this shop where he sells the items he finds for a pretty penny with the assistance of Danielle Colby. He's earned a decent living for himself, all while entertaining the masses on History, but there's one aspect of his life that hasn't really gotten much airtime on the channel.
Mike Wolfe is an ambassador for Operation Smile
Mike Wolfe may spend his days rummaging around junk, trying to find treasure, but deep down, he truly has a heart of gold. This is evident through his work with Operation Smile, with whom he is an ambassador. 
Operation Smile is a charity that seeks to help pay for surgeries for children with cleft lips. This is a medical condition in which a congenital split forms in the upper lip, and it's typically affiliated with the cleft palate. It generally requires surgery to correct, often recommended pursuing in childhood. It's a charity that hits close to home for Wolfe, as he stated in a video that his daughter, Charlie, was born with a cleft lip. Fortunately, Wolfe had the resources to pay for a surgery, but he wanted to help those who perhaps weren't as lucky.
For those kids, Operation Smile is there to help fund surgeries, and they've assisted thousands of kids all over the globe. It's always great to see celebrities give back to their communities, and hopefully, with Wolfe's aid, plenty of money has been donated to this worthwhile cause.