Thor: Ragnarok On Track For $100 Million-Plus Opening Weekend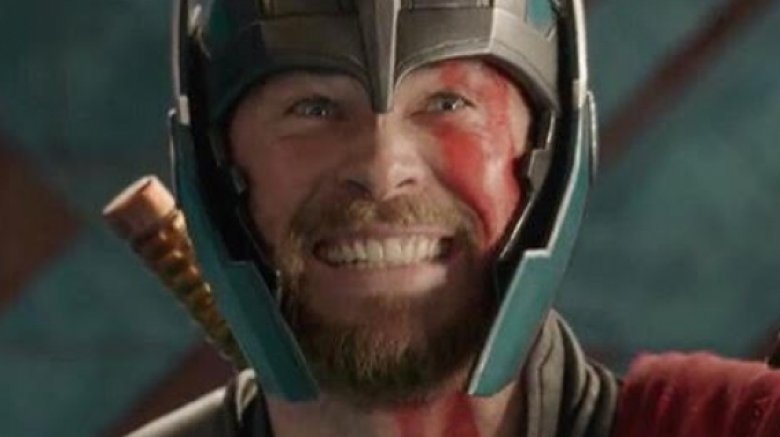 It looks like Thor: Ragnarok will bring out the laughs and pull in the cash. Early projections estimate that the Chris Hemsworth-led superhero pic will earn $100 million or more in its opening weekend in North America (via Variety). 
The first installment in the Thor film series launched in 2011 with Paramount under the studio's deal with Marvel. It took home $65.7 million domestically in its Friday to Sunday opening, and grossed $181 million overall. Two years later, Disney and Marvel got together for Thor: The Dark World, which opened to the tune of $85.7 million and closed out the domestic box office at $206.4 million. Given that Thor: The Dark World earned $20 million more in its opening weekend than the original Thor did, it seems plausible that Ragnarok could yield $20 million more than the sequel. 
While a $100 million-plus launch is impressive on its own, it's important to note that the sum only represents North American revenue. Tracking for international markets is more difficult to navigate, and is made more complex when considering that about half of overseas audiences will see Thor: Ragnarok this week. The pic launches in the U.K. on October 24; in Belgium, France, Italy, Korea, Indonesia, Poland, the Philippines, Taiwan, and Switzerland on October 25; in Australia, Brazil, Denmark, Hong Kong, the Netherlands, and Portugal on October 26; and in Iceland, Norway, South Africa, Spain, and Sweden on October 27.
Large international markets opening next week include Germany on October 31, and Russia and Mexico on November 2. The U.S. and Canada–as well as China, India, and Japan–will see the film hit theaters on November 3. 
If Thor: Ragnarok truly does break the $100 million opening benchmark, it will join this year's Beauty and the Beast, It, Guardians of the Galaxy Vol. 2, Spider-Man: Homecoming, and Wonder Woman, all of which earned that much or more in their launch weekends. 
Directed by Taika Waititi, Thor: Ragnarok stars Chris Hemsworth as Thor, Tom Hiddleston as Loki, Mark Ruffalo as Bruce Banner/The Hulk, Cate Blanchett as Hela the Asgardian Goddess of Death, Idris Elba as Heimdall, Jeff Goldblum as the Grandmaster, Tessa Thompson as Valkyrie, Karl Urban as Skurge, and Anthony Hopkins as Odin.
We'll see just how well Thor: Ragnarok performs in the domestic box office when the film is released on November 3.