Over 41% Of Fans Said These Were The Two Least Likable Characters On The Sopranos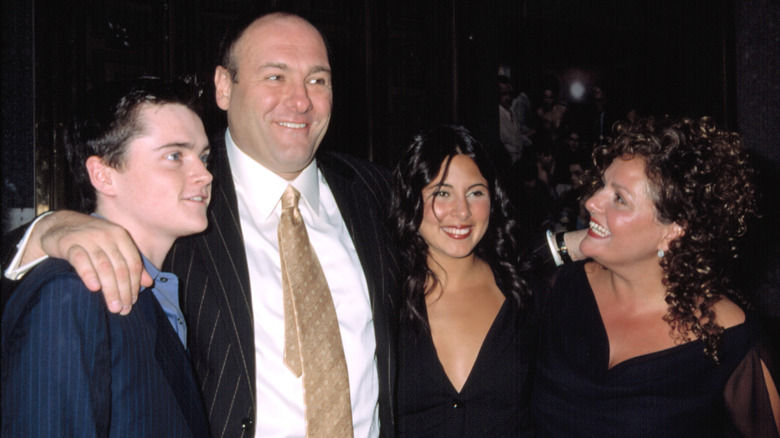 Everett Collection/Shutterstock
Throughout the six seasons of HBO's "The Sopranos," creator David Chase introduced audiences to a dynamic roster of characters. Whether the plot is focusing on the actual family of Tony Soprano (James Gandolfini) or his DiMeo crime family, viewers often found themselves rooting for, or against, whoever is on the screen.
Some, such as Adriana La Cerva (Drea de Matteo), are meant to be instantly likable. It's been well over a decade since the series wrapped up, but her devastating death at the hands of Silvio Dante (Steven Van Zandt) remains one of the most heartbreaking for cast, crew and fans alike. "That was really difficult," Van Zandt told Vanity Fair. "I felt so exhausted at the end of that day." On the other hand, several individuals on "The Sopranos" are meant to be polarizing. A prime example is Ralph Cifaretto (Joe Pantoliano), who kills Bada Bing dancer Tracee (Ariel Kiley), among many other questionable acts. There's also Carmela Soprano (Edie Falco), who attempts to be a devout Catholic while enjoying a lavish life with Tony Soprano's "blood money."
Recently, Looper put out a survey asking which characters were the most downright unlikeable on "The Sopranos," and while it's a tough choice, here are the two you picked.
Fans feel that Tony and A.J. Soprano are the least likable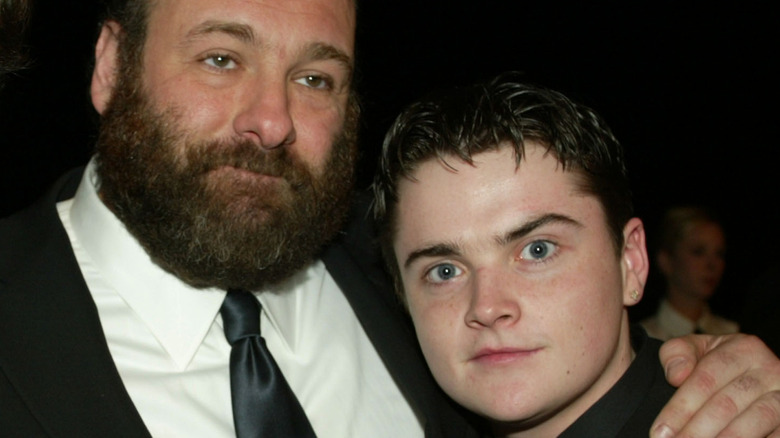 Kevin Winter/Getty Images
"The Sopranos" is chock-full of blatant villains, from Livia Soprano (Nancy Marchand) to Phil Leotardo (Frank Vincent). Yet according to a poll, fans voted that Tony and his son A.J. Soprano (Robert Iler) are the two least likable characters on the show. The poll received 565 submissions, with Tony garnering 20.53 percent of votes and A.J. 20.71 percent.
Though Tony is the leading man of "The Sopranos," it's easy to see why many find him unlikable. He regularly cheats on his wife Carmela, has a short fuse when dealing with his mob crew, and is responsible for the deaths of numerous men who wronged him, such as Ralph, Salvatore "Big Pussy" Bonpensiero (Vincent Pastore) and even his own nephew Christopher Moltisanti (Michael Imperioli). On Reddit, u/yankees9588 said, "Every re-watch of the show I like Tony less and less [...]"
As for A.J., he's the epitome of an angsty teen for the majority of the series. While in high school, he cheats on tests, gets drunk on communion wine and vandalizes the pool with his friends. In later seasons, he flunks out of community college and briefly experiments with drugs. A.J. regularly looks annoyed or is complaining about something, and severely lacks a drive to succeed in life. On Reddit, u/QueenRhaenys said, "I hate him more than any other character on TV. Don't think he ever did one redeeming thing."
Following those two, the third most unlikeable character was Pauli, with nearly 14 percent of the vote, followed by — surprisingly enough — Adriana, at 13.27 percent. Christopher earned 11.86 percent, then Junior came in at 11.33 percent, with Meadow taking last place at 8.32.
James Gandolfini and Robert Iler have more redeeming qualities than their characters
In a 2005 interview with 60 Minutes, Gandolfini revealed that David Chase sometimes incorporated each actor's personality traits into their respective characters. "I have a little bit of a temper, but it's a useless temper, doesn't accomplish anything generally," Gandolfini said with a smile. "It's just a lot of ranting and raving and nothing so David probably saw that and put it into the character." Despite this temper, Gandolfini was beloved by his fellow co-stars, who grieved his death in 2013 (via Variety). They reflected on his generosity, mentorship and prankster nature, such as when he had a hot dog in his mouth while filming a serious scene.
As for Iler, he shares his character's tendency to not pursue grand things in life. After "The Sopranos," he became a semi-pro poker player instead of an actor out of fear he'd fail. Also similar to A.J., Iler turned to drugs and alcohol. On the "Talking Sopranos" podcast, he said, "I was drinking a lot back in the day, so I would make money playing poker and then I would go lose it betting on sports or roulette."
Just as there's more to Gandolfini than what's shown through his character of Tony, though, there's much more to Iler, as well. He hasn't drank alcohol or used drugs for almost a decade and, unlike A.J., has a deep respect for his on-screen dad: Iler said on the podcast that Gandolfini was like a "father figure" to him. In fact, Gandolfini's death hit Iler so hard that he says it has become "torture" to watch "The Sopranos" or anything else featuring him.