The Devastating Death Of Sopranos Actor Tony Sirico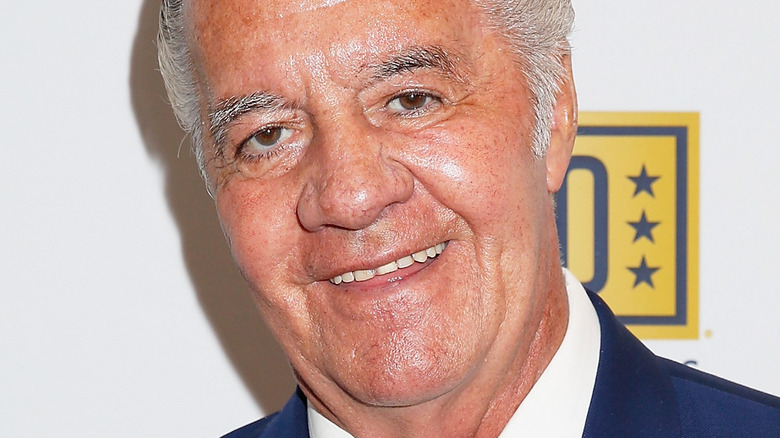 Thos Robinson/Getty Images
Tony Sirico, an actor who is likely best known for his performance as Paulie "Walnuts" Gualtieri on "The Sopranos," has died at the age of 79. According to The Hollywood Reporter, Sirico passed away Friday, July 8 in Fort Lauderdale, Florida. The actor was said to have been at an assisted living facility at the time of his death. Sirico's longtime manager, Bob McGowan, released a brief statement confirming his former client's death, telling The Hollywood Reporter, "Not only was he a loyal client, he was a good friend."
As of this writing, the cause of Sirico's death is still unknown. Nonetheless, his former co-stars and collaborators have been quick to pay honor to the "Sopranos" star on social media. Michael Imperioli, who played Christopher Moltisanti on "The Sopranos," even took to Instagram to pay tribute to Sirico, writing, "Tony was like no one else: he was as tough, as loyal and as big-hearted as anyone I've ever known."
Recalling the scenes they did together on "The Sopranos," Imperioli added, "We found a groove as Christopher and Paulie and I am proud to say I did a lot of my best and most fun work with my dear pal Tony. I will miss him forever." Meanwhile, "The Sopranos" creator David Chase also released a statement about Sirico, writing, "Tony was a jewel. The way Buddhists refer to a jewel — supernatural and a master."
The love shown to him by Chase and Imperioli is further evidence of just how much of a mark Sirico made on "The Sopranos." However, the actor's screen accomplishments were not limited to that beloved HBO mob drama.
Tony Sirico appeared in multiple major films and TV shows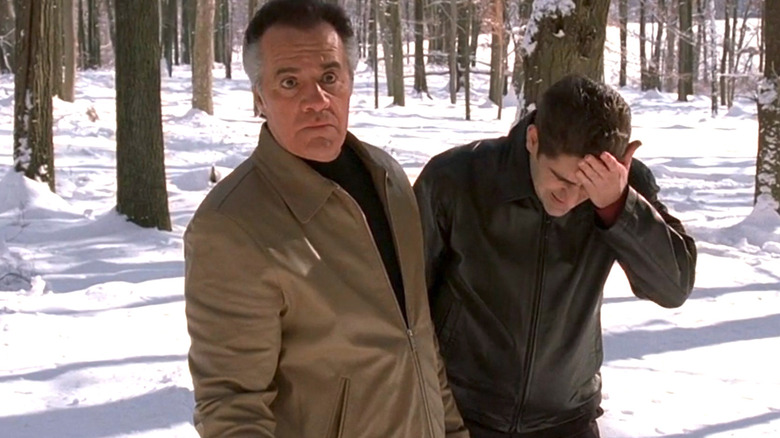 HBO
Over the course of multiple decades, Tony Sirico made a name for himself as a reliable character actor. Throughout the first half of his career, Sirico scored roles in notable films like "Goodfellas," "Fingers," "Cookie," "Romeo is Bleeding," "Bullets Over Broadway," and "Dead Presidents" (via IMDb). In the late 1990s, he also starred opposite Sylvester Stallone in the acclaimed crime drama "Cop Land," and in the years that followed, Sirico made appearances in films like "Deconstructing Harry," "Celebrity," "and "Mickey Blue Eyes."
Of course, Sirico scored the biggest and most noteworthy role of his career in 1999 when he was cast as Paulie "Walnuts" Gualtieri, a member of the DiMeo crime family, on "The Sopranos." After debuting as the character in the HBO show's pilot, Sirico went on to play Gualtieri throughout the entirety of the series' six-season run — making him one of its most important and recognizable supporting players.
After "The Sopranos" came to an end in 2007, Sirico landed roles on shows like "Chuck," "Lilyhammer," "The Grinder," and "Family Guy." His post-"Sopranos" career also included appearances in several memorable films, including "Café Society," "Friends and Romans," and "Wonder Wheel."
In other words, it's clear that Sirico built an impressive career for himself, one that will no doubt stand the test of time in the years and decades to come. As his former "Sopranos" co-star, Michael Imperioli, wrote in his Instagram post for Sirico, "He was beloved and will never be forgotten."