The Gilmore Girls Quote That Makes Fans Cringe Every Time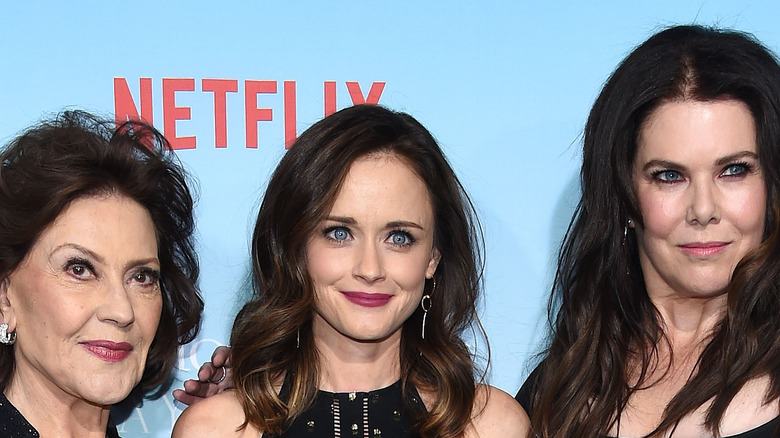 DFree/Shutterstock
The comedy-drama, "Gilmore Girls," created by Amy Sherman-Palladino, ran for seven seasons from 2000 to 2007. The series follows Lorelai Gilmore (Lauren Graham) and her daughter Rory (Alexis Bledel), as they navigate romances, careers, and family obligations. Having had Rory as a teenager, Lorelai left her wealthy family behind and made a life for herself in the small town of Stars Hollow, Connecticut. Lorelai and Rory, likely due to their closer-than-usual proximity of ages, developed a relationship that was closer to sisters than to mother and daughter (via IMDb). However, when Rory got into Chilton, a prestigious private school, Lorelai was forced to reconnect with her parents, Emily (Kelly Bishop) and Richard (Edward Hermann), who agreed to pay for Rory's schooling on the condition that Lorelai and Rory attend dinner at their house every Friday night, according to Popsugar.
"Gilmore Girls" has maintained a strong fanbase over the years, since its series finale in 2007 — strong enough for the series to receive a Netflix revival called "Gilmore Girls: A Year in the Life," a four-part miniseries, released in 2016 (per US Weekly). Naturally, fans have very strong opinions about the show; whether it's about which boyfriend Rory should have ended up with or if the seventh season is really that bad, and so on. They even have opinions about one-liners, including this quote that makes "Gilmore Girls" fans cringe every time.
Fans don't like a line by Lorelai implying Sookie isn't smart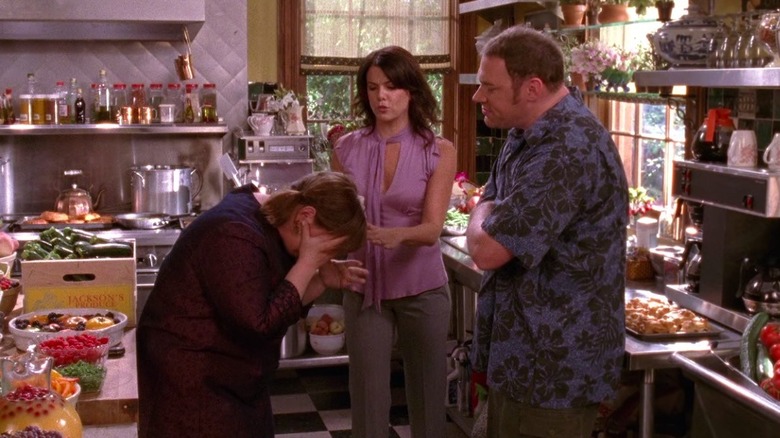 The WB/Netflix
Early in 2022, a fan took to Reddit to prompt fans to name the line that bothers them the most in the series. Another fan responded, citing a line from the Season 6 episode, "Always a Godmother, Never a God." They wrote, "Lorelei in the kitchen at the Dragonfly, talking to Sookie who is doing math for some reason and Lorelei says 'Whoa, whoa Sookie don't do math. You know that hurts your head' . . . it makes me cringe every time." In the scene, Sookie begins holding her head as if the math is giving her a headache, even saying "Ow" in response to Lorelai.
One user noted that Sookie may have a quirky personality, but that she isn't ever depicted as being not smart. Furthering their point, they continued, "And she's a chef . . . there's tons of math involved in cooking/baking, especially since she's always making her own recipes and whatnot. To me, that line just seemed like a bad attempt at 'dumb' humor." 
However, giving a different perspective, another fan wondered if the problem lies with the execution of the line rather than the line itself. They wrote, "That line makes me cringe as well — but I figure it down to basic acting techniques: Lauren is waiting on a specific cue from Melissa to cut in. It should be quicker, but for whatever reason, it isn't," (via Reddit).
McCarthy was sentimental returning to Gilmore Girls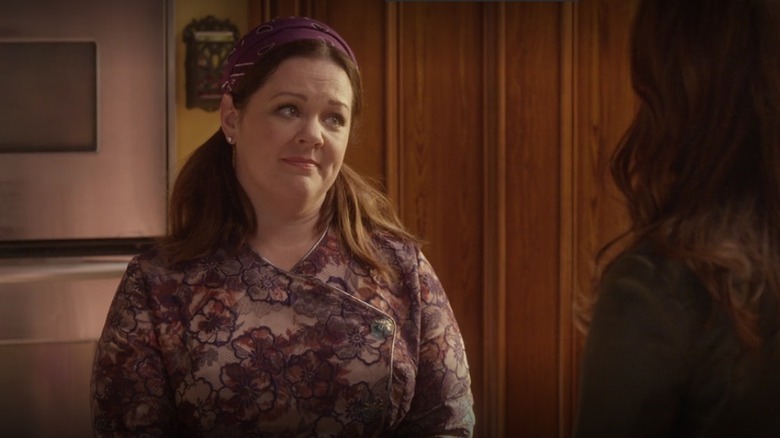 Netflix
While it might have been one of the worst "Gilmore Girls" lines out there, Melissa McCarthy has nothing but fond memories of her time playing Sookie in the series. Naturally, she found it overwhelming — in a good way — to return to the set for 2016's "Gilmore Girls: A Year in the Life." After initially saying that she wasn't asked to return, per Variety, McCarthy eventually ended up returning for the revival, although only in a cameo appearance. She then told People that it was actually scheduling conflicts that were initially in the way, but as soon as something opened up on her end, she jumped at the chance to return to play Sookie.
Describing her first time returning to the set, McCarthy told People, "Oh, my God, it was so sad. I got so sentimental. And it felt like the greatest idea in the world. It was lovely."
McCarthy is not the only "Gilmore Girls" actor who had an emotional reaction to returning to Stars Hollow. In a different interview, Lauren Graham told People, "It was like everyday was this emotional kind of reunion. We just keep pinching ourselves and were so excited to be there." In agreement, Alexis Bledel told The Hollywood Reporter that she had a lot of gratitude in getting to return to the series and explore Rory's adult life. Bledel concluded, "It's almost like getting a do over. It doesn't happen very often."