Thor: Love And Thunder Featured Chris Hemsworth's Wife, Elsa Pataky, In An Amazing Cameo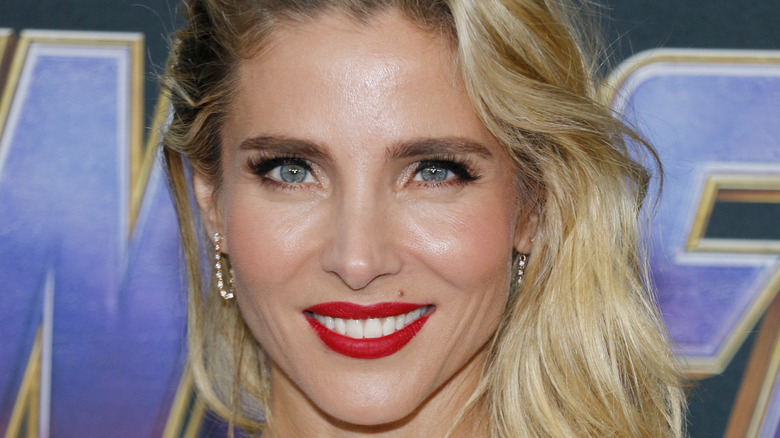 Tinseltown/Shutterstock
Contains spoilers for "Thor: Love and Thunder"
"Thor: Love and Thunder" is the latest romp through Taika Waititi's colorful and incredibly entertaining version of Marvel's god of thunder. Following the exploits of Thor (Chris Hemsworth) and his surprising collection of allies, "Thor: Love and Thunder" combines humor and heartfelt moments in a delicate balancing act. Not only is the movie an interesting chapter for the strongest Avenger, but it's also packed to the brim with surprising cameos.
One set of celebrity cameos in "Thor: Love and Thunder" is actually a continuation of a joke from "Thor: Ragnarok" involving a stage play chronicling previous events in the film series. In "Ragnarok," the death of Loki (Tom Hiddleston) is recounted, with the role of Loki played by Matt Damon, Thor played by Hemsworth's brother Luke Hemsworth, and Odin played by "Jurassic Park" alumnus Sam Neill. A new play presented in "Love and Thunder" tells the story of the death of Odin in the previous "Thor" movie, including a cameo from Melissa McCarthy as Hela. However, these aren't the only famous faces to make a brief appearance in "Thor: Love and Thunder." Hemsworth's wife, Elsa Pataky, also had a cameo — but when did she show up in the two-hour running time?
Chris Hemsworth's wife plays the woman on the wolf beast in Thor: Love and Thunder
In the opening scene of "Thor: Love and Thunder," Thor's boulder-like buddy Korg (Taika Waititi) tells a group of children the story of Thor, much to their amazement. As he weaves his story, the audience is treated to scenes acting it out, and it is one of these that features a rapid-fire cameo of Elsa Pataky, Chris Hemsworth's wife. It turns out, she is the woman Thor kisses on top of the giant lupine creature.
But this isn't the first time Pataky has appeared on-screen with her husband. According to the New York Daily News, Pataky acted as a stand-in for Jane Foster (Natalie Portman) for a kiss at the end of "Thor: The Dark World." Portman told the news outlet, "It was for reshoots (after the film was finished) and he was working in Hong Kong and I couldn't get there because I was working on my own film. And so they put his wife in my wig and costume, that's why it was so passionate."
"Thor: Love and Thunder" actually features not only Hemsworth and Pataky but also their three children. India plays Gorr's (Christian Bale) daughter, Love, as confirmed by Hemsworth in an interview with entertainment reporter Kevin McCarthy, and their twin sons, Sasha and Tristan, appear as Asgardian Kid and Kid Thor, respectively. Needless to say, it looks like "Thor: Love and Thunder" is a family affair for the Hemsworth tribe.