Boo 2! A Madea Halloween Tops Slow Weekend Box Office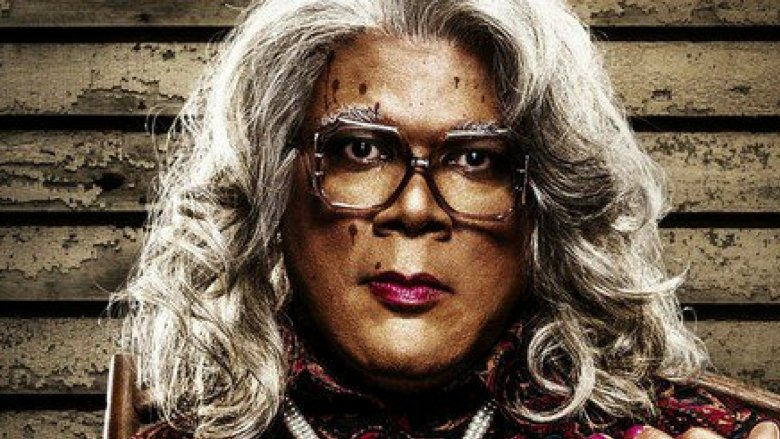 Tyler Perry is the box office king once again. The filmmaker's Boo 2! A Madea Halloween topped a slow weekend box office with $21.7 million, beating out fellow new releases like Geostorm, Only the Brave, and The Snowman.
Boo 2! is a followup to 2016's Boo!, and although the film did well, it didn't live up to its predecessor, which launched with $28.5 million. Fans were in the movie's corner, though, awarding it with an A- CinemaScore. The movie stars Perry alongside Cassi Davis, Chandra Currelley-Young, and Patrice Lovely as a family who experiences some spooky doings while on vacation at a campground.
Second place went to the Gerard Butler disaster flick Geostorm. The movie had a troubled production, undergoing extensive reshoots after disastrous test screenings and driving its budget up into at least the $120 million range. (Some estimates say it could actually be much higher.) The movie was a domestic bomb, pulling in just $13.3 million, but it is having some more luck overseas, pulling in an additional $49.6 million in 50 foreign territories. 
Still, though, Geostorm will have to do a lot of extra work in order to be profitable. The movie, which also stars Jim Sturgess, Ed Harris, Andy Garcia, and Zazie Beetz, was awarded with just a B- CinemaScore from audiences, most of whom skewed older. The movie's bad buzz was just made worse by its awful timing, coming shortly after the recent hurricanes which devastated the United States.
Geostorm wasn't the only victim of unfortunate timing this weekend, either. The firefighter drama Only the Brave received the love of critics with a 90 percent on Rotten Tomatoes, but audiences were reluctant to head out to theaters to see it amid the wildfires that are currently devastating California. The movie opened to just $6 million against a $38 million budget, although a potential awards season berth could help it recoup some of those funds.
This weekend's other new release, The Snowman, fared even worse. The movie stars Michael Fassbender as a detective determined to track down a serial killer who leaves the icy creatures as marks of his victims. It was absolutely panned by critics, sitting at a nine percent on Rotten Tomatoes, and audiences similarly trashed it, giving it a D CinemaScore. The movie's advertising campaign has also become a morbid meme on social media, turning the movie from a would-be thriller into an Internet joke. The film opened with just $3.4 million against a $35 million budget, although it can already add an additional $19.2 million internationally to that figure.
You can view this weekend's full box office results (via Box Office Mojo) below.
Top 10 Weekend Box Office Gross
1. Tyler Perry's Boo 2! A Madea Halloween: $21,650,000 (– percent), $21,650,000 Total Domestic Gross   
2. Geostorm: $13,300,000 (– percent), $13,300,000 Total Domestic Gross  
3. Happy Death Day: $9,375,000 (-64.0 percent), $40,683,365 Total Domestic Gross  
4. Blade Runner 2049: $7,155,000 (-53.8 percent), $74,005,203 Total Domestic Gross  
5. Only the Brave: $6,010,000 (– percent), $6,010,000 Total Domestic Gross  
6. The Foreigner: $5,450,000 (-58.4 percent), $22,844,253 Total Domestic Gross  
7. It: $3,500,000 (-42.2 percent), $320,234,616 Total Domestic Gross  
8. The Snowman: $3,442,000 (– percent), $3,442,000 Total Domestic Gross  
9. American Made: $3,162,000 (-42.5 percent), $45,503,735 Total Domestic Gross  
10. Kingsman: The Golden Circle: $3,000,000 (-44.2 percent), $94,568,932 Total Domestic Gross