The Jurassic World Dominion Star You Likely Missed In Thor: Love And Thunder
Warning: This article contains mild spoilers for "Thor: Love and Thunder"
"Thor: Love and Thunder" is a star-studded smash, with a total of five Academy Award winners appearing in the picture. Natalie Portman, Christian Bale, Russell Crowe, and Taika Watiti join Chris Hemsworth for the fourth "Thor" film, which also features a cameo from "Thor: Ragnarok" returner Matt Damon.
In "Thor: Love and Thunder," there is an incredible scene where Asgardian actors act out the events from "Thor: Ragnarok" in New Asgard. This is, of course, a follow-up to the same type of scene from "Thor: Ragnarok" where the actors depicted the story of "Thor: The Dark World." Luke Hemsworth returns alongside Damon and plays Thor in the play, while Melissa McCarthy stars as the brutal Hela. McCarthy's husband, Ben Falcone, has a blink-and-you'll-miss-it cameo as the play's director, but they aren't the only big names appearing in the off-off-off-Broadway production. There is a "Jurassic World Dominion" star in the play, who reprises their role from "Thor: Ragnarok" as well.
Sam Neill reprises his Thor: Ragnarok role for Thor: Love and Thunder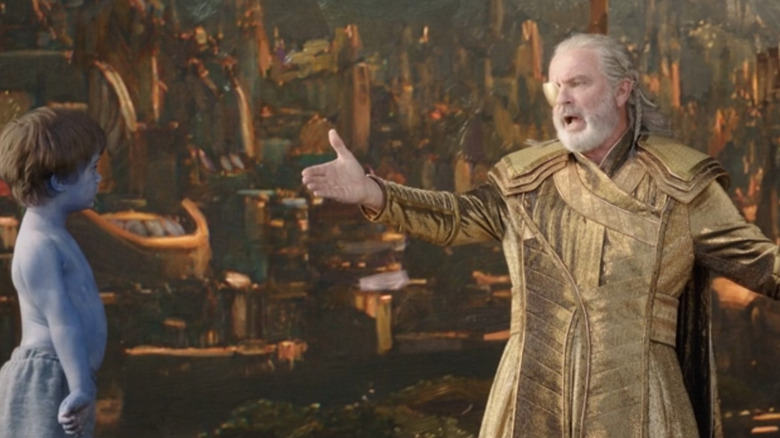 Marvel Studios/Disney
Playing actor Odin in the play is "Jurassic World Dominion" star Sam Neill, who also played the god in the "Thor: Ragnarok" theater production. Unfortunately, the events of this play are a little more depressing as Odin dies, but Neill plays the part to hilarious perfection. Sporting long grey locks and a full white beard, Neill is somewhat unrecognizable, especially with a gold plate covering one of his eyes.
While it's totally obvious to MCU fans who Neill is portraying, the Kiwi actor has admitted he has absolutely no idea what is going on in either "Thor" movie in which he appears. "I've never understood any of the Thor films, in fact the whole Marvel universe is a complete mystery to me," Neill told news.com.au. "I mean I was standing beside Jenny Morris [on the set of Thor: Ragnarok] and I said, 'Do you know what planet we're on?' To be honest I was completely baffled, I came back I was baffled again, I did my bit, I don't know who are playing who exactly because they are sort of swapping roles."
It's quite funny to hear that, given how well Neill portrays Odin in the silly plays. It's almost as if he knows exactly where he is and who he's supposed to be playing. But we're not one to question Dr. Alan Grant.