Will Has Something To Fear In New Stranger Things Teaser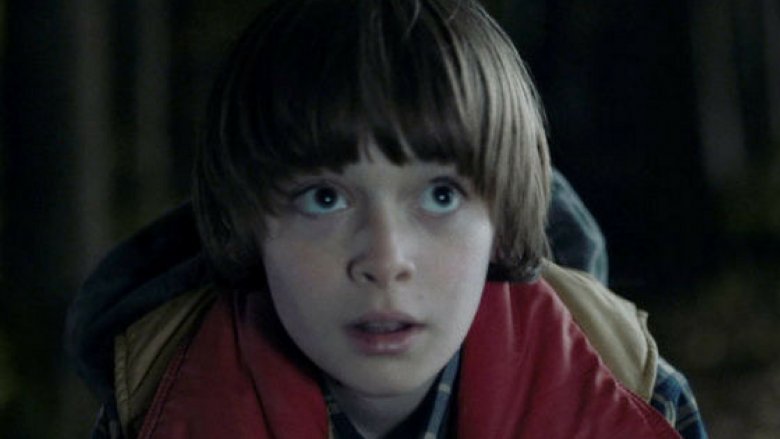 Stranger Things just dropped a cryptic new teaser for season two. The teaser features a number of different commercials and clips playing on an old timey TV, all hinting at mysterious and grim doings ahead for the residents of Hawkins. 
Among the clips shown include an advertisement for the Palace Arcade, a new location where the boys will start spending a lot of time in the upcoming season. "One quarter to rule them all at the Palace Arcade," the commercial says. "Grab your piggy bank and head to the Palace Arcade. Top the scoreboard, rule the world." 
After a few other clips, including a commercial on how to play a VHS-C and a look at Joyce (Winona Ryder) calling out for the boys, the teaser moves into a new mystery surrounding Hawkins' pumpkin farms. "Something foul is going on with the local gourds," a news anchor says. "Bad seed, or something more sinister?" Luckily, Chief Hopper (David Harbour) is already on the case.
The teaser ends with Mr. Clarke's (Randy Havens) Science Minute, where he talks about fear as clips of Will (Noah Schnapp) play on the screen. "All living things, from complex mammals to single-celled organisms, instinctively respond to danger," Mr. Clarke says. "When we encounter danger, our hearts start pounding, our palms start to sweat. These are the signs of the physical, emotional state we call fear." 
Stranger Things season two is set to take place around Halloween of 1984, a year after the events of the first season. The season will feature Will suffering from PTSD thanks to his time in the Upside Down, while Hopper tries to cover up the events of the first season to help protect Will and Joyce. The season is also set to introduce the series' "main villain," according to co-creator Ross Duffer.
Season two will bring in several new cast members, including Sean Astin as a former high school nerd and the new boyfriend of Joyce; Paul Reiser as a high-ranking member of the Department of Energy who now runs the lab; Linnea Berthelsen as an emotionally damaged woman with a connection to the supernatural events at the lab; Will Chase as a new parent in town; Sadie Sink as the boys' tough and confident new friend Max; and Darce Montgomery as her edgy and violent older step-brother Billy.
The rest of the show's cast includes Millie Bobby Brown, Finn Wolfhard, Gaten Matarazzo, Caleb McLaughlin, Natalia Dyer, Charlie Heaton, Cara Buono, and Joe Keery. Stranger Things returns for season two on Oct. 27.
uᴉ ǝunʇ pic.twitter.com/9q1oqrJdc3

— Stranger Things (@Stranger_Things) October 20, 2017