Rick Makes A Speech In The Walking Dead Premiere Clip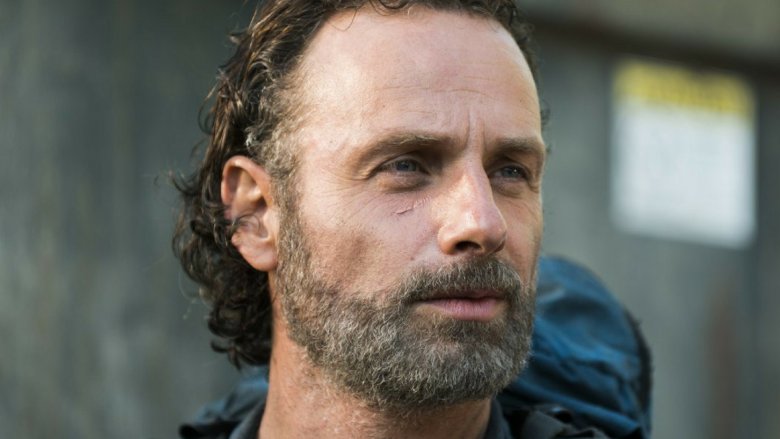 Rick (Andrew Lincoln) has a speech to make at the start of The Walking Dead's eighth season. AMC released the first three minutes of the show's upcoming outing on Twitter Friday, showing the character's tense preparations for the continuation of his war against Negan (Jeffrey Dean Morgan).
The clip begins with a tired and sweaty Rick waking up, and later shows him in a room with a cane and flowers. It then shows him standing in the sun, holding a gun, and then looking down on what appears to be a makeshift grave. The group of survivors is now forging weapons and building shelter, getting ready for a fight.
Things get tense when an arrow flies into a truck tire and a clock begins to tick, hinting at bad things to come. It is later revealed that that arrow carried a note with the ominous word "tomorrow." Whatever threat the note could bring, Rick is ready to give his people the motivational speech they need to survive.
"When I first met him, Jesus said that my world was gonna get a whole lot bigger," he says. "Well we found that world. We found each other. That bigger world is ours by right. We've come together for it, all of us. It's that much more true. It's ours by right. Any person who would live in peace and fairness, who would find common ground, it's their right too. But those who use and take and kill to carve out the world and make it theirs alone, we end them. We don't celebrate it. We don't have shame about it either. There's only one person who has to die, and I will kill him myself, I will. I will." 
This is the second look we've gotten at The Walking Dead's eighth season recently. Yesterday, the network released some new footage featuring Daryl (Norman Reedus), Carol (Melissa McBride), Morgan (Lennie James), and Tara (Alanna Masterson) getting ready to face off against some walkers. Yesterday also saw the release of reviews for the show's 100th episode, with most critics standing firmly in its favor.
You can watch the newest clip below. Lauren Cohan, Danai Gurira, Chandler Riggs, Josh McDermitt, Ross Marquand, Austin Amelio, Christian Serratos, Seth Gilliam, Tom Payne, Xander Berkeley, and Khary Payton also star in The Walking Dead's eighth season, which premieres on Oct. 22. 
GET YOUR FIRST LOOK at the Season 8 cold open. Tune in for the full premiere event this Sunday 9/8C #TWD pic.twitter.com/5UKjbQt1Fz

— The Walking Dead AMC (@WalkingDead_AMC) October 20, 2017