The 10 Things I Hate About You Scene That Took Julia Stiles By Surprise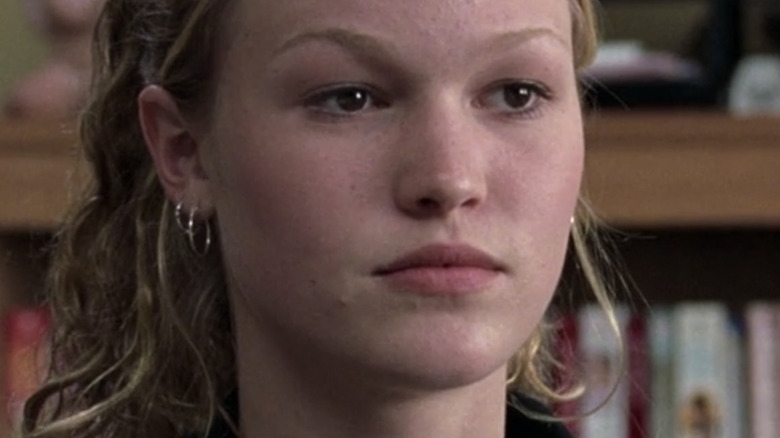 Buena Vista Pictures
"10 Things I Hate About You" certainly holds a special place amongst '90s rom-coms. The film is a uniquely clever retelling of Shakespeare's "The Taming of the Shrew" and helped launch the early careers of stars like Heath Ledger, Joseph Gordon-Levitt, and Julia Stiles. Stiles stars as Katarina "Kat" Stratford, a high school senior whose antisocial tendencies and angsty behavior have caused her to be feared or hated by most of her classmates.
Kat is based on the eponymous "shrew" from Shakespeare's play, and the plot of "10 Things I Hate About You" revolves around her budding romance with Patrick Verona (Ledger) and how she learns to fall in love again despite herself. Although their romance is based on a lie (as Patrick was initially paid to ask Kat out), the two eventually develop genuine feelings for one another. Their story culminates in a scene where Kat (after discovering the truth about their relationship) reads a poem to Patrick titled "10 Things I Hate About You," in which she confesses that she still loves him despite all he's done.
This particular moment is perhaps the most iconic scene in the entire film and features a compelling performance from Julia Stiles. This performance was so poignant that it even surprised the actress herself.
Julia Stiles' tears during her poem scene were unintentional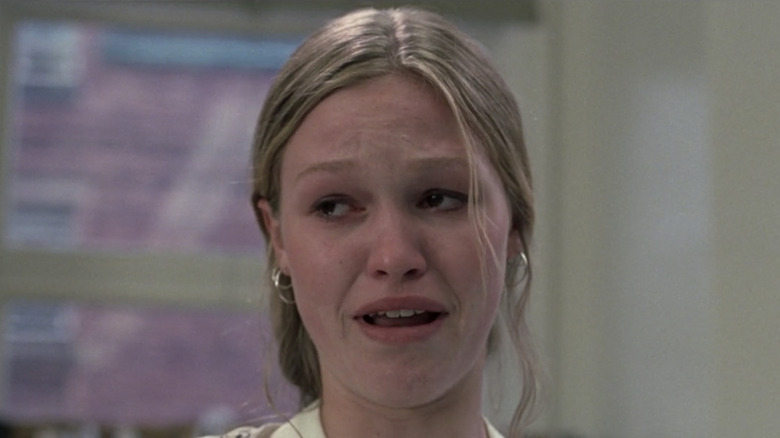 Buena Vista Pictures
During a 2015 interview with Cosmopolitan, Julia Stiles revealed that her tears during that iconic poem scene were not planned and came out completely unexpectedly. "They were not intentional ... when we did the table read, I remember I just said the poem, and I could have been reciting the phone book," the actor explained. "But [when it came to filming], I never expected that I was going to start crying." However, we now know Stiles wasn't thinking of her leading man but of a secret love connection on set. 
Considering Stiles' performance during this climactic scene, it's shocking to learn that her tears were accidental. Indeed, the way Stiles' character breaks down while reciting the poem seems like an essential part of her character arc — showing how this girl who didn't believe in love has had her heart broken. Perhaps the fact that the tears were unplanned is what makes this scene so genuine and heartbreaking. If her tears surprised Julia Stiles herself, they certainly surprised audiences and provided us with one of the most beloved rom-com scenes of all time.