The R-Rated Horror Film You Likely Forgot Starred Alexandra Daddario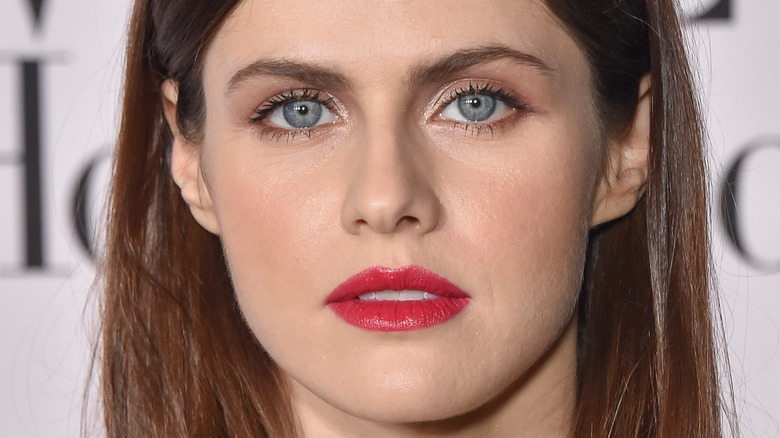 DFree/Shutterstock
Alexandra Daddario has been working as an actress in Hollywood since 2002, when she began a 43-episode arc on "All My Children," in which she played Laurie Lewis. Over the years following, Daddario played minor roles in various projects before landing her breakout role as Annabeth Chase, the demigod daughter of Athena, in 2010's "Percy Jackson & the Olympians: The Lightning Thief." Before she returned for the sequel, "Percy Jackson: Sea of Monsters" in 2013, she had a short stint on two popular TV shows, "White Collar" and "Parenthood."
Other notable roles for Daddario include playing Lisa Tragnetti in the first season of HBO's "True Detective" (in which she acted opposite Woody Harrelson), Natacha Rambova in "American Horror Story: Hotel," and Jade in Season 1 of "Why Women Kill." More recently, Daddario starred in the first season of the critically acclaimed HBO series "The White Lotus" as Rachel, a struggling journalist on her honeymoon who begins seeing problems in her new marriage while staying at the titular hotel.
In the midst of all of these other roles, Daddario has also dipped her toes into the horror genre — including an R-rated film that you may have forgotten about.
Daddario starred in 2013's Texas Chainsaw
The seventh film of the "Texas Chainsaw Massacre" franchise, simply titled "Texas Chainsaw" (or "Texas Chainsaw 3D"), came out in 2013 — and starred none other than Alexandra Daddario. Directed by John Luessenhop, the film picks up after the events of the original 1974 film and follows Heather (Daddario), a young woman who travels to Newt, Texas, to visit a property that she has inherited from an unknown relative. While there, she and her friends face the horror and wrath of Leatherface (Dan Yeager), the infamous killer of the "Texas Chainsaw Massacre" film series.
"Texas Chainsaw" was, unfortunately, not very well received (which may be why some viewers have forgotten about this particular Daddario film). As of this writing, the film holds just a 19% Tomatometer score on Rotten Tomatoes. The audience rating is only slightly more forgiving and sits at 40%. Many critics noted that the film was an unnecessary addition to a film series. Additionally, a great many other critics also complained about the film for reasons solely specific to the 2013 iteration.
Jennifer Heaton of Alternative Lens wrote, "Continuing where the first left off? Good idea. Filling the movie with unlikeable characters, stupid plot twists, and broken continuity? Terrible idea." Further, Mark Olsen of the Los Angeles Times wrote, "The original 'Texas Chainsaw Massacre' leaves audiences feeling hollowed out, dispirited and dissolute. 'Texas Chainsaw 3D' is simply a bummer for being a big nothing."
Daddario has called the film silly and fun
While speaking with Collider in 2021 about "The White Lotus," Daddario also reflected on her time making "Texas Chainsaw 3D." Collider interviewer Perri Nemiroff was particularly interested in talking about one unintentionally funny sequence of the horror film in which Heather, while running away from Leatherface, trips and falls not once but twice. Daddario didn't have any insight into why the decision was made to have Heather trip and fall two times in such quick succession, but she noted that because it was part of the "Texas Chainsaw Massacre" series, it was meant to be a fun watch.
Interestingly, the actress divulged one detail of the film that she found particularly cringe-worthy — to the point that she asked for it to be taken out. Daddario said, "I wanted to cut the line, 'Do your thing, cuz.' Do you remember that line where I say, 'Do your thing, cuz,' and then throw him the chainsaw? And the producer was like, 'This is the movie,' you know? And so I think that that's just what the movie is. It's supposed to be silly and the audience is supposed to laugh and be scared and whatever."
Despite the film not being received well by critics, Daddario still has fond memories of her time on set — especially because of how difficult she was finding it to book jobs around that time of her career. She explained, "I hadn't been working leading up to that film. My partner was working and I didn't know a lot of people in LA. I was young and I was having trouble getting work, and I was very excited to book the job and be working. I was of a certain age where going off with a bunch of people your age and working was very exciting."