Hellboy Reboot Casts Three New Characters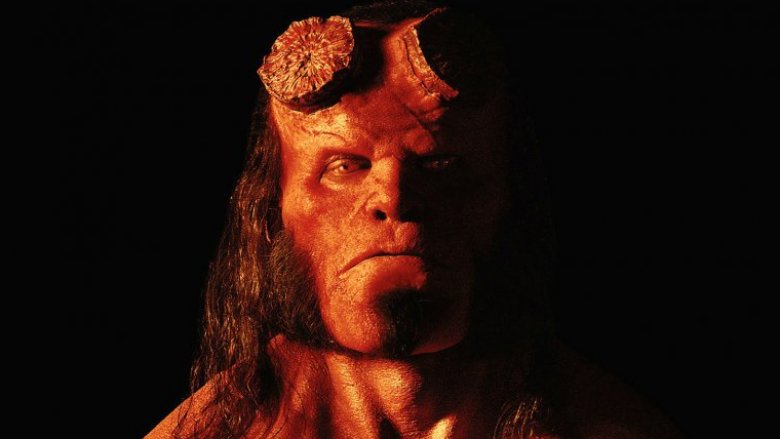 Lionsgate
A refreshed film calls for a fresh cast of characters. 
As reported by Deadline, the upcoming Hellboy reboot has just added three new stars to the mix. Oscar-nominated actress Sophie Okonedo, mother! actor Brian Gleeson, and The Night Manager and Rogue One: A Star Wars Story star Alistair Petrie join the third Hellboy installment as the titular character's rag-tag team of researchers. 
Okonedo will play Lady Hatton, a seer at the Osiris Club, an ancient English organization whose mission is to uncover the truth behind supernatural mysteries. Gleeson is on board to play the wizard Merlin, the same featured in the famous Arthurian legend. In the Mike Mignola-created comics, Merlin uses the aliases "Merlin Ambrosius" and "Myrddin Emrys." Finally, Petrie takes on the role of Lord Adam Glaren, a high-ranking member of the Osiris Club.
Directed by The Descent helmer Neil Marshall, Hellboy (which was previously reported to be subtitled The Blood Queen, a rumor that has since been deemed untrue) has been described as a dark and gritty take on the classic comic story, expected to be more mature than director Guillermo del Toro's Hellboy films released in the mid-2000s. 
Stranger Things star David Harbour replaces former Hellboy actor Ron Perlman to take the lead as the cigar-smoking, shorn-horned demonic hero. Harbour previously said that the new film will deviate from the stock elements of the modern superhero movie genre, and will please fans in the process. 
"[Hellboy] is a whole new thing. I'd always been a fan of the comics and there's a darker tone to it and I think in the climate we have now there's kind of... a desire for more of that," explained Harbour. "The script is good and this guy Neil Marshall is directing who's really good and the aesthetic is great. So often, the superhero movies can be really fun and I want this to be really fun, but I also want it to be more of a character piece and more about this dude's struggle. I think it could be interesting."
Okonedo, Gleeson, and Petrie also join Underworld actress Milla Jovovich as the Blood Queen, a sinister sorceress whose only desire in life is to destroy mankind; American Honey breakout Sasha Lane as Alice Monaghan, a girl Hellboy rescues from a pack of fairies; Hemlock Grove actress Penelope Mitchell as an elder witch named Ganeida; American Gods standout Ian McShane as Professor Trevor "Broom" Bruttenholm, Hellboy's adoptive father; and ex-Hawaii Five-O actor Daniel Dae Kim as Major Ben Daimio, a military man and member of the Bureau for Paranormal Research and Defense. Kim's casting was announced after Game of Thrones actor Ed Skrein, who was originally tapped for the role, revealed that he was exiting the project amidst allegations that the film had whitewashed Ben Daimio. 
Hellboy will arrive in theaters on January 11, 2019.