Think You're Worthy Of This Amazing Thor Collectible? Here's How To Win One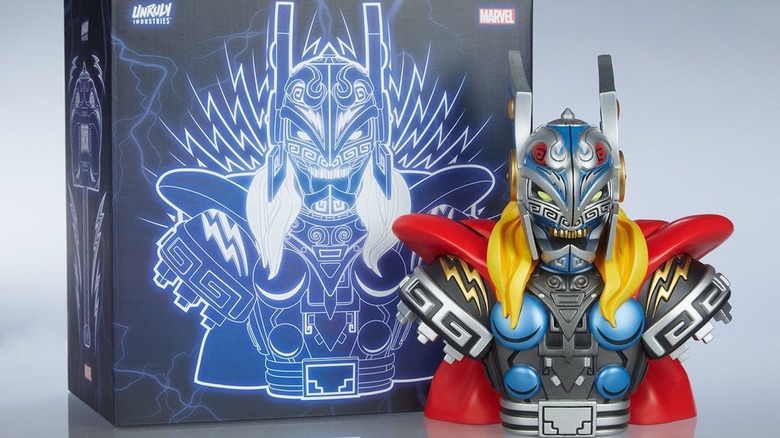 Unruly Industries
Another MCU film is here, with "Thor: Love and Thunder" premiering globally this week. With the new movie comes tons of merchandise — from Legos to clothing to action figures. Whether you're a collector who likes to keep their knick-knacks in their original packaging or a parent of a rowdy toddler who's going to destroy their plastic Mjolnir in a matter of 30 seconds, comic book movie merch is a heck of a lot of fun.
While any ole Joe Schmo can head to Wal-Mart and Target to grab mass-produced "Thor: Love and Thunder" toys and collectibles, those who are very dedicated might seek out the more unique items to purchase — or maybe even WIN — online. That's where we come in.
Whosoever enters this contest, if they be worthy, could possess a one-of-a-kind Thor collectable bust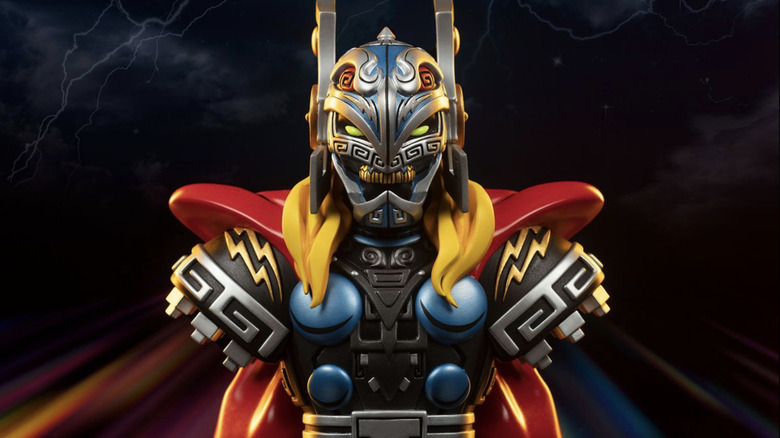 Unruly Industries
Do we look to be in a gaming mood? Yes! Looper and /Film are proud to partner up with Urban Aztec (Jesse Hernandez), Unruly Industries, and Sideshow Collectables in offering you a chance to win this exclusive Thor Designer Collectable Bust. Winning this one-of-kind piece is as easy as pie and just requires a few clicks over on Twitter.
To gain a valid entry to the contest, all you have to do is follow @Looper and @Slashfilm on Twitter and retweet our post. The contest ends on July 8 at 11:59 EST — so make sure to get your follows and retweet in ASAP. As much as we'd love to offer this limited edition Thor Designer Collectable Bust to everyone in the Nine Realms, our contest is only open to Midgardians located in the U.S. and Canada. Check out the official tweet below.
We're giving away one #Thor Designer Collectible Bust by @UrbanAztec from @collectsideshow & @UnrulyInd to celebrate #ThorLoveAndThunder!⚡️Make sure you follow BOTH @looper & our partner @slashfilm & RT by 11:59pm ET July 8th for a chance to win.✨ (Open to US & Canada only) pic.twitter.com/5m3iAJVna2

— Looper (@looper) July 5, 2022