Arnold Schwarzenegger Agreed To Return For Terminator 3 Under Some Wild Conditions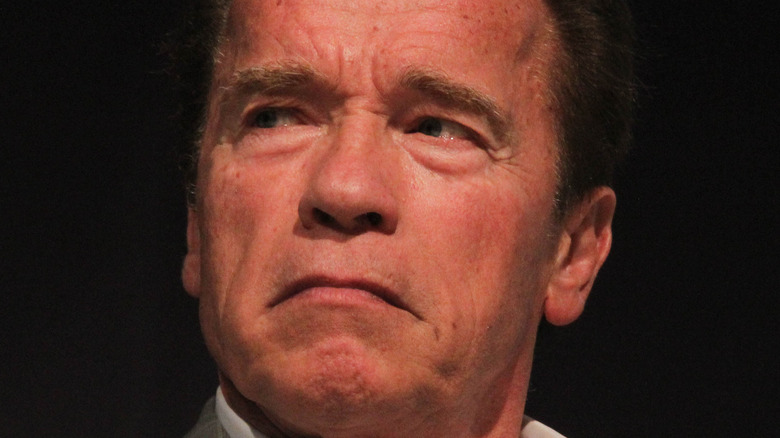 Andre Luiz Moreira/Shutterstock
"Come with me if you want to live." With this simple phrase, the "Terminator" franchise is immediately called up in one's mind. Of course, the previously mentioned phrase comes with the visage of Arnold Schwarzenegger's well-muscled "Terminator" persona, and he is the de facto flagship of the "Terminator" movies. Acting as the antagonist of the original film, its sequel sees the proverbial script flipped as the fearsome Terminator robot is now sent back in time in service of the humans, specifically John Connor (Edward Furlong), the future leader of the human resistance.
Time travel is a major component of these movies, on account of how killer robots aren't exactly feasible in the modern era. The end of "Terminator 2: Judgment Day" ends with a heart-touching moment in which the former death-dealing robot begins to understand why humans cry, then commands his human allies to lower him into molten metal so that they may change the future. Unfortunately, the future did change, but not in the ways John or Sarah Connor (Linda Hamilton) may have foreseen. "Terminator 3: Rise of the Machines" recast the role of John with Nick Stahl, and once again a Schwarzenegger-style Terminator is sent back in time to protect the would-be leader, but it seems as if the famous bodybuilder-turned-actor had quite the laundry list of demands to facilitate his return.
Schwarzenegger had many conditions that guaranteed a fair amount of control over the movie's production, and a lucrative pay day
"Terminator 3: Rise of the Machines" was released in 2003, while its predecessor "Judgment Day" came out in 1991. As reported by The Numbers, the production budget of "Judgment Day" was around $100 million, and the movie went on to become a huge success, having earned around $515 million globally. As such, there was definitely a push to create another sequel, but it would take some back and forth between Arnold Schwarzenegger, lawyers, and the studio involved with "Terminator 3."
According to Slate, Schwarzenegger's contract contained a lot of stipulations and caveats. His first condition to return to the role was for a $29.25 million fee, which he would get regardless if the movie was made or not. He would be paid $3 million upfront and the rest of the sum over 19 weeks of production. If the production went over this 19-week limit, Schwarzenegger would receive an additional $1.6 million every week. Schwarzenegger also wanted $1.5 million for private jet rides, a fully stocked gym trailer, three deluxe suits at filming locations, and immediate access to bodyguards and limousines throughout the day.
Not only that, but Schwarzenegger was also guaranteed 20% of the gross receipts, which includes home video sales, movie tickets, and other licensing deals involving "Terminator 3," such as video games. He was also granted pre-approval rights to choose whom he worked with, which included the director, hairdresser, makeup artist, stunt double, stand-in actor, personal doctor, chef, and unit publicist. Schwarzenegger knew they needed him to film "Terminator 3," and wasn't afraid to show his financial muscle and strong bargaining position.
Schwarzenegger also had to get back into physical shape for his Terminator role
However, his finances weren't the only thing Arnold Schwarzenegger had to work on for "Terminator 3: Rise of the Machines." In an interview with Black Film, Arnold Schwarzenegger was asked if getting back into shape to play the aforementioned killer robot was on his mind before accepting the role, to which he replied, "I think one of the main concerns that I had right at the beginning was can I get my body back in shape where it was twenty years ago in Terminator 1; and twelve years ago in Terminator 2 so it was a challenge. Obviously times have changed and I put together a program and went back to the gym and trained two to three hours a day for several months."
He continued and said that even during the filming process, he kept working out whenever he had some time for himself. He reiterated that he wanted to come back in great shape so as to not disappoint long-time fans of the franchise, and himself. Needless to say, Schwarzenegger got both his body and bank account in great shape while lending his talents to "Terminator 3: Rise of the Machines."