The Look Of Russian Doll Season 2 Had A Surprising Influence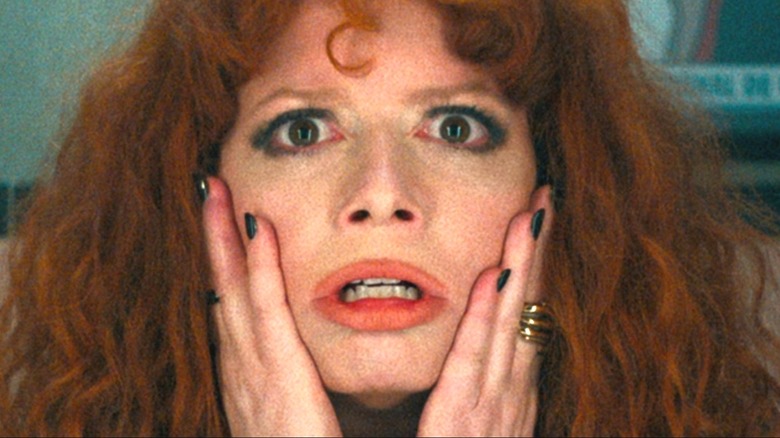 Netflix
With the first season of "Russian Doll" having completed its time loop, the second season found Nadia Vulvokov (Natasha Lyonne) hopping on a subway train to the 1980s, and things only got weirder from there. Hopping between time and space, Nadia ultimately transformed into her own pregnant mother, Lenora Vulvokov (Chloë Sevigny), who then gave birth to herself. At the same time, fellow time-looper Alan Zaveri (Charlie Barnett) found himself in the middle of 1962 East Berlin inside the body and mind of his grandmother, Agnes (Carolyn Michelle Smith).
However, the show is just as well known for its groovy aesthetic, drawing from tons of different artists, musicians, directors and more to fully capture what it was like to be in a specific time and place. In the first season, the show uses music from artists such as Harry Nilsson to signal repeating loops as well as original music by Joe Wong. The second season continued this trend with music from the respective time periods Nadia and Alan visit, such as that of Janis Joplin and Van Halen, and also included a brief trip to Nazi Germany as Nadia attempts to retrieve the valuable Krugerrands stolen from her grandmother.
Ahead of the Season 2 premiere, the production designer of "Russian Doll" opened up about the surprisingly notable influence one cult-favorite '80s movie had on the show.
Production designer Diane Lederman was influenced by David Lynch's 1986 film 'Blue Velvet'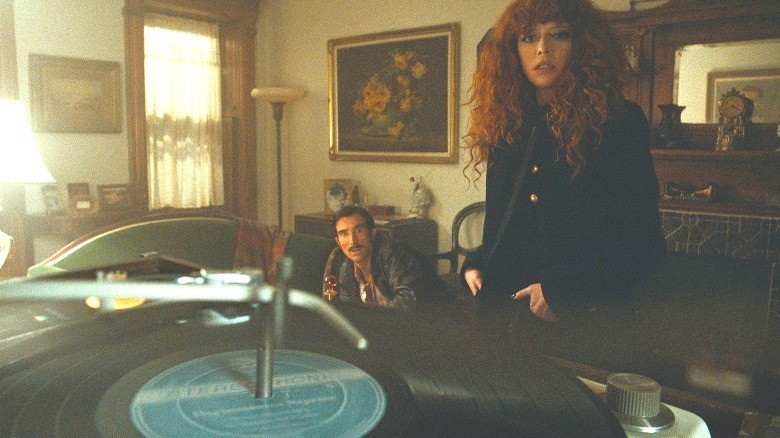 Netflix
The second season's premise is enough to make anyone's head spin, so Diane Lederman carefully explained how she and the rest of the crew put together the Netflix season's elaborate and highly detailed sets and which famous directors she took influence from.
Lederman explained to Variety that she was inspired by the 1986 David Lynch film "Blue Velvet," which highlighted an iconic 1980s apartment. Much like both seasons of "Russian Doll," "Blue Velvet" contains striking imagery that isn't afraid to depict strong sexual and violent content. Part of what made "Blue Velvet" stand out then and now is the vivid set design of Dorothy's (Isabella Rossellini) apartment, so Lederman found deep green colors for many 1980s scenes that resemble the look of Lynch's film.
"While searching for a hook for this set, I happened to rewatch 'Blue Velvet,'" Lederman told Variety. "That apartment in that film is iconically 1980s, without being overly kitsch, a perfect reference for our period styling."
"We added some over-the-top '80s decor, such as the white dolphin figure, the black lacquer and glass-top coffee table and the brass fan over the bed, to support the idea that Nora spends money frivolously," Lederman added. This all adds up to a luxurious but deeply disturbing and disorienting portrait of many times and places all coming together for an explosive second season.
"Russian Doll" Seasons 1 and 2 are streaming on Netflix.