The Connection Better Call Saul's Bagman Episode Has To An Iconic Breaking Bad Moment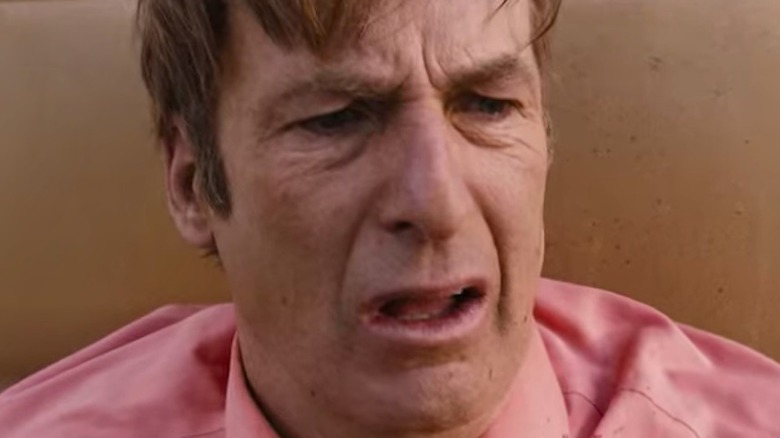 AMC
"Better Call Saul," the prequel to the acclaimed AMC drama "Breaking Bad," follows Jimmy McGill (Bob Odenkirk) as he transforms from a well-meaning new lawyer to shady criminal defense lawyer Saul Goodman. The series also follows Mike Ehrmantraut (Jonathan Banks) as he becomes involved in Gus Fring's (Giancarlo Esposito) growing meth mega-business. Now in its 6th and final season — the series finale will air on August 15, 2022 — the narrative is only inching closer and closer to the "Breaking Bad" timeline.
So far, the most significant connection that "Better Call Saul" has to its predecessor has been its crossover cameos. Familiar characters such as Hank Schrader (Dean Norris), Gale Boetticher (David Costabile), Lydia Rodarte-Quayle (Laura Fraser), Francesca Liddy (Tina Parker), and Huell Babineaux (Lavell Crawford) have all shown up in the prequel in varying degrees of frequency. But, as it turns out, the two shows share more than just a slew of actors in common.
One pivotal episode of "Better Call Saul," Season 5's "Bagman," has a strong connection to "Breaking Bad" — here's what the two have in common.
Bagman takes place where Walt and Jesse cook meth for the first time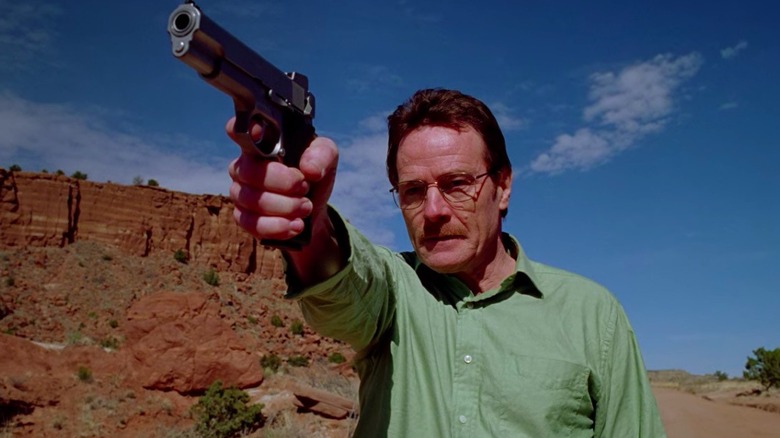 AMC
While watching "Bagman" — the episode in which Jimmy and Mike get stranded in the desert after a bail money pick-up goes wrong — fans may find the episode's desert location a bit familiar. Those fans would be right, as the episode was filmed in the same location as the pilot episode of "Breaking Bad" — aka where Walter White (Bryan Cranston) and Jesse Pinkman (Aaron Paul) cook meth for the first time.
Speaking with AMC, "Better Call Saul" co-creator Vince Gilligan, who directed "Bagman," discussed what it was like revisiting that specific shooting location. Gilligan said, "It was so much fun seeing those two worlds collide. Most of the episode took place way out in the boonies, way out on the To'hajiilee Indian reservation, which is so very beautiful. And it should be noted that To'hajiilee, where we shot the bulk of the episode, is where Walter White and Jesse Pinkman first cook meth in the pilot episode of 'Breaking Bad' so it was like old home week going out there."
The episode's connection to its predecessor show doesn't end there, however. "Bagman" features a tense moment in which Jimmy is looking down the barrel of a gun, afraid he is about to die, just before the bigger shootout occurs and Jimmy is saved by Mike. Gilligan told IndieWire that this moment is a callback to two "Breaking Bad" moments: Walt pointing a pistol in the pilot episode when he fears someone has found his makeshift meth lab and, in the Season 3 finale when Jesse points a gun at Gale Boetticher (David Costabile) just before killing him.
Better Call Saul's final episodes will have even more Breaking Bad connections
At the time of writing, there are only six episodes remaining on "Better Call Saul," and we still haven't seen Jimmy fully transform into the Saul Goodman that fans know from "Breaking Bad" — but, according to co-creator and showrunner Peter Gould, fans will see the transformation play out. In an interview with Variety, Gould explained that Jimmy's transformation will be at the center of the final few episodes. "Well, the focus is the same one that we started with, which is the story of Jimmy McGill — who was Slippin' Jimmy, who was Saul Goodman, who becomes Gene Takovic — and what is to become of him. What does he deserve, and who is he really in his heart?" he said.
Further, one of the biggest "Breaking Bad" connections will come through the appearances of Walter White and Jesse Pinkman, which Gould has confirmed will be happening. Gould told Entertainment Weekly that when and how Walt and Jesse show up will definitely surprise viewers. He elaborated, "I've heard a lot of few theories about what's going to happen, and I'm happy to report I haven't heard a theory that comes quite close to the actual fact."
All in all, there sure seems to be a lot to look forward to in the final episodes of the series. Season 6 of "Better Call Saul" returns on July 11.