Josh Brolin Teases Cable In Deadpool 2, X-Force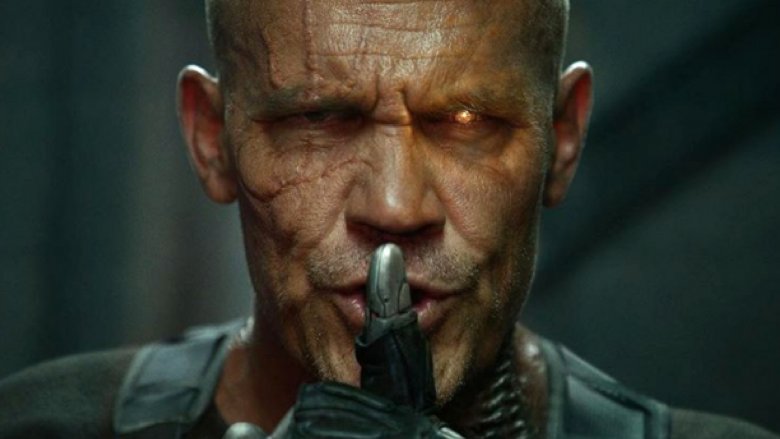 Josh Brolin went through a lot of pain and suffering for his role as Cable in Deadpool 2. The actor revealed in a recent interview with Collider that he got "beat to s**t" while filming the upcoming superhero flick, which was directed by John Wick stunt coordinator David Leitch.
"[Leitch] embraces what he's very good at, which I think is very smart," Brolin said of the film. "There's tons of action in it. The tease is, a guy who's 49 years old on the cusp of 50 who got in the best shape of his life, especially exteriorly, and I was extremely disciplined throughout the whole thing... I had stuntmen throwing me all over the place. I've got a shoulder issue, I've got a knee issue that I've got to deal with now, but we got through it. We got through it, I pushed hard and I suffered because of it."
Although Brolin has been pumping fans up for his role in the film with teases of him at the gym and on set, rumor has it that the movie won't delve much into Cable's backstory. "I'm not going to tell you how much I'm in the film, but it's his introduction, and I think his introduction, even in the small promos and teasers that David has shown me, I think it's a proper reveal," Brolin said in response to the reports.
"I think we're not trying to hide the fact that this is the beginning of Cable and absolutely not the end," he continued. "I think when you're sensitive about how you reveal this character there's a sense of mystery in it, so then when we finally get into X-Force, you're going to be with this guy full blown all the time. There's a lot to be revealed. There's a lot to be revealed, but there's three more movies to reveal more."
Brolin didn't explain what those three movies were, but we do know that he is set to lead the aforementioned X-Force film, which he thinks could be shooting as early as next year. "It depends on how Deadpool 2 does, but I don't think that's a make or break kind of deal," he said. "[Writer and director] Drew Goddard is already involved in it. He's into it now. I know he and Ryan [Reynolds] were meeting."
"I've met him once, and so this is all kind of going ahead," he continued. "How it goes ahead, I know what they're preparing, and I know that it's something that I'm set to do. When it happens they're going to put it as fast as they can. I think Drew Goddard is doing his movie right now, [Bad Times at El Royale], and then once he's kind of wrapped up with that and this movie comes out I think we'll be ready to start the other one."
While we don't know when X-Force will hit the big screen, we do know we'll get our first look at Brolin's Cable in action when Deadpool 2 is released on June 1, 2018.