Minions: The Rise Of Gru Review: Return Of The Jibber Jabber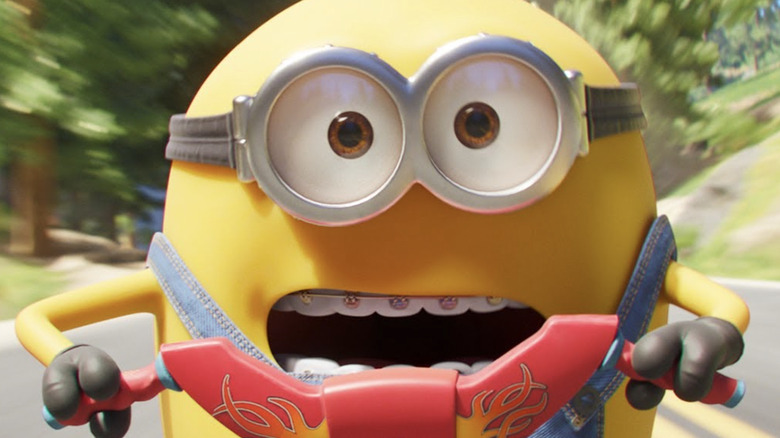 Universal Pictures
Five movies in, you know what you're getting at this point with the Minions. There will be a lot of fart jokes, a lot of pratfalls, plenty of gibberish, and an overall good-natured mood punctuated by bizarrely catchy renditions of something like the Rolling Stones classic "You Can't Always Get What You Want." The "Despicable Me" franchise perfected a formula early, kids continue to devour these films, and at this point the highest praise you can give "Minions: The Rise of Gru" is that it doesn't screw it up.
Taken as a whole, "Rise of Gru" comes in somewhere around the middle of the pack, made memorable by its '70s trappings and silly disco feel, but not quite as fun as the first "Minions" film or the surprisingly transcendent Balthazar Bratt hijinks of "Despicable Me 3."
Technically, "Rise of Gru" is a sequel to 2015's "Minions" and a prequel for the "Despicable Me" films — which already have the fourth installment in the works. In some ways, the series has always felt like Steve Carell got Urkel-ed by his spotlight-stealing co-stars; on the other, without the not-so-evil evildoer there would be no Minions, and although they might sometimes float apart, the recipe works best when Gru and the little yellow banana lovers are together.
"Rise of Gru" begins in 1976, with the audience quickly introduced to the "Vicious 6," a supergroup of villains, one more colorful than the next. There's metal-handed Stronghold (Danny Trejo), roller-skating Swede Svengeance (Dolph Lundgren), lobster-clawed Frenchman Jean Clawed (Jean-Claude Van Damme), and best of all, an evil nun named Nunchuck (Lucy Lawless) who wields her namesake. Their boss is an older, "Easy Rider"-type hero (voiced by Alan Arkin) named Wild Knuckles, who is betrayed in the film's opening moments and effectively replaced by disco-loving Belle Bottom (Taraji P. Henson).
The film sets into motion a trio of intersecting plotlines that revolve around the Zodiac Stone, a supernatural McGuffin that everyone wants and the Minions can't seem to hold on to. The Vicious 6 are interested in (what else?) world domination; Wild Knuckles is desperate to prove that his best days aren't behind him; Gru, who idolizes the supergroup, botches a job interview with them, then sets out (with and without the Minions) at 11 years old to live out his childhood wish and become the greatest supervillain of all time.
But come on, who's kidding who here? All of the aforementioned is simply an excuse to have the Minions learn kung fu, make Pet Rock jokes, and indulge in a James Bond-inspired intro that might be the best opening credits of any film this year. The core audience won't care, because all that stuff is very funny. The musical cues are also inspired, whether Kevin, Stuart, and Bob are rocking out to St. Vincent covering "Funkytown" (there are contemporary artists covering '70s classics throughout) or new Minion Otto (he has braces) is joining in on a group rendition of Simon and Garfunkel's "Cecilia."
Joining the fun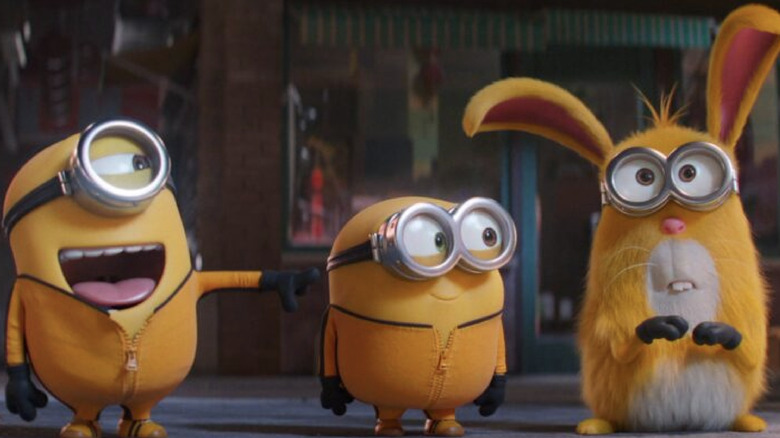 Universal Pictures
Hardcore fans of the franchise will enjoy this peek at the early days of Gru. He's laughed at in class when expressing a desire for evildoing, then later attempts to recruit the infamous Dr. Nefario for his fiendish plans. More casual fans will enjoy Otto's road trip with a good-natured biker (RZA), which includes a tourist stop at the World's Biggest Banana.
Parents, meanwhile, might enjoy random references to "Nashville," Don Rickles, and "Star Wars: A New Hope." But honestly, the biggest thank you to them for forking over north of ten bucks per ticket is the laughter of their children, which will be plentiful. These Minion adventures have a zany, anarchic feel that is as close as modern pop culture gets to the heyday of the Marx Brothers or classic Looney Tunes, and this is something both freeing and empowering for kids, who need to laugh at the absurdities of life just like the rest of us.
Perhaps the biggest disappointment in "Rise of Gru" might be nitpicking, but there's too much talking this time around. The 2015 "Minions" film was not only charming and stupid but somewhat fascinating in its long stretches of near-silence, with little more than gibberish and musical cues propelling forward whatever passed for a story. Also, since Gru is effectively a good guy now in all these movies, they keep bringing in villains who are pretty weak.
Aside from the aforementioned Bratt, which came from the brilliance of casting Trey Parker, the secondary villains in the "Despicable Me" franchise can be its Achilles' heel. Sandra Bullock's Scarlet Overkill (briefly referenced here via a lunchbox), Benjamin Bratt's El Macho, and now Arkin's Wild Knuckles all serviced their plots without doing much more, overcast by the shadows of the Minions. At least Arkin's character is increasingly, refreshingly redeemed as the film moves along, with Knuckles reluctantly taking Gru under his wing, allowing him to apprentice via odd jobs (like cleaning out a crocodile-filled swimming pool), and the two of them forming a significant bond that pays off at the end of the film. Gru's mother Marlena also makes an appearance, and there's something quite cool about seeing the names "Alan Arkin" and "Julie Andrews" in a 2022 popcorn film.
Sad eyes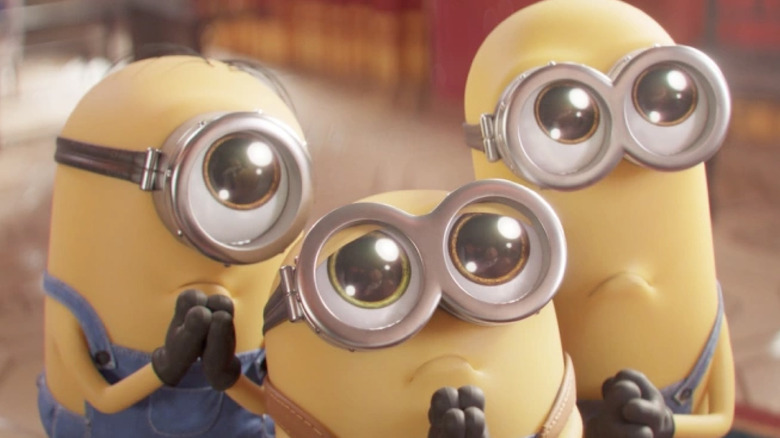 Universal Pictures
Does "Rise of Gru" teach kids anything? Other than, possibly, about the existence of Linda Ronstadt, no. Is it clever in some spectacular way, like the "Paddington" films? Not even close. But at some point, you have to give props to the Minions for creating what might be the most recognizable children's symbol — yellow, overalls, bulging eyes — since SpongeBob SquarePants. It's also somewhat refreshing that the Minions don't even pretend to have character growth from one film to the next. They're bad, but not really, heroic, but not really, communicative, but not really. To spend too much time pondering their popularity is probably a fool's errand, but it's indisputable that kids adore them, and it's also indisputable that your kid is guaranteed to leave the theater with a spring in their step and a smile on their face.
By the end of "Rise of Gru," the titular villain has hooked up with Nefario and seems ready to begin his life of crime. But he is still not even a teenager, so it feels likely another "Minions" prequel or two could be a possibility before the two film series collide. Whatever the future holds for the Minions (and let's be honest, we all know exactly what those films will be before the scripts are even written), this much is certain: your kids will want to see it.