The Action Thriller That Sandra Bullock Regrets Filming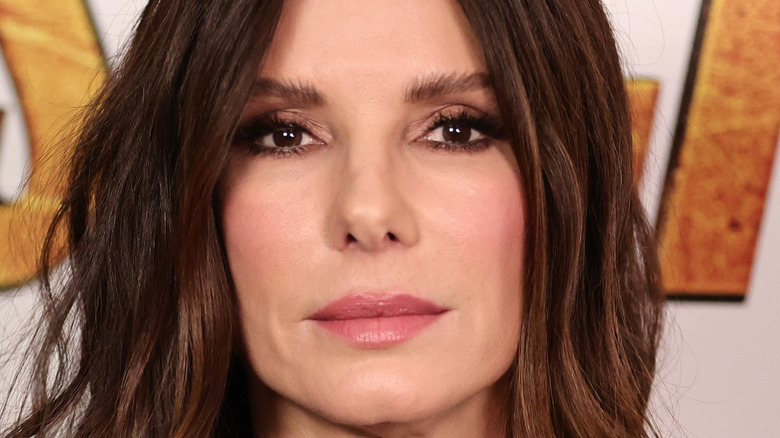 Jamie Mccarthy/Getty Images
Sandra Bullock, who is now easily one of the most recognizable working actors in the industry today, has been acting on screen since the late 1980s (via IMDb). After a brief TV stint — she played the lead role in the short-lived sitcom "Working Girl" in 1990 — Bullock began making a name for herself in film, appearing in beloved and critically acclaimed movies such as 1994's "Speed," 1995's "While You Were Sleeping" and 1998's "Practical Magic." She has racked up nearly 60 acting credits over the years — her most famous roles include 2000's "Miss Congeniality," 2009's "The Proposal," 2013's "Gravity" and 2018's "Bird Box." In 2010, she won the Oscar for best actress for her performance in "The Blind Side."
Looking at the list of aforementioned films, it's clear that Bullock has had quite a career. However, no career is perfect and, like many people out there, Bullock also has a regret or two when it comes to the decisions that she's made during her career. In fact, there's a certain action film that she recently revealed she completely regrets being a part of.
Bullock is embarrassed she did Speed 2
Earlier this year, Sandra Bullock, along with her co-star Daniel Radcliffe, spoke with TooFab to promote their recent film, "The Lost City." During the discussion, the interviewer asked the actors if there was a film from their past that they found a bit embarrassing at the time of its release, but that they have since come around to.
Bullock responded that she was thrown off by the second part of the question and was fully focused on the "embarrassed about" part. She said, "I have one [that] no one came around to and I'm still embarrassed I was in. It's called 'Speed 2.' I've been very vocal about it. Makes no sense. Slow boat. Slowly going towards an island." If you need a refresher, "Speed 2: Cruise Control" — which Bullock's co-star from the first film, Keanu Reeves, did not return for —came out in 1997, a few years after its predecessor, and was completely panned by critics. It holds a notably poor 4% Tomatometer score on Rotten Tomatoes, next to a not much higher 16% audience score.
Bullock also noted that "Speed 2: Cruise Control" is just one of the sequels she's done in her career that didn't turn out too well. In fact, there does happen to be another sequel film of Bullock's that the actress has expressed regret toward.
Bullock also regrets Miss Congeniality 2
On another stop of the press tour for "The Lost City," Bullock revealed to Metro UK that she wished she hadn't done "Miss Congeniality 2: Armed and Fabulous," which came out in 2005 and currently holds a 16% Tomatometer score on Rotten Tomatoes. The sequel sees FBI agent Gracie Hart (Bullock) returning to the world of beauty pageants when one of her former pageant friends, Cheryl Frasier (Heather Burns), goes missing and she is put on the cast. When the interviewer asked Bullock if a third "Miss Congeniality" was a possibility, Bullock swiftly responded, "'God no! No, no." She did clarify, though, that there were some good things about working on the sequel. "Two shouldn't have been done but I'm glad that it did because of [co-star] Regina [King], who I just freaking adore. [But] that one should have remained a one-off."
Despite not wanting to return to the role, she did mention to Metro UK that another "Miss Congeniality" story could potentially be told through a prequel film. She said, "Unless they make a prequel with the young Gracie Hart, with the mustache and the monobrow. Gracie Hart in her 10, 11-year-old life, still acting very much the same as Gracie Hart as an adult would be cute."