The Challenge Fans Predict How Many Wins It Will Take For CT To Retire For Good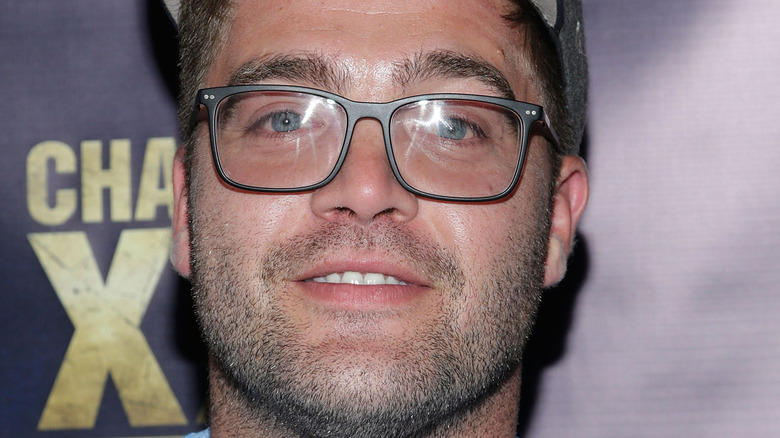 Lars Niki/Getty Images
There was a time where the television channel MTV use to play almost entirely music videos, but the past couple of decades has seen a shift in programming for the young-adult focused station. These days, MTV is predominately known for reality based television that has seen the inside of celebrity houses, cars transformed into works of art, and chronicling the lives of individuals who have a laser focus on three aspects of life — gym, tanning, and laundry. Some of the earliest reality television shows on MTV were "The Real World" and "Road Rules," which morphed into each other with "Road Rules: All Stars" that sees people from "The Real World" undergo "Road Rules" like challenges.
Premiering in 1998, "Road Rules: All Stars" underwent a re-branding in its second season, and became "Real World/Road Rules Challenge," and then simply to "The Challenge" in 2010 for the sake of brevity. The premise of the show is that reality television stars compete against each other for a grand prize, and has featured contestants from shows beyond MTV's scheduled lineup like "Survivor." One of the most reoccurring victors of "The Challenge" is Chris "CT" Tamburello. CT has won seven times and taken home over $1.3 million in prizes, including spin-off iterations of the show. CT is an immediately recognizable figure for fans of "The Challenge" franchise, but it seems as if some have taken to predicting how many times he will win before calling it quits for good.
Some fans think that CT will win more time and then retire
Taking to the subreddit r/MtvChallenge, a poll was created by u/JP1426 who asked how many times will CT win "The Challenge" before retiring, and noting that he has won five times in the main series. Collecting over two thousand votes, the options were that he would retire after this most recent win, and ranged all the way up to four additional wins. Considering that CT is over 40 years old, it seems that most fans of the show think that CT will win more time and then call it quits. This option earned 618 votes, with the second most voted result being that he will win two more times before retirement, which had 508 votes.
u/Tonya7150 said of the results, "[Has] he said anything about retiring? If I'm correct, he has said something about taking a break," to which the original poster replied, "He hasn't but I mean eventually he will retire. As sad as it may be eventually he will become a liability or just become to old to still compete at a high level. Eventually people won't see him as a threat to come back from elimination and just throw him into early eliminations every time." u/plagues138 added that they think CT will retire after Season 40, but could see him coming back for All-Stars episodes.
CT focuses on his physical and mental health, which is highlighted by his change in appearance in The Challenge
Talking to Mashable, Chris "CT" Tamburello mentioned that he was having some issues with his life after turning 40, and stated, "Instead of getting myself a big fancy car or anything like that, I went to a doctor. And I was like, 'What's wrong with me? I'm not living right.' Basically, it was mental health. It was in my own head. I was slowly killing myself, really." He then decided to start eating better and cutting out alcohol, and the results marked a tremendous improvement on both his body and mind.
He then spoke about what it was like turning 40 and still competing on the reality television series after a hiatus. He said of the experience, "I feel vindicated. I kind of came out of retirement because after having a kid, I didn't want him to see me from the past. I wanted to get back [on] my feet, get in shape, and to get right. I feel like I've done that."
Considering these comments, it appears as if his reason for returning to the show were of personal reasons and a motivator for getting his life back on track. "The Challenge" often requires contestants to be in good physical shape for some events, while other objectives need a sharp mind. Needless to say, CT's tenure on the show has taught him the ins and outs, which is best illustrated by his utter domination of the popular reality television show. The only real question is when he might retire from "The Challenge" for good and give the others a chance to win.