The Degrassi Episodes Fans Always Skip On A Rewatch
Like its predecessors "Degrassi Junior High" and "Degrassi High School," "Degrassi: The Next Generation" (the most binge-worthy teen drama of all time) was not afraid to push the envelope. Throughout its 14 seasons, the Canadian series showcased several compelling issues for its ensemble cast, ranging from substance abuse to violent homophobia to abortion. The first episode of the series ("Mother and Child Reunion Part I") sets the tone for the rest of the show when an adult man lures 12-year-old Emma Nelson (Miriam McDonald) into meeting him at a hotel. Luckily, she is saved by her mother, Christine "Spike" Nelson (Amanda Stepto), and her soon-to-be stepfather Archie "Snake" Simpson (Stefan Brogren). 
Due to the show's sensitive subject matter, it's understandable that some viewers may be hesitant to revisit certain episodes. Here are the "Degrassi: The Next Generation" episodes that fans tend to skip while rewatching the series.
Fans shared which Degrassi episodes they don't rewatch
Entertainment One
The Reddit user, u/MrsBeaumont, asked "Degrassi: The Next Generation" fans to share episodes they do not rewatch on the r/Degrassi subreddit. Some commenters shared that they found Season 6, Episode 11 ("Rock This Town"), which focuses on the murder of J.T. Yorke (Ryan Cooley), difficult to enjoy. Another user noted that they did not like how J.T.'s girlfriend Mia Jones (Nina Dobrev) spoke to the mother of his child, Liberty Van Zandt (Sarah Barrable-Tishauer), following his death. "I hurt so badly for Liberty when Mia tries to make it all about her and tells Liberty that J.T. hated her and shows the video of J.T. bonding with her daughter when his son with Liberty was placed for adoption. Mia completely dismissed Liberty as having any importance in his life," said u/rachelvioleta.
Other fans shared that they were not interested in revisiting Season 4, Episode 8 ("Time Stands Still"), where Rick Murray (Ephraim Todd Ellis) is publically humiliated by his peers after he physically abused his ex-girlfriend. As fans are aware, this culminates in the school shooting that paralyzes basketball player Jimmy Brooks, played by Drake.
Some fans were unhappy with episodes featuring Kevin Smith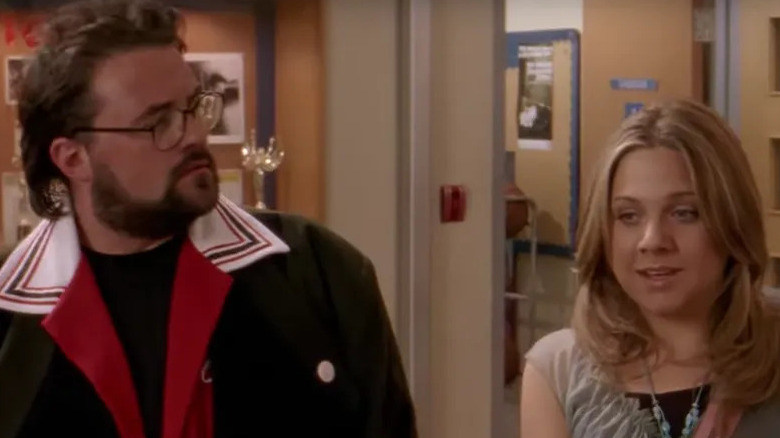 Entertainment One
A few viewers also revealed that they refrain from rewatching Season 4, Episode 20 ("West End Girls"), Season 4, Episode 21 ("Goin' Down the Road Part I"), and Season 4, Episode 22 ("Goin' Down the Road Part II"). These episodes focus on "Clerks" director Kevin Smith as he films a "Jay and Silent Bob" sequel titled "Jay and Silent Bob Go Canadian, Eh!" at Degrassi Community School. While directing the film, Smith has a brief romance with journalist Caitlin Ryan (Stacie Mistysyn) and encourages her to move to Los Angeles, causing her to break up with her fiancé Joey Jeremiah (Pat Mastroianni). While the commenters did not specify why they disliked the episode, it may be because the director's presence ended a fan-favorite relationship. 
During a 2005 interview on "CTV AM," Smith explained he adored the original series and revealed that he had a particular fondness for Caitlin, who inspired the name Caitlin Bree (Lisa Ann Spoonauer) in "Clerks." While speaking to PeopleTV's "Couch Surfing" in 2020, Smith explained that he was able to give some input on the journalist's storyline when he guest-starred on the show. "I worked with one of the writers up there, and the version of myself is unmarried and has no kid. Then he met Caitlin Ryan, a character from 'Degrassi Junior High' who I always loved."