Dune Part Two Will Be Coming A Little Later Than We Expected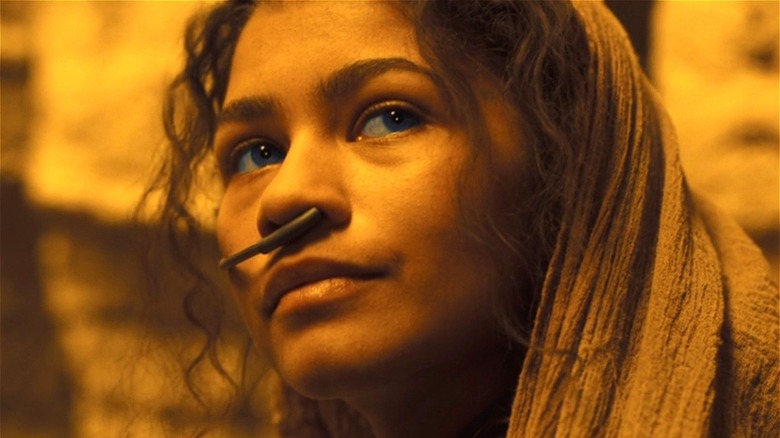 Warner Bros. Pictures
"Dune" is one of the most seminal science-fiction novels of all time. Written by Frank Herbert, the 1965 novel tells the story of the Atreides family, specifically when it comes to their son Paul. The family travels to the inhospitable planet of Arrakis to collect the drug "spice," which enhances one's mental abilities and extends life. Control over the planet as well as the wondrous spice is rife with conflict, and the story ties together themes of technology, ecology, and politics. 
"Dune" has influenced numerous sci-fi stories that followed, from "The Chronicles of Riddick" to "Star Trek." While the book was initially adapted into a film in the 1980s, it wasn't exactly well-received. The book deserved a far better adaptation, which it unanimously got in 2021 with the release of "Dune," directed by Denis Villeneuve. The movie was nominated for numerous Academy Awards, winning several in the technical categories, and it ended up grossing just over $400 million at the worldwide box office. A sequel is highly-anticipated and on the way, but fans will have to wait just a little while longer before seeing it.
Dune Part Two will come out on November 17, 2023
While "Dune Part Two" has been pushed back by Warner Bros., fans can at least take solace in knowing it hasn't been pushed too far back. The film was initially slated to come out on October 20, 2023. It's now set to release on November 17 of that year (via Variety). It's a little less than a month's delay, and it puts the science-fiction film up against some stiff competition at the box office. Also slated to come out that day is "The Hunger Games" prequel "The Ballad of Songbirds and Snakes" as well as "Trolls 3."
Nothing else is currently scheduled to release on October 20, 2023, so it's unclear why Warner Bros. wanted to move the release date. Perhaps the team simply needs a little more time to ensure the movie is as perfect as can be before being seen by the masses. "Dune Part Two" is scheduled to begin filming later this year.
Meanwhile, Warner Bros. offered a release date on another highly anticipated project, namely a follow-up to "Godzilla vs. Kong." That film will come out in theaters on March 15, 2024. "Dune Part Two" will bring together much of the same cast from the first, including Timothee Chalamet, Zendaya, Javier Bardem, and Rebecca Ferguson, while adding some new faces, including Christopher Walken, Florence Pugh, and Austin Butler.