The Booth Costuming Detail That Bones Fans Think Symbolizes So Much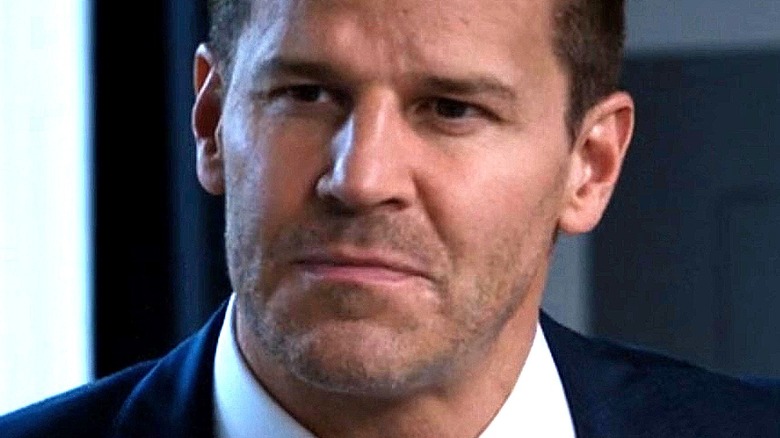 Fox
The hugely successful procedural crime dramedy "Bones" aired on Fox from 2005 to 2017. It starred Emily Deschanel as the odd but brilliant titular character, Dr. Temperance "Bones" Brennan, along with other talented actors like Michaela Conlin (Angela Montenegro), Tamara Taylor (Camille Saroyan), and John Francis Daley (Lance Sweets). However, most notable of all was Deschanel's costar, David Boreanaz.
Boreanaz first got famous for playing a very adult vampire who was in love with a high school student and vampire hunter in "Buffy the Vampire Slayer," a character he continued portraying in the well-regarded spinoff, "Angel." Being added to the cast of "Bones," however, was a pretty dramatic shift for the actor. After spending seven years playing a blood-sucking heartthrob, he had to take on the challenge of portraying a mostly straight-laced FBI agent who helped solve murders with the power of science. 
Thankfully, Boreanaz was thoroughly invested in making Booth a dynamic character that fans couldn't help but fall in love with. He did a fantastic job — so much so that fans are still picking apart the finer details of his character years after the show reached its end.
Viewers noticed that Booth's cuffs are always unbuttoned and rolled up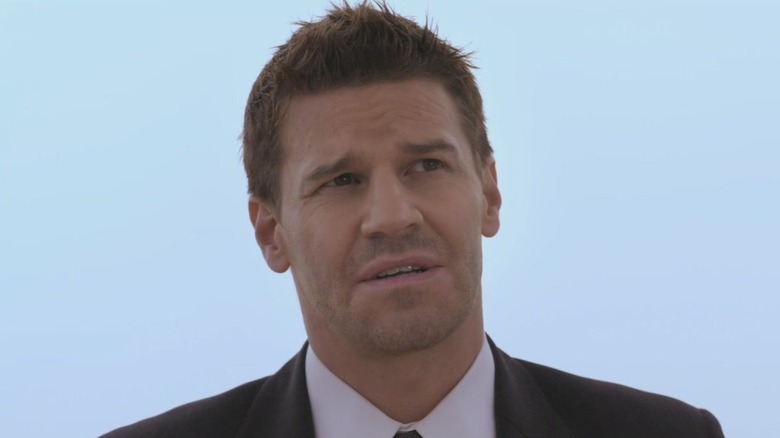 Fox
There are several Reddit threads where fans dig deep into the series and discuss the finer details about Booth's attire. "Rough around the 'edges,' shirt cuffs, socks, belt buckle, collar not buttoned up and tie not snug, etc. Kind of suits the personality or the character," wrote u/FRANK_R-I-Z-Z-O, with nearly everyone in the thread chiming in to agree. Funny enough, Booth's shirt cuffs weren't unbuttoned in every episode. When Booth had to get dressed up for his wedding to Brennan in Season 9, Episode 6, "The Lady in White," his cuffs were buttoned and neatly dressed up with a beautiful pair of silver skull cufflinks, as pointed out by @HellYeahBooth on Twitter.
As Frank Rizzo pointed out, Booth's rough edges weren't just limited to cufflinks. The belt buckle they reference is Booth's shiny, red belt buckle with a silver rooster and the word "cocky" in large, bold font. It was one of many intentional details that Boreanaz wove into his character's personality and backstory. The socks were knit socks with colorful and playful patterns; fans were so enamored with this wardrobe decision that he's received many pairs of socks as gifts over the years (via Entertainment Weekly). Boreanaz was passionate about creating a unique and in-depth character for fans to dig into and pick apart. Adding those "rough" details to a character with both a military and law enforcement background certainly turned the tables on both professions' notoriously strict dress codes.