Scott Adsit On Voicing Baymax And Potential For A 30 Rock Revival - Exclusive Interview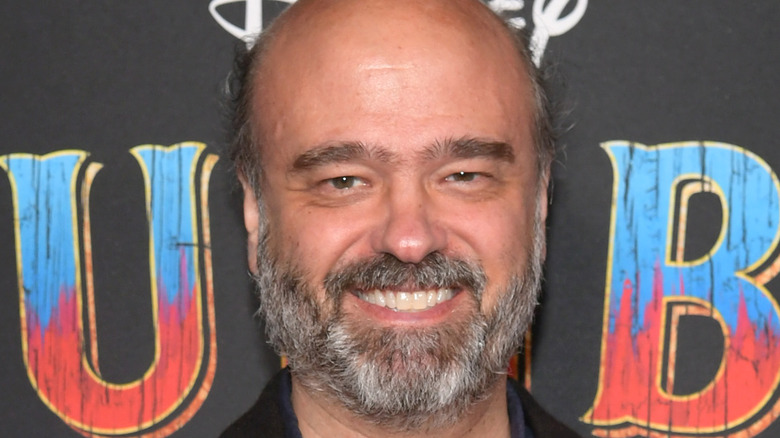 Emma Mcintyre/Getty Images
When "Big Hero 6" came out in 2014, the world was introduced to Baymax, a giant, inflatable robot who serves as a personal healthcare companion. Voiced by actor and comedian Scott Adsit and loosely based on the Marvel comics character of the same name, Baymax just wants to help people — and that's the simple premise of a new six-episode series based on the pudgy white robot with a heart of gold.
"Baymax!" — which is now exclusively available on Disney+ — follows the robotic nurse as he helps various people in his hometown of San Fransokyo, from Aunt Cass (Maya Rudolph) to a stray cat named Yachi. Adsit, who may be best known as devoted TV producer Pete Hornberger on the hit sitcom "30 Rock," once again lends his voice to help the friendly robot come to life.
During an exclusive interview with Looper, Adsit opened up about why playing Baymax is better suited for a series than a full-length "Big Hero 6" sequel and reflected on his time on "30 Rock."
The Baymax series is filled with 'emotional content'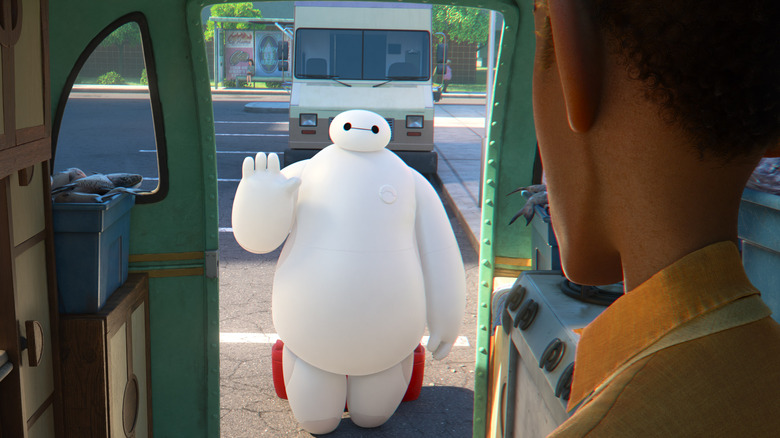 Walt Disney Studios
Baymax represents a different kind of Marvel superhero — but he is a Marvel superhero. When you step into his shoes, do you ever think about how you're now in the pantheon of the MCU, alongside the likes of, say, Benedict Cumberbatch as Doctor Strange and Chris Hemsworth as Thor?
I do [think about it, but I don't think they [share a space in the Marvel world]. I connected more to a Disney pantheon. I remember at the first screening we ever did, John Lasseter, who was in charge of the studio, said to the Big Hero 6, the six of us, "You are now on the same shelf as Peter Pan and Pinocchio. You are part of that family." That's where I really connected. I love Marvel comics, and I love the movies so much. Because "Big Hero 6" takes place in San Fransokyo, that is a universe that the MCU multiverse has not quite tapped into yet, and I don't know if they plan to.
What is the key to sounding like a robot? Is there a trick you think of or use whenever you voice Baymax?
I tend to think of Baymax's voice as being an AI that uses fill-in-the-blank technology that is almost obsolete now, like phone services that say, "Your wait time is five minutes," and that kind of rhythm. That's where I started with him, and that's what I've stuck with. I don't know if he'll ever progress past that rhythm. We'll see. Technology is very good now, and there isn't that robotic voice anymore. That is a reference to the past now, that pleasant help-mate robotic voice.
Why do you think "Big Hero 6" and Baymax have been better as a series than a feature-length sequel? Do you hope a feature-length sequel is in the future?
I certainly hope we get a sequel. Sure, I would love it. I love visiting these characters in San Fransokyo. This "Baymax" series is unique because it has the opportunity to spend time with things that may not be big-screen excitement. It's emotional content. It's emotionally exciting to watch people take a step into the next chapter of their lives, which is essentially what's happening in each one of these episodes. Baymax gets to do something in the series which he may not have time to do in a big plot-driven movie, which is go around and gently help people, his whole purpose for being.
Adsit 'doesn't have a lot of hope' for a 30 Rock revival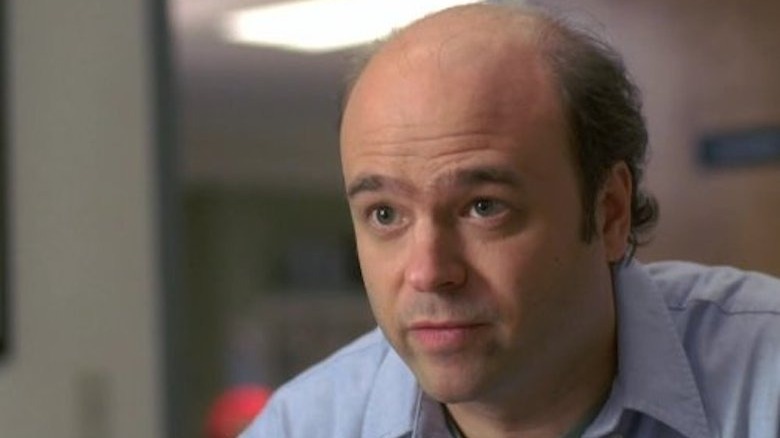 NBC
Now, "Big Hero 6" and Baymax has been one of your more enduring acting endeavors, aside from maybe "30 Rock" that lasted seven seasons. With that show, "30 Rock," you did a one-off reunion in 2020, but do you ever hope for that series to get a larger revival?
It's always great to see everyone in one place with "30 Rock." I don't have a lot of hope for it coming back as a reunion series again, or a reboot, because it was of its time and told its stories. I wouldn't say no to it happening again, but we signed that painting already.
Do you have a favorite memory from filming that series?
I remember watching Jane Krakowski improvising dancing in Season 1 with Pee-wee Herman, Paul Reubens, playing Prince and yelling different dance moves at her. She was improvising, and Paul was improvising by throwing out dances that exist, and some that don't, and she would dance. I always thought that was a great bit of TV.
I also remember sitting around these long nights together and making each other laugh and getting to know the crew. It was a very tight-knit crew and cast, and we all felt very close. There were some night shoots where we'd spend the whole night together, and those were the best nights.
There were also these stools that we had that were made with perfect ball bearings, and they glided across the studio floor. It's a seat on wheels, and it's one of the most pleasant experiences I've ever had, gliding across the studio floor. We'd have races and stuff like that. I don't know why that sticks with me, but that's one of my favorite things.
All six episodes of "Baymax!" are now exclusively available on Disney+.