The Chicago PD Character You Likely Forgot Clancy Brown Played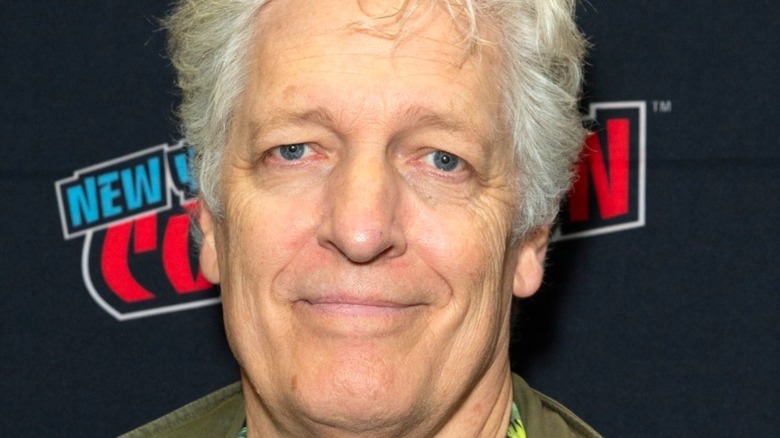 lev radin/Shutterstock
Clancy Brown has had an incredible career as a character actor in movies and TV shows over the last several decades. You might recognize him as the brutal Captain Hadley in "The Shawshank Redemption," or the psychotic immortal Kurgan in "Highlander." But for all of his success in the live-action field, he's probably even more distinguished as a voice actor in animated projects. The distinctive cool voice of Lex Luthor in the DC Animated Universe franchise (starting with "Superman: The Animated Series" and continuing through "Justice League" and "Justice League Unlimited" and other affiliated works) is a near-definitive take on the character, and the abrasive, pirate-y growl of another greedy industrialist, Mr. Krabs on "SpongeBob SquarePants," is truly iconic.
In Brown's essential AV Club Random Roles interview, Brown credits an eccentric neighbor during his childhood with first exposing him to the acting bug. Now, his filmography is the kind that working actors dream of accumulating over the years. 
A quick look over Brown's credits on IMDb will reveal just how impressive the scope of his career has been. And hidden amongst all these gems is a three-episode run on "Chicago PD" that you might have forgotten about.
The actor plays criminal Eddie Little in three episodes from the show's third season
Clancy Brown has played more than his share of villains over the course of his career, so it's natural that "Chicago PD" would want to retain his services as a Special Guest Star in the role of underworld luminary Eddie Little, a one-time cellmate of Hank Voight (Jason Beghe). We first meet Eddie in Season 3, Episode 1 of "Chicago PD," entitled "Life is Fluid," after which he isn't seen until Season 3, Episode 11, "Knocked the Family Right Out," and Season 3, Episode 12, "Looking Out for Stateville," in which Voight enlists his old cellmate as a criminal informant in order to bring down a drug supplier. Check out this clip featuring Brown conferring with the "Chicago PD" team, and you'll see some of the coiled tension and brisk professionalism he brings to what might have been a less memorable role in other hands. 
Since then, Brown's Eddie Little hasn't been seen on "Chicago PD" or elsewhere in the "One Chicago" universe. But in the time since those appearances, he's continued his highly prolific acting output. You might have seen him in his prominent role on the "Dexter" revival, for instance, or in films like "Hail, Caesar!" and "Promising Young Woman." He's even continuing to voice Lex Luthor and Mr. Krabs in various animated spinoffs. So if you've grown nostalgic for Eddie Little's unique presence on "Chicago PD," at least there's no shortage of opportunities to catch the actor behind the character elsewhere.