The Guillermo Del Toro Sci-Fi Thriller You Likely Forgot Starred Sons Of Anarchy's Charlie Hunnam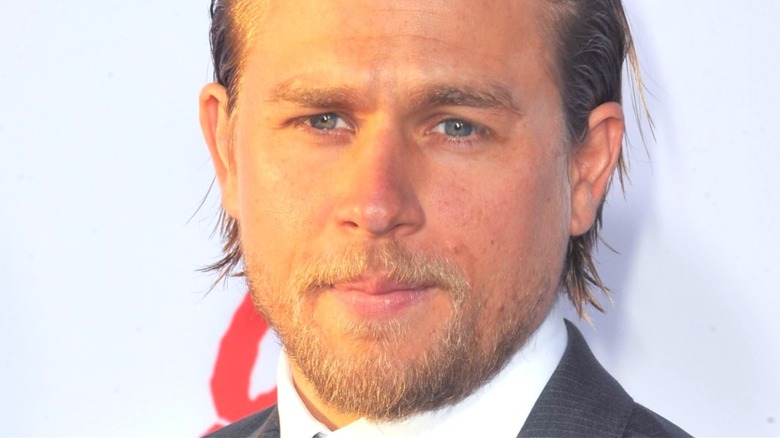 Featureflash Photo Agency/Shutterstock
Multi-faceted English actor Charlie Hunnam has been acting since 1996 (via IMDb). His first prominent role came in 1999 when he played Nathan Maloney in the U.K. television series "Queer As Folk," a decade-defining and massively influential show for the LGBTQ+ community. Hunnam appeared in a variety of other shows and movies, one being the title role in the 2002 feature film "Nicholas Nickleby," a movie based on the Charles Dickens novel of the same name.
However, the knockout role which defined Hunnam's career was as the hard-headed bandit biker Jax Teller on the hit FX show "Sons of Anarchy" created by Kurt Sutter. Sadly, neither Hunnam nor the show ever received an Emmy, although one would have certainly been well-deserved. The series carried on for a successful seven seasons, launching Hunnam to stardom.
Hunnam's roster of films remains impressive, and he has made appearances in everything from Guillermo Del Toro's horror thriller movie "Crimson Peak" to James Gray's "The Lost City of Z" and even Guy Ritchie's "King Arthur: Legend of the Sword." However, there is one movie in particular that many people likely forgot Hunnam played a major character.
Charlie Hunnam had one of the lead roles in the successful sci-fi blockbuster Pacific Rim
In 2013, Hunnam landed the prominent hero role of ex-Jaeger pilot Raleigh Becket in Guillermo Del Toro's high-profile action mega-hit "Pacific Rim." Hunnam's character is tasked by the Pan Pacific Defense Corps to help defeat the Kaiju, otherworldly sea creatures who have been attacking Earth for decades. Hunnam pilots a special Jaeger robot that is designed for strenuous war against these ancient monsters. The film also stars Idris Elba as Stacker Pentecost, Rinko Kikuchi as Mako Mori, Diego Klattenhoff as Raleigh's brother, Yancy, and Charlie Day as Dr. Newton Geiszler. 
Del Toro's creature feature landed a fresh Rotten Tomatoes score of 72% and a worldwide box office total of $411 million. As a tentpole sci-fi blockbuster helmed by an auteur like Del Toro, the film features mind-bending action sequences and compelling visual effects. Hunnam was passionate about starring in the film, as revealed in an interview with USA Today, "'I've always dreamed of being a leading man, but only because the leading man gets to do a lot of great work — not because I ever was interested in being famous. To me, it's all about storytelling and being part of something I feel strongly about and feels important to me.'"
Hunnam faced immense physical and mental hurdles playing Raleigh. He told the Chicago Tribune, "I had to train for the actual replication of what it would be like to pilot one of these machines. There were a couple of really in-depth fights that I did, too." He also divulged that the high-intensity training "was the most brutal, physical experience" of his life.  
Appearing in "Pacific Rim" certainly impacted the types of roles Hunnam would take afterward, and he continues to propel his career forward with notable and unique performances.