The R-Rated Movie You Likely Forgot Starred Zendaya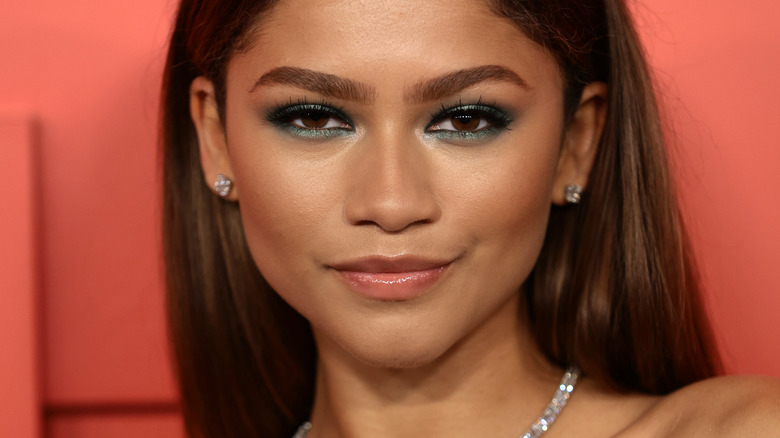 Dimitrios Kambouris/Getty Images
Zendaya is one of those child actors who got their start thanks to a gig with Disney and turned it into a majorly successful career in adulthood. She's best known as the star of Sam Levinson's "Euphoria" on HBO, cast as the troubled Rue Bennett. The raw portrayal was so profound that it landed her an Emmy Award in 2020, and more are sure to follow for the actress (via Emmys). She's also had a solid film career, entering the Marvel Cinematic Universe with her character MJ in Tom Holland's "Spider-Man" trilogy. She's also worked in films alongside famous faces like Hugh Jackman and Michelle Williams in 2017's "The Greatest Showman" and Timothee Chalamet and Rebecca Ferguson in 2021's "Dune" (via IMDb). 
Even though Zendaya's acting credits are already impressive, it somehow feels like she's just getting started. Many of her projects are either hit TV series or blockbuster films, but some of her lesser know work is worth revisiting. Particularly, during the COVID-19 pandemic, she teamed up with Levinson to create a powerful film amid isolation. 
Zendaya stole the show in Netflix's Malcolm and Marie
During the pandemic, it was nearly impossible for showrunners and film crews to figure out ways to run their sets safely. Over time, as restrictions eased, it became more manageable, but it was rough initially, where most new content involved screen recordings of Zoom video calls. Sam Levinson took on the challenge by teaming up with Zendaya and "BlacKkKlansman" star John David Washington for "Malcolm and Marie," a romance drama that only needed a cast of two.
The black and white film centers around the titular couple made up of a director and his girlfriend. The pair get into an epic argument after one of his movie premieres when Malcolm forgets to thank Marie in his speech even though the film was loosely based on her life story. It's an intense film that focuses on artistic expression, the Black experience, relationship dynamics, and, by "Malcolm and Marie's" ending, who owns one's story (via IMDb). 
Malcolm & Marie's toxic characters were its downfall
"Malcolm & Marie" was a different project for Zendaya, who tends to star in films loaded with action or in dramatic works of storytelling like "Euphoria," filled with heart-racing plot lines and some disturbing moments. Instead, "Malcolm and Marie" creates suspense through its simplicity, allowing Zendaya to tap into another side of her acting abilities.
"Malcolm and Marie" wasn't a huge critical success, receiving a 57% rotten rating on Rotten Tomatoes, with many reviews citing the unlikable nature of the two titular characters. However, the film also stands out because it's so evidently about a toxic relationship that probably shouldn't be salvaged. "None of us who made the movie think that they're in a healthy relationship, you know what I mean?" Zendaya told The New York Times following the film's release. "I think it was to explore those insecurities and those dark things about ourselves that I think sometimes relationships can bring out of us."