Are Stranger Things' Millie Bobby Brown And Matthew Modine Friends In Real Life?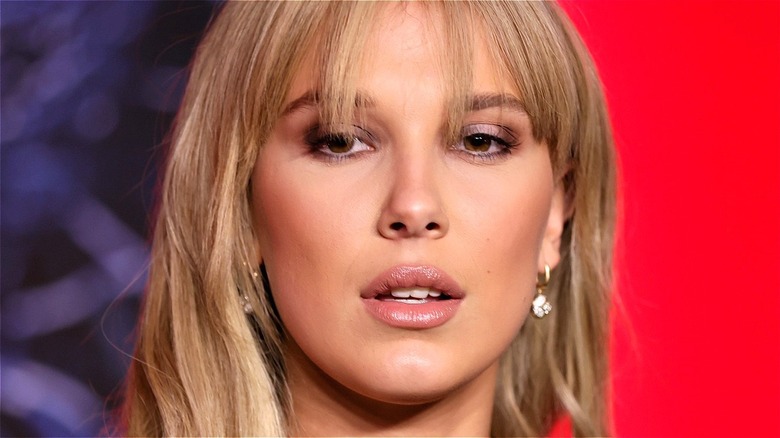 Theo Wargo/Getty
On "Stranger Things," the relationship between Eleven (Millie Bobby Brown) and Dr. Martin Brenner (Matthew Modine) is complicated, to say the least. Sure, Brenner is arguably the Big Bad of the entire series, and Eleven is the object of his scientific obsession. As the man in charge of Hawkins National Laboratory's psychokinetic experiments, Brenner is the entire reason Eleven's life has turned out the way it did.
Yet it would be an oversimplification to say that Brenner is just a villain and Eleven is just his victim. Throughout the series, Brenner has expressed a genuine-if-misguided affection for Eleven, whom he sees as a daughter. Meanwhile, Eleven definitely hates Brenner for what he's done, but he's also the closest thing to a father she's ever known, at least until Hopper (David Harbour) came along. She even calls him "Papa."
When two actors play characters with a complex relationship like that, it often raises questions about what their off-screen relationship is like. In Millie Bobby Brown and Matthew Modine's case, life doesn't imitate art.
Brown and Modine have been pals since 2015
Brown and Modine talked about their offscreen friendship in an interview with Netflix's Tudum. They first met in 2015, when Brown was 11 years old and Modine was 56. Despite their age difference, the two became fast friends.
"Papa and Eleven have such an intimate relationship, so we needed to be able to bond to portray that," Brown explained. "We meshed, and it was just a true, real friendship. Nothing was ever forced. It just worked."
That echoes what Modine has said. In July 2021, he Tweeted: "One of the great pleasures of my career has been working beside and becoming dear friends with MIllie Bobby Brown. I wish the whole world could know her heart."
Co-creator and showrunner Ross Duffer agreed. "Matthew and Millie are so close outside of the show," Duffer told Tudum. "[In] Season 1, we're hinting at Brenner, but we really get to know him a lot better this season. They had so much fun working on scenes together. It really was a blast."
On set, Modine mentored Brown through difficult physical stunts. While filming intense scenes, the two would check in with each other by saying "I love you." Earlier this month, Executive Producer Shawn Levy Tweeted an endearing photo of Brown and Modine relaxing on set between takes.
Brown and Modine are much more than collegial chums, however. While filming Season 4, Modine stayed at Brown's guest house for three months, after only intending to stay three days. Hanging out together became part of their daily routine, and they even went on a road trip together from Georgia to Florida.
"Stranger Things" will end after Season 5, but it sounds like Brown and Modine have made a friend for life.