How Orphan Black Star Ari Millen Was Saved From The Chopping Block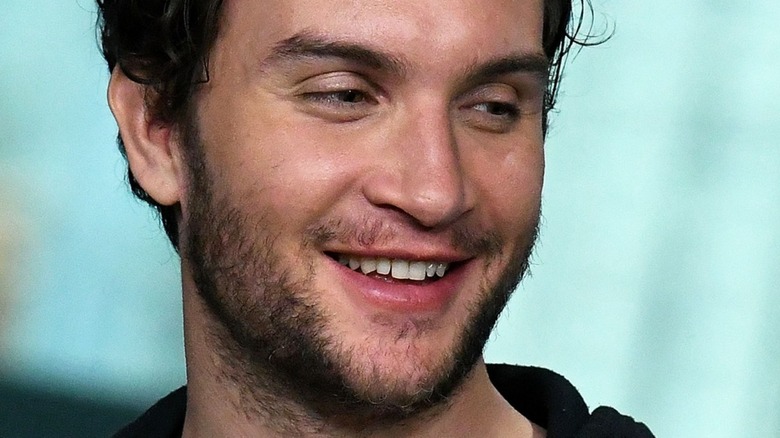 Slaven Vlasic/Getty Images
From its surprising start to its satisfying ending, "Orphan Black" dares to ask many questions. One of the most important questions being if one woman can carry an entire show (which turns out to be an unequivocal yes). Providing a masterclass in acting, Tatiana Maslany portrays almost every "Orphan Black" character with an impressive number of wigs, accents, and mannerisms.
But the sci-fi show is not one to rest on its laurels. "Orphan Black" continues its well-practiced storytelling throughout the seasons, introducing not just one clone program but two. When Mark Rollins (Ari Millen) arrives, he seems to be just another unassuming follower of the Proletheans — an anti-clone cult that ultimately wants to harvest Helena's (Maslany) eggs for its strange purposes. However, in a twist to end all twists, the Season 2 finale reveals that he also happens to be part of a male clone program known as Project Castor. Just as Maslany had done before him, Millen proves his adept acting ability by appearing as a wide range of different characters. However, while Millen may be known as the face of this insidious foe now, that hadn't been the case when he was first cast in "Orphan Black."
Ari Millen was saved by Project Castor
When Ari Millen first appears in Season 2 of "Orphan Black," he seems to have a pretty open and shut character arc. Mark Rollins' affiliation with the fanatical Proletheans does not bode well for his future. People who think they can get the upper hand on Sarah tend not to last very long. Millen, while unaware of his future on the show, told BBC America that he was just happy for the opportunity to act opposite Tatiana Maslany.
"I was told originally: [it was] a six-episode arc, and then I would die in some kind of fun 'Orphan Black' death," Millen reflected. "And then episode six came. I wasn't dead. I read seven, and I read eight, I read nine. And then I got a phone call from Graeme [Manson]." Millen explained that he and the "Orphan Black" co-creator had a productive conversation, but he was completely floored when Manson floated the idea of Millen playing the male clones. Enter Project Castor, a military group that was the male counterpart to Project Leda.
And though this may have seemed like a hasty decision, Manson and co-creator John Fawcett had the plan for the Castor clones for a long time. During the 2015 TCA Press tour, Fawcett revealed that after wondering who would be the man for the job, Millen ended up being the obvious choice for the new antagonists of the series (via DigitalSpy).
Ari Millen's new roles came with challenges
Ari Millen readily accepted the chance to extend his time on "Orphan Black," but with that came new territory. Now, like practiced actress Tatiana Maslany, he too took on the complicated task of playing characters with varying mannerisms and personalities. Millen told The Daily Beast that one of the more challenging aspects of his new undertaking was figuring out each character's defining traits and differentiating between them. For this new challenge, Millen could ground himself in the characters' reality by sticking to their physical attributes.
"I'll start with putting on wardrobe, you know, putting on a scar or a mohawk or what have you," the actor told Entertainment Tonight. "Whatever the character calls for and then looking in the mirror and going from there." And, of course, he also had the best instruction: watching the master, Maslany, at work.