Supernatural EP Teases 'More Adult' Scooby Doo Crossover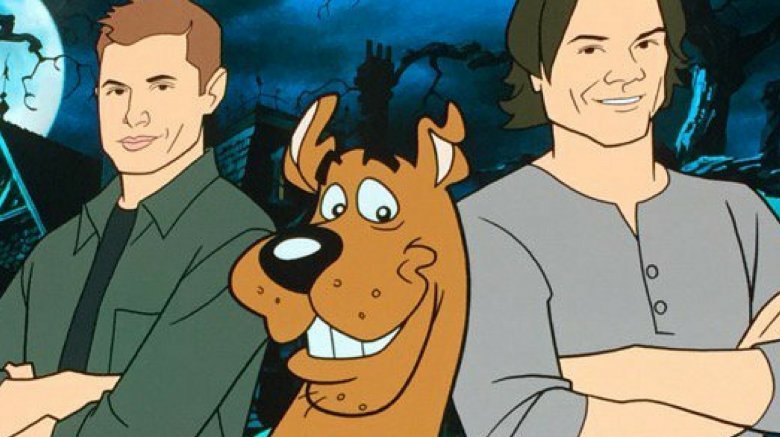 Supernatural's Scooby Doo crossover episode will be a lot "more adult" than your average episode of the kids' cartoon. Sam (Jared Padalecki) and Dean (Jensen Ackles) are set to get animated for an episode of the show's thirteenth season, in which they will be joined by everyone's favorite crime solving dog, but don't expect the episode to stray too far from the Supernatural canon.
"We have ideas floating around sometimes for years before we use them, and that's the benefit of being on a long-running show," co-showrunner Andrew Dabb said to Entertainment Weekly of the fully animated episode. Dabb said that things started to fall into place when he got a call from his friend Jeremy Adams at Warner Bros. Animation. 
"He was like, 'why haven't they done a crossover with Scooby Doo?'" Dabb said. "It's going to be an episode of Supernatural with Scooby Doo in it. It's not going to be an episode of Scooby Doo with the guys in it. It's more adult than your average episode of Scooby Doo." Added co-showrunner Robert Singer, "Scooby is the marquee this year. The script really works. It's just going to be great." 
This isn't the first time that Supernatural has pursued a weird and meta episode. Many fans will remember the season six episode in which Sam and Dean were brought into the world where they're actors on a TV show called Supernatural; the show has also done musical episodes, episodes parodying different genres, and episodes dealing with incredibly dark themes in a very funny way. While it's not unusual for the series to pull off strange antics, an animated episode has, until now, been out of reach for the long-running show. 
Dabb says that the show's stars recorded their pars in March of this year, with the episode likely to air in March of next year. Supernatural airs on Thursdays at 8 p.m. on The CW.