Jumanji: Welcome To The Jungle Director Defends Karen Gillan's Costume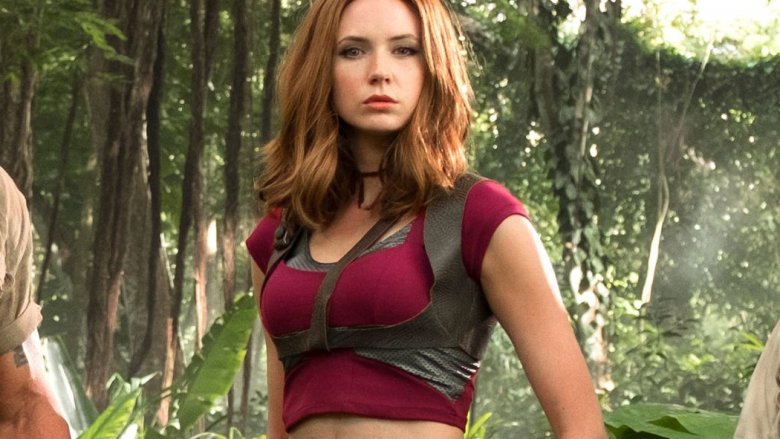 Jumanji: Welcome to the Jungle director Jake Kasdan says there is a lot more to Karen Gillan's character than just her skimpy outfit. Kasdan spoke in a recent interview with Screen Rant about the controversy surrounding Gillan's costume for the upcoming flick, saying that people will change their minds about the revealing outfit when they see the movie.
"I mean taken on it's own, I guess it's... but I knew what we were doing, and I know what the character is," he said. "I love her character. I think it's something I've never seen before in a movie, it's one of the parts of the movie I've been most excited about since I signed onto it. So if anything, I was sort of like, 'People are gonna go crazy when they get what we're doing here,' in a good way. They're gonna love it. So... you can tell what they're looking at from a still, from a– you know what I mean? I love what she's doing in the movie. So I wasn't that worried about it."
Producer Matt Tolmach said that he has also paid attention to the controversy, although he thinks it will go away when people see the finished product. "We're all very aware of that, and without giving away that I love... Yes, there's a very real consciousness and idea there," he said. "When all the noise came out it was like, this is exactly what we anticipated, and is very definitely spoken to in the movie... Super aware of what we were doing there, and it's addressed in the movie."
In the film, Gillan plays Ruby Roundhouse, the video game avatar of the shy Martha, one of four high schoolers who ends up stuck in the game after opening up a magical console while cleaning out the school's basement during detention. The rest of the characters include the nerdy Spencer, who ends up in the body of Dwayne Johnson; Fridge, a football player who ends up in the body of Kevin Hart; and Stephanie, a popular girl who ends up in the body of Jack Black.
Jumanji: Welcome to the Jungle is directed by Kasdan (Walk Hard: The Dewey Cox Story) based on a script from Scott Rosenberg (High Fidelity). Nick Jonas, Bobby Canavale, Ser'Darius Blain, Madison Iseman, Alex Wolff, and Morgan Turner also star. The movie is set for a Dec. 20, 2017 release.