Blue Crush Reboot In The Works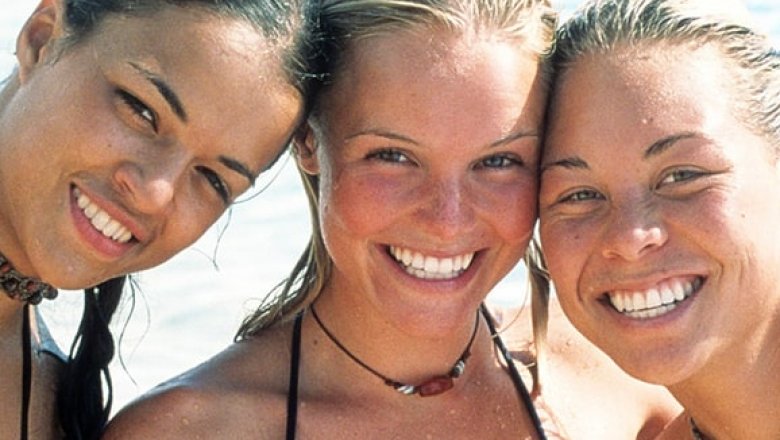 Universal Pictures
Surf's up at NBC, where a Blue Crush reboot is underway. 
As announced by The Hollywood Reporter, the network is teaming up with Imagine TV to create a refresh of the 2002 surf movie. 
The upcoming series is described as a drama that "tells the story of female empowerment and ambition in the world of Hawaii's North Shore," a similar focus seen in the first feature that spawned a direct-to-video follow-up. NBC's take on Blue Crush will follow a surfer who, in the wake of a tragic accident, attempts to revive her career and restore pride to a community faced with danger at the hands of commercialism and dangerous surf politics. Her story proves that even in the most idyllic of places, countless troubles can brew within the barrel of a wave. 
Hannah Schneider (Reign) will write and executive produce alongside Imagine's Brian Grazer and Francie Calfo. Jillian Kugler is attached to oversee for Imagine TV.
In 2002's Blue Crush, Kate Bosworth, Sanoe Lake, and Michelle Rodriguez starred as Anne Marie Chadwick, Lena Olin, and Eden, respectively. The film, written by Lizzy Weiss and John Stockwell, also featured appearances from real-life surfers like Keala Kennelly, Carol Anne Philips, Coco Ho, Rochelle Ballard, Layne Beachley, Megan Abubo, Brian Keaulana, Tom Carroll, Jamie O'Brien, Bruce Irons, and Makua Rothman. Made on a $25 million production budget, Blue Crush pulled in $51.8 million at the global box office. 
Here's a plot synopsis for the original Blue Crush film: "Nothing gets between Anne Marie and her board. Living in a beach shack with three roommates including her rebellious younger sister, she is up before dawn every morning to conquer the waves and count the days until the Pipe Masters surf competition. Having transplanted herself to Hawaii with no one's blessing but her own, Anne Marie finds all she needs in the adrenaline-charged surf scene... until pro quarterback Matt Tollman (Matthew Davis) comes along."
The Blue Crush reboot doesn't yet have a cast in place or a release date set, but it's expected that more film-related announcements will be made in the near future.