12 Best Movies Like The Lost City You Need To Watch Next
For many, the release of "The Lost City" heralded the welcome return of two film genres that seem to have fallen by the wayside as of late: the romantic comedy and the adventure film. Starring one of our most beloved romantic comedy heroines, the film combines the tropes of both genres to produce something that, if not especially original, is at least a wholly satisfying romp for the moviegoing public. Sandra Bullock plays Loretta Sage, a reclusive romance novelist who is forced to go on a press tour for her new book with her handsome but not especially bright cover model, Alan (Channing Tatum). When Loretta gets kidnapped by an unhinged billionaire who wants her to decipher a scroll leading to buried treasure, Alan takes it upon himself to rescue her, attempting to prove he can be just as heroic as his character in the books.
What follows is an outlandish (and romantic) adventure through the jungle as Loretta and Alan try to outrun the billionaire's henchmen, all the while learning more about what their hearts truly desire. (Hint: it's each other.) The film is buoyed by Bullock and Tatum's charming screen presence, and, for the most part, succeeds in using conventional rom-com tropes to deliver laughs in all the right places.
If you're a film lover, you're probably well aware that "The Lost City" is not the first film to set an adventurous lark in the jungle, or to follow two characters who fall in love while facing an endless amount of hijinks and obstacles. If "The Lost City" was totally your jam and you're looking for other films to give you that big-budget thrill, then we've got you covered. Keep reading to discover all the films you should add to your list next.
The Mummy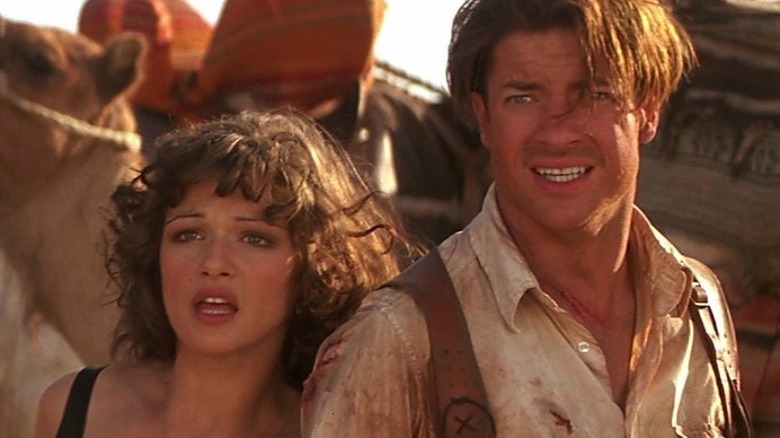 Universal Pictures
It's hard to argue against 1999's "The Mummy" being the pinnacle of goofy adventure films. Fraser plays Rick O'Connell, an American adventurer who discovers a map that leads to the City of the Dead. Jonathan Carnahan (John Hannah) steals the map from Rick, who shows it to his sister, Evelyn (Rachel Weisz), a librarian who studies ancient Egypt. Together, Rick, Jonathan, and Evelyn travel to Egypt to find the City of the Dead, only to awaken the spirit of a vengeful high priest named Imhotep (Arnold Vosloo).
"The Mummy" has everything a good adventure film should have: An intrepid, somewhat nutty hero who seems to always survive by the skin of his teeth, a beautiful and much smarter woman to accompany him, and a series of ancient artifacts that prove to be more dangerous than initially expected. The very best part of the film is Fraser's wonderful performance as Rick, a character who is utterly lovable despite his innate attraction to danger. Weisz is just as compelling as a brainy librarian and Rick's love interest, perfectly balancing out his zaniness with wit and logic. (And, as we see in the sequel, she's also pretty good with a sword, too.) An impeccable blend of action and romance "The Mummy" is sure to delight fans of Bullock and Tatum's ill-advised antics in "The Lost City."
Bringing Up Baby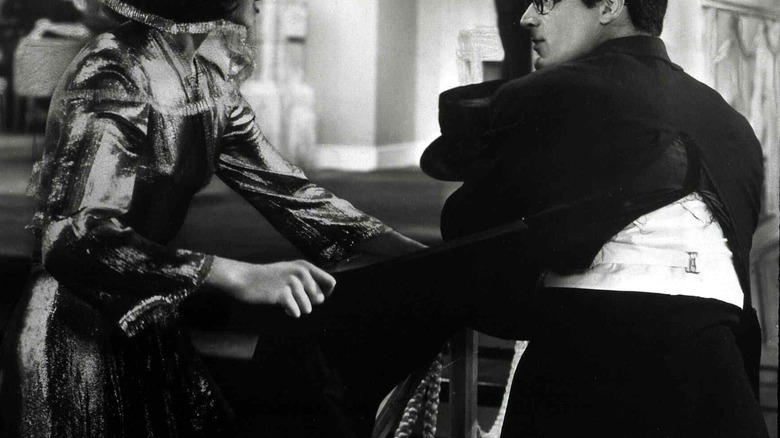 United Archives/Getty Images
In many ways, the American rom-com can be traced all the way back to the screwball comedy, a genre that originated in the 1930s. Screwball comedies are exemplified by witty, fast-moving dialogue and often depict an eccentric, ambitious woman and a bumbling man.
One of the most beloved screwball comedies is 1938's "Bringing Up Baby," which stars Hollywood icons Cary Grant and Katherine Hepburn. Grant plays David Huxley, a buttoned-up paleontologist aiming to make a good impression on a wealthy society woman, Mrs. Random (May Robson), who intends to donate money to his museum. Things begin to go awry when Huxley meets Mrs. Random's niece — an eccentric, risk-taking adventurer named Susan Vance (Katherine Hepburn), who quickly takes a liking to him. Shenanigan upon shenanigan ensues, and the two find themselves on the hunt for a missing dinosaur bone and in the care of a pet leopard named Baby.
Hepburn and Grant's zany antics are a perfect example of what makes the screwball comedy such a beloved form. In fact, it's hard to imagine a film like "The Lost City" –- with all of its hijinks and mischief -– even existing without films like "Bringing Up Baby." If you're after a little history lesson with your popcorn-popping, then it's time to add this classic to your list.
Romancing The Stone
There may be quite a few films that have things in common with "The Lost City," but none of them are quite as similar as 1984's "Romancing The Stone." The more cynical among us might even say that "The Lost City" is just a rip-off of "Romancing The Stone," but we're not here to judge.
The film stars Kathleen Turner as Joan Wilder, a successful but reclusive romance novelist living in New York City (sound familiar?) Joan is thrust into an adventure of her own when her sister is kidnapped by smugglers and taken to Colombia. On a mission to find her sister and deliver the treasure map her captors have demanded, Joan travels through the Colombian jungle, where she meets an exotic bird hunter named Jack T. Colton (Michael Douglas). Traversing through the rugged landscape, Joan and Jack decide to try and find the treasure themselves before delivering the map to the smugglers.
Just like Loretta in "The Lost City," Joan is a prolific romance writer who struggles to find love in her own life. While Michael Douglas' rugged, brash Jack is a far cry from Channing Tatum's bumbling Alan, Douglas and Turner have enough chemistry to power a small city. It's hard to deny that this Robert Zemeckis classic is anything but a good time, and it will almost certainly give you the same thrills that Bullock and Tatum deliver.
Fool's Gold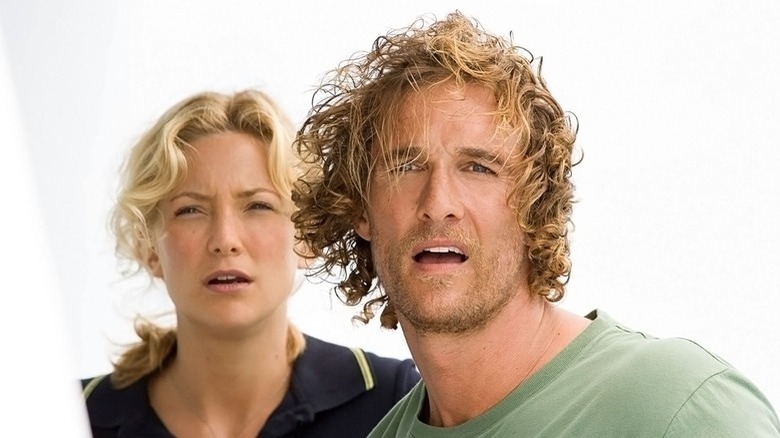 Warner Bros. Pictures
As it turns out, there have been quite a few films in Hollywood history that blend a treasure-hunting plot with a sprinkling of romance. One such film is 2008's "Fool's Gold," which stars Matthew McConaughey and Kate Hudson, two members of rom-com royalty. McConaughey plays Finn, a treasure hunter obsessed with finding the fabled Queen's Dowry. In his quest to find the treasure, Finn has ruined his marriage to his wife, Tess (Hudson), along with sinking his beloved boat. Nonetheless, Finn remains determined to find the treasure, and when he discovers an important clue, he convinces Tess, along with her billionaire boss, Nigel Honeycutt (Donald Sutherland), to come with him. Things become more complicated when Finn realizes he is not the only one looking for the treasure when a shadowy figure from his past also joins the search.
For some rom-com fans, the fact that "Fool's Gold" stars Matthew McConaughey and Kate Hudson is already enough reason to watch the film. To be sure, the film never quite rises above the sum of its parts, but it's certainly an entertaining enough way to spend a weeknight. If watching Matthew McConaughey obsessively search for treasure sounds like your thing, then you'll probably want to add this one to the docket.
The Lost City of Z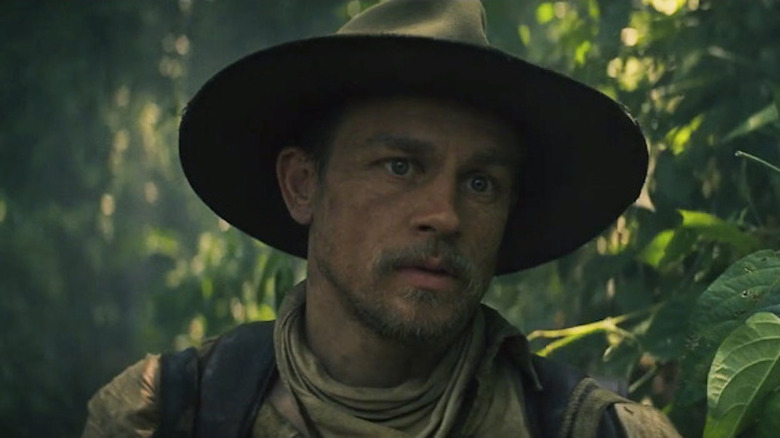 Amazon Studios
James Gray's 2016 film "The Lost City of Z" very much feels like a callback to the great adventure films of the 20th century. According to IndieWire critic David Ehrlich, who called the film "a beautifully old-fashioned adventure," this classical feel is one of its best qualities.
"The Lost City of Z" tells the real-life story of Percy Fawcett (Charlie Hunnam), a British explorer who disappeared while journeying in the Amazon. In the early 20th century, Percy travels to the Amazon and discovers evidence of this previously unknown civilization. His peers mock his discovery, but he is determined to prove his case, and is accompanied by his wife (Sienna Miller) and his son (Tom Holland) on his journey to the lost city.
One of the few contemporary adventure films that is really able to capture the energy and spectacle of earlier films in the genre, "The Lost City of Z" is a thrilling, moving, and beautifully shot exploration of, well, exploration. The surprisingly touching film is sure to pull at your heartstrings and also animate your sense of wonder, something fans of "The Lost City" might be especially well-suited for.
Jumanji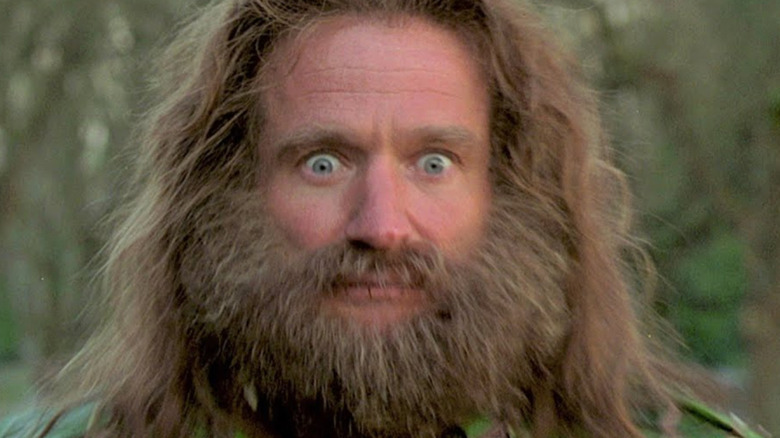 Sony Pictures Releasing
1995's "Jumanji" is one of those movies that has a magic that's hard to replicate (though Hollywood has certainly tried). Based on the children's book of the same name, the film follows a board game that comes to life. When siblings Peter (Bradley Pierce) and Judy (Kirsten Dunst) happen upon a board game called Jumanji in an abandoned mansion, they discover it's not just any old game. Every time they roll the dice, the game releases a host of dangerous creatures, like giant mosquitoes or a swarm of monkeys. One roll of the dice releases a man named Alan (Robin Williams), who has been trapped in the game for 30 years. The trio find Sarah (Bonnie Hunt), an old friend of Alan's who they need to complete the game.
The film's rather ridiculous premise is saved by some great performances, especially by the likes of Robin Williams and a young Kirsten Dunst, who shrieks in just about every scene. While the film was marketed towards children and their families, it's also surprisingly dark, as Alan is forced to encounter all that he has lost after 30 years of being stuck in a board game. Funny, sweet, and unexpectedly deep, "Jumanji" is the perfect follow-up to "The Lost City" if you're looking for something that's fun for the whole family.
It Happened One Night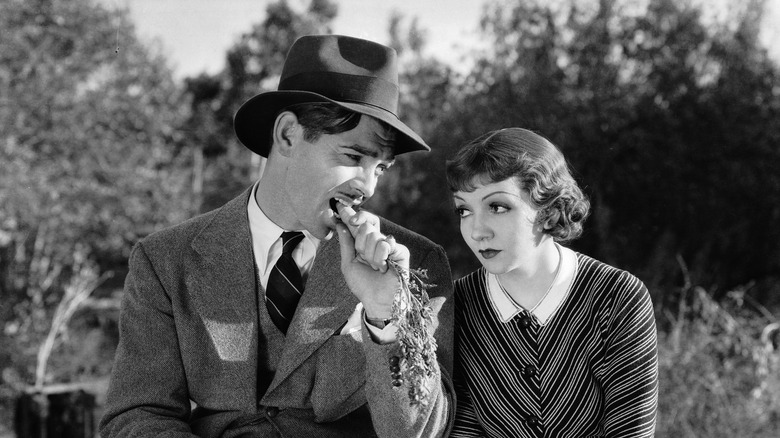 Columbia Pictures
One of the most acclaimed romantic comedies of all time, "It Happened One Night" is a stone-cold classic that still holds up almost a century later. One of only three films two win all five major awards at the Oscars, "It Happened One Night" is filled with all the best tropes and rom-com conventions, some of which contemporary audiences may recognize. Having been released just months before The Hays Code -– which censored American films by morality standards -– the film is also thrillingly salacious, something modern viewers might be surprised to discover.
The Frank Capra film follows Ellie Andrews (Claudette Colbert), a spoon-fed heiress who marries a devious man in order to spite her father. When Ellie's father (Walter Connolly) steals her away on his yacht, Ellie escapes, running into a hardboiled reporter named Peter Warne (Clark Gable). Peter makes Ellie a deal: he'll help her rejoin her husband if she gives him exclusive access for a story. Despite his cynicism about her lavish lifestyle, Peter finds himself falling for Ellie in the process.
With an incredibly witty script chock-full of campy one-liners, it's hard not to be charmed by "It Happened One Night." Colbert and Gable have electric chemistry, and Gable is so suave in the film –- he even reveals his bare chest at one point –- it's easy to understand why he was America's reigning heartthrob. While Channing Tatum may not have Gable's sophistication, Bullock certainly has the zaniness of a screwball star like Colbert, making this classic a perfect follow-up to their latest rom-com offering.
The Lady Eve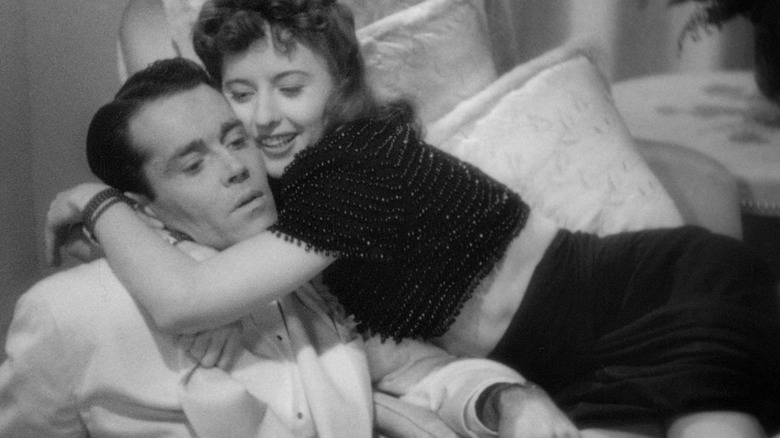 Paramount Pictures
Preston Sturges is often known as the king of screwball comedies, and after watching 1941's "The Lady Eve," it's easy to see why. Like "The Lost City," "The Lady Eve" takes place in an exotic locale, though the circumstances are quite different. Henry Fonda plays Charles Pike, a snake expert returning from an expedition in the Amazon. Charles -– who just happens to be heir to an enormous family fortune -– is spotted by con woman Jean Harrington (Barbara Stanwyck) and her father, "Colonel" Harrington (Charles Coburn), who plan to swindle his fortune. The first problem they encounter is that Charles is more interested in books and snakes than women, and the second is that Jean realizes she's starting to fall for her mark.
Like all the best screwball comedies, "The Lady Eve" is brimming with snappy writing and dynamic performances from its leads. Because it was released during the period when the Hays Code was actively enforced, the film is filled with clever allusions to the more R-rated affairs that films in this period couldn't explicitly depict. The result is an extremely clever exploration of romance and deceit that fans of contemporary rom-coms are bound to enjoy.
Kong: Skull Island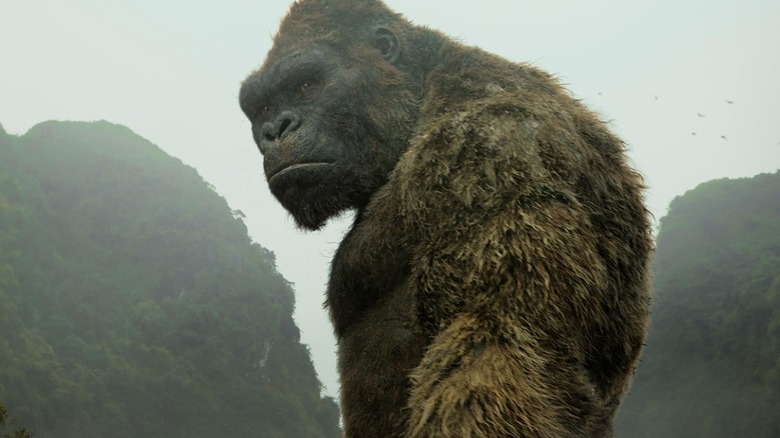 Warner Bros. Pictures
Though many contemporary discussions about blockbuster films today center around the movies of Marvel and DC, there's a strong argument to be made that some of the best blockbusters of today actually exist outside of those two universes. Observing the abiding success of monster movies, Legendary Pictures decided to take their own stab at a blockbuster franchise. Beginning with 2014's "Godzilla," the so-called MonsterVerse brings famous monsters like King Kong and Godzilla together in a shared universe, with thrilling results.
The film most relevant to the jungle milieu of "The Lost City" is the second film in the franchise, 2017's "Kong: Skull Island." Set in 1973, the film follows a group of scientists and soldiers who travel to Skull Island, a mysterious, uncharted island in the middle of the Pacific Ocean. While there they meet Kong, an enormous, prehistoric ape who is the last of his kind. The group also discovers a legion of other terrifying creatures, forcing them to fight for their lives in a world where they do not belong.
Though the film is really all about the powerlessness of humans in the face of the natural world, it does feature an all-star cast, including Samuel L. Jackson, Brie Larson, Tom Hiddleston, John C. Reilly, and J.K. Simmons. The special effects are undoubtedly impressive, but at its core it feels like a throwback to the monster movies of the 1950s and 1960s. If "The Lost City" didn't get your heart pumping as much as you would have liked, then add "King Kong: Skull" island to the queue.
The African Queen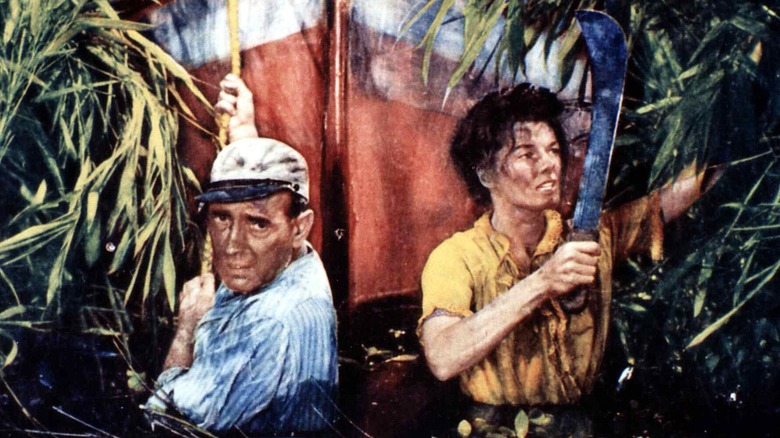 United Archives/Getty Images
Though Katherine Hepburn is most well-known for playing ambitious, iconoclast characters who forge their own paths, the characters she played in her later career tended to be much more austere. That is certainly the case in 1951's "The African Queen," in which Hepburn plays Rose, a missionary spinster whose brother is killed in WWI Africa. A coarse steamboat captain named Charlie (Humphrey Bogart) offers her a way out, but Rose isn't satisfied and convinces him to bomb a German gunboat instead. They take a treacherous trip down the river together, developing pesky romantic feelings along the way.
While the less then realistic riverboat imagery may be rather amusing to our modern eyes, it's hard to deny the chemistry between Hepburn and Bogart, who spend most of the film arguing with one another. Essentially a variation on a road trip movie, "The African Queen" strikes the perfect balance between hijinks and earnest feelings. If what you liked about "The Lost City" was the presence of a slowly thawing heart, then "The African Queen" might be your next favorite.
Lara Croft: Tomb Raider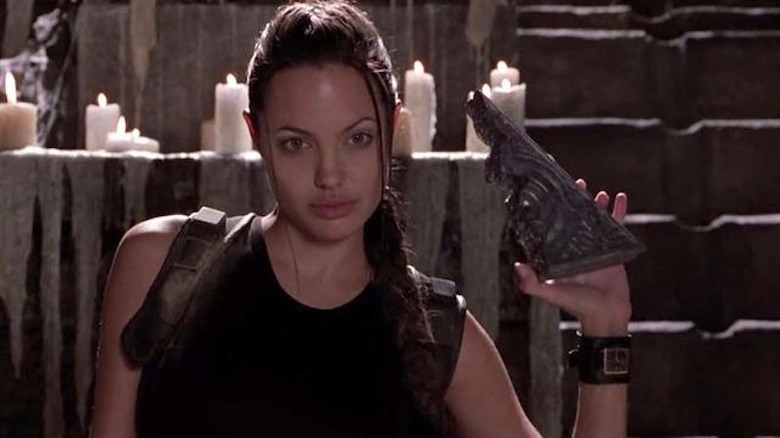 Paramount Pictures
When we say 'they just don't make them like that anymore' what we're really talking about is the 2001 Angelina Jolie film "Lara Croft: Tomb Raider." While it may lack any sense of cohesive logic or aesthetic precision, it is a deeply fun movie that is redeemed by the simple fact that Angelina Jolie looks extremely cool while riding horses and wielding guns.
Based on the famous video game character, Jolie plays Lara Croft, the wealthy daughter of a famed British archeologist. An accomplished adventurer herself, Lara embarks on a journey to recover an ancient artifact that is said to be able to control time. Lara is not alone in her search, and must go up against the mysterious Illuminati, who want to use the artifact to control the world.
While the plot is largely nonsensical, Jolie totally sells the larger-than-life character, even if her British accent doesn't quite pass muster. As in "The Lost City," it's not really the discovery of the artifacts that matters, what's more important is the friends made along the way (or in Lara's case, the number of enemies defeated). It may be a thoroughly goofy popcorn flick, but we'd argue that it's culturally significant enough to warrant a re-watch.
Raiders of the Lost Ark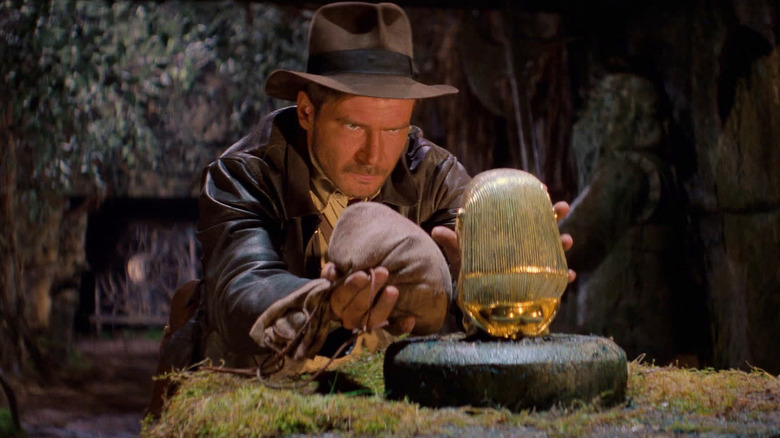 Paramount Pictures
It just wouldn't be right to finish this list without including what is arguably the most popular adventure film of all time: 1981's "Raiders of the Lost Ark." The world's first introduction to iconic adventurer Indiana Jones (Harrison Ford), it's difficult to argue that the first film isn't best of the bunch (though "The Last Crusade" certainly gives it a run for its money). A full-blown epic, the film follows Indiana as he goes up against the entire Nazi party in order to recover a hidden religious relic before they do. Indy must contend with constant threats on his life, never-ending snakes, and an ex-girlfriend (Karen Allen) who wants nothing to do with him.
It's clear when watching it why "Raiders of the Lost Ark" is such an influential film. It's exquisitely shot, full of perfectly-timed action, a lovably gruff hero, and plenty of spicy chemistry. It's certainly the most successful on the romance front within the franchise, as love interest Marion Ravenwood is a good match for Indy while also being a dynamic, swashbuckling hero all on her own. If we're being honest, the goofy action of "The Lost City" doesn't really hold up when you compare it to a classic like "Raiders of the Lost Ark," but not every film can be a Spielberg banger. If you're ready to re-discover the classics, then Indiana Jones is just the man for the job.