The Parks And Recreation Actor Who Always Steals The Show According To Fans
The beloved NBC mockumentary "Parks and Recreation," which premiered in 2009, follows residents of the small town of Pawnee, Indiana, many of whom work alongside Deputy Director Leslie Knope (Amy Poehler) at the Parks and Recreation Department. As "Parks and Recreation" is an ensemble series, it may be surprising that each main character is multidimensional and exhibits significant growth throughout the show's seven seasons. For instance, in Season 1, Ron Swanson (Nick Offerman) is a curmudgeonly Libertarian who seemingly hates his position as the head of the Pawnee Parks and Recreation Department. However, he eventually shows his softer side and leans into his role as a mentor to members of his team.
Viewers of the NBC sitcom can also attest that the show's actors expertly portrayed their zany but well-meaning characters. However, according to a Reddit thread on the "Parks and Recreation" subreddit, some fans believe that one particular cast member always stole the show.
Fans appreciate Chris Pratt's acting abilities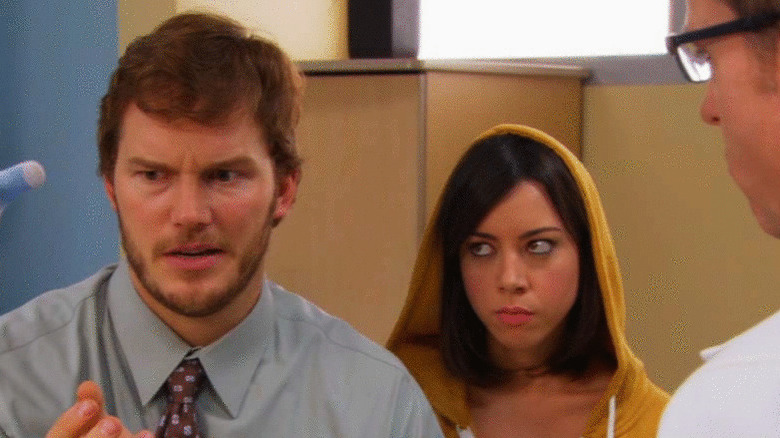 NBC
Redditor u/HurricaneBetsy took to the "Park and Recreation" subreddit to share that they believed Chris Pratt, who played children's performer Andy Dwyer, was a complete scene-stealer. "Chris Pratt steals the show," read the Reddit post. Several commenters flocked to the post's comments section to share that they also appreciated Pratt's comedic abilities, with u/InternationalStreet9 writing, "He really does!! He's the best! Especially as Burt Macklin! Chris's comedic timing and delivery is just perfection!" Another Redditor, u/elismith10, agreed with the sentiment, commenting, "Andy is the GOAT!" Meanwhile, another commenter asserted that Pratt "really carried the show on his back."
A few Reddit users also noted that Andy was conceived as relatively insignificant during the preliminary stages of the show. While speaking to NJ.com in 2009, "Parks and Recreation" co-creator Michael Schur revealed that the writers had envisioned the Mouse Rat frontman being in about six episodes. However, Pratt's skill as an actor convinced the show's producers otherwise. "Chris was so great we had to make him full-time – and we decided that right after we cast him. It seemed like a waste to have him around for such a short time," stated Schur.
During an October 2021 episode of the "Parks and Recollection" podcast, co-hosted by "Parks and Recreation" writer and producer Alan Yang and actor Rob Lowe, Pratt suggested around the 20th minute that he is to thank for Andy's lovability as the character was not fully fleshed out during the show's first season. "I was allowed to do literally whatever I want, so it was like, 'tailor this role to fit yourself because it's kind of a non-role,'" said the "Jurassic World" star.