The Unexpected Friendship That Fans Of Parks And Recreation Absolutely Love
Like many successful sitcoms, one of the greatest strengths of "Parks and Recreation" is the show's willingness to partner up two characters who have nothing in common and turn them into unlikely friends. Consider Ron Swanson's (Nick Offerman) almost fatherly relationship with Leslie Knope (Amy Poehler), for example. Outside of their shared love of breakfast food, the two strongly disagree on just about everything. And yet throughout the series, they become incredibly close to each other, to the point where Ron even walks Leslie down the aisle at their wedding.
The series is constantly pairing up characters who wildly contradict one another, such as strident Ben Wyatt (Adam Scott) and wannabe-maverick Tom Haverford (Aziz Ansari) or perpetually bullied Jerry Gergich (Jim O'Heir) and confident Donna Meagle (Retta). Even fan-favorite April Ludgate (Aubrey Plaza) and Andy Dwyer (Chris Pratt), perhaps the most popular couple in the entire series, are polar opposites of one another: Andy is a goofy, fun-loving manchild, and April is a sardonic misanthrope. 
Indeed, there is one specific unlikely pairing that many fans came to love during Season 5 — particularly because the two characters in question have nothing in common whatsoever.
Fans can't help but love Ben and April's unlikely friendship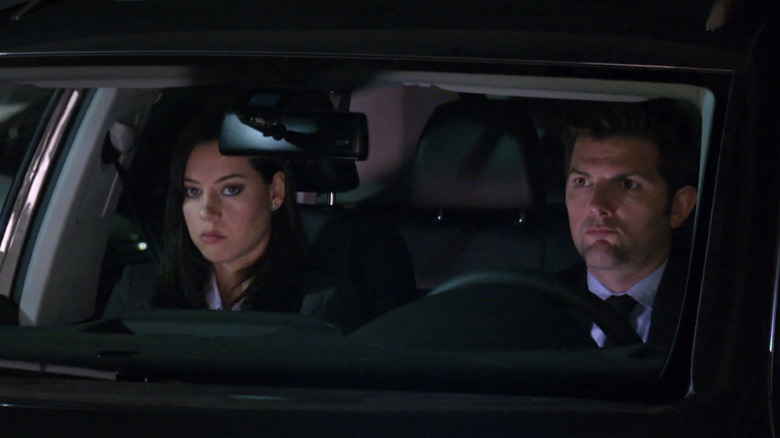 NBC
During the fifth season of "Parks and Recreation," Ben Wyatt takes on a job in D.C. and brings April Ludgate along to work as his intern. Despite the fact that the two were roommates at one point, the pair had never exactly been close. This is explicitly clear early on in the season, as April's sarcasm often undermines Ben's authority as her boss, leading to a few arguments between them. Yet, as the season goes on, the two form a mutual respect for one another and actually become quite close, much to the endearment of the show's fans. 
"I love how close Ben and April got in DC," wrote u/Flipmaster_102520 on Reddit, adding a short clip wherein the pair are laughing together in their D.C. office. "This was a really smart arc for them," agreed u/MRmandato. "Ben and April literally have nothing in common not even opposites per se. Giving them a chance to Bond was really important."
Indeed, while most of the unlikely pairings in the series are almost complete opposites of over another, Ben and April simply have nothing in common at all. They don't even really contrast each other, instead just seeming like two completely different people who you'd never expect to become close — which is perhaps why seeing them grow into good friends is so heartwarming.
While it is just one of many unlikely pairings within "Parks and Recreation," the unique friendship between Ben and April clearly has a special place in the hearts of many longtime fans.