The Price Is Right Model You Didn't Realize Had A Role On CSI: Miami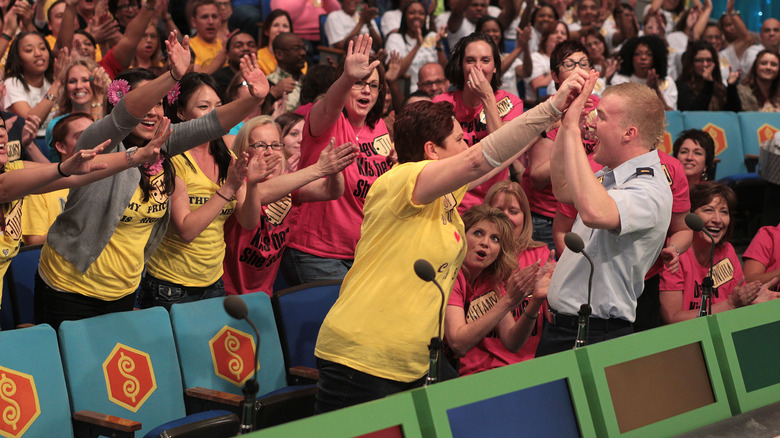 Frederick M. Brown/Getty Images
Aspiring actors who make it in the entertainment industry often come at it from all angles. They take acting classes. They hone their skills in indie films and community theater. They side hustle at restaurants. And if they've got the right look, they model — which is really like acting without all the dialogue.
Modeling jobs run the gamut from print ads for junk mail to more prestigious positions, and "Price is Right" models have perhaps one of the most sought-after gigs in the business. Who wouldn't love a job that involves professional attention to hair and makeup, opportunities to appear on-camera as a prime example of glamour and beauty, and a six-figure salary (per TV OverMind) to boot?
But that's not to say it's the end goal for every model lucky enough to land there. At least one of the show's permanent models has built an acting career alongside her modeling career. She even had a role on a popular police procedural, "CSI: Miami."
Amber Lancaster's modeling career took a turn
"CSI: Miami" first aired as a site-specific "CSI" spinoff in 2002. Back then, Amber Lancaster was years out from her future role on the show. But she was well on her way to getting there. Crowned Miss Washington Teen USA in 1998, she went on to entertain as a Sea Gal for the Seattle Seahawks. Cheering for fans, scoring prime views of pro football games, and appearing at charity events, parades, and on TV and radio kept her busy for five seasons. After that, she decided to pursue her career in Los Angeles (via MotorTrend).
"My plan was to move out here for work and I started modeling because it was the easiest thing to get gigs for," she said. "But since there's a shelf life for models, I started to do some acting."
After modeling for brands including Hawaiian Tropic, Pirelli Tire, Miller Lite, Makita, Budweiser, and Wet Seal, Lancaster landed her job on "The Price is Right" in 2008. Two years later, her resume (per IMDb) included roles on "Days of Our Lives" in 2007, "Entourage" in 2009, and "Community" in 2010. She also had a recurring role on MTV's "The Hard Times of RJ Berger." As protagonist RJ's (Paul Iocono) dream girl Jenny Swanson, Lancaster appeared in 24 episodes through 2011. Her career was clearly in full swing — and she hadn't even played her part on "CSI: Miami" yet. By then, the series was in its 9th season, still starring David Caruso as Horatio Caine and Emily Procter as Calleigh Duquesne.
Surely, she has no regrets
Lancaster played her role on "CSI: Miami" during the show's 10th and final season. Episode 5, "Killer Regrets," centers on Horatio's efforts to unravel the mystery surrounding a Mexican sheriff and a notorious assassin who's made her his target. Lancaster was excited to have a part in the episode, tweeting on October 23, 2011, "My 'CSI Miami' episode airs tonight if you wanna check me out as new lab tech transfer 'Jamie Mitchell.'"
In April 2012, the 19th episode aired and "CSI: Miami" ended without offering fans the satisfying closure of a series finale. And while Lancaster didn't reprise her role on the show before it's cancellation, she did go on to more acting roles. In 2012, she appeared in the short "Just My Luck," in 2014 she was in the TV movie "Leading L.A.," and in 2016 she played a model in the TV series "Scorpion." Having made a name for herself over the years through both modeling and acting, Lancaster has also appeared onscreen as herself. She was a subject of the TV documentary "Cover Story" in 2018, a guest on "The Price is Right 50th Anniversary Special" in 2021, and a guest on "The Kendall K. & Friends Show," in 2022.
Through it all, she's remained a favorite on "The Price is Right" during the gameshow's daytime episodes as well as on "The Price is Right at Night," which began airing during primetime in 2019. Recently applauded for revealing her age on social media, Lancaster continues building her brand on TikTok and Instagram among fans who would surely love to see her in more onscreen roles soon.