This Ms. Marvel Episode 3 Scene Made Some Fans Physically Sick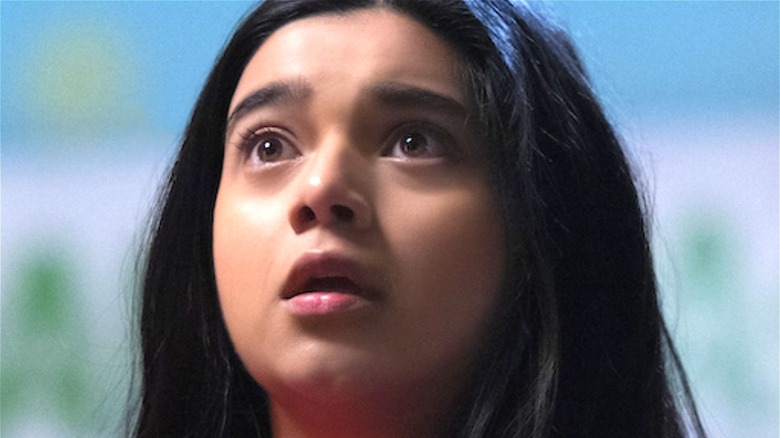 Chuck Zlotnick/Marvel Studios/Disney+
"Ms. Marvel" manages to accomplish several things extremely well. It's a compelling superhero story told from the perspective of a coming-of-age tale. It introduces yet another superhero into the grander machinations of the Marvel Cinematic Universe, which will come in handy, seeing how Kamala Khan (Iman Vellani) is set to make her leap to the big screen in "The Marvels." And it provides much-needed representation for the Muslim community, who so far haven't gotten much time in the limelight in major superhero properties. 
The show has done an exceptional job of highlighting many aspects of Muslim faith and tradition. Even Kamala herself partakes in these traditions, and it's a rare sight to see a superhero engage with their religion. For those in real life within the community, it allows them to be seen, and for those who aren't, it serves as a great educational tool for showcasing many aspects of Islam. One such tradition was notably brought to light in the show's third episode, and its disregard resulted in a hostile reaction from some who watched it.
Some fans felt ill when Damage Control didn't take off their shoes in the mosque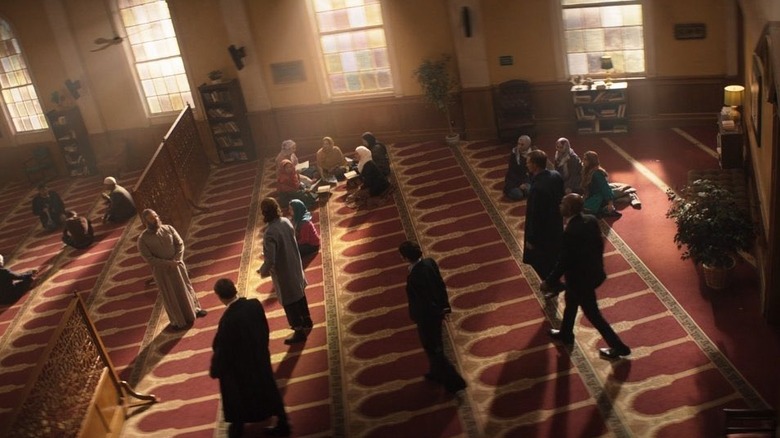 Disney+
"Ms. Marvel" Episode 2 contains a sequence where we see Kamala and Nakia (Yasmeen Fletcher) take off their shoes before entering a mosque while having a discussion about a mysterious shoe thief. It's a great scene to show how committed the characters are to their faith, and it sets the stage for a noteworthy moment in Episode 3. 
On the hunt for "Night Light," Damage Control arrives at Kamala's mosque to ask some questions. Of course, they don't get very far without a signed warrant, so they leave empty-handed. As they depart, Sheikh Abdullah (Laith Nakli) tells them to please remove their shoes next time. It's a great bit that helps flesh out this world and informs viewers of common practices held within mosques, but for some fans, they noticed the disregard held by the Damage Control agents immediately. 
Twitter user @flipflopzara posted a screenshot of the scene along with the caption, "The agents walking in the mosque in their shoes made me physically sick." Several others were in agreement, with @roxyintheknight writing, "yess omg [I] was panicking the whole scene." 
Others thought the action was a clever way to foreshadow a bit of characterization, with @AnharMacKarim writing, "Gotta hand it to Ms. Marvel for this— Shoes on the mosque carpet was a [very] effective way to convey that we shouldn't like these people." @SajBread felt similarly: "The ms marvel scene where the cop lady walks in the mosque w her shoes on... literally made me wanna punch her." Those who know about the practice obviously caught on quickly, but for others, it may come as a bit of a surprise to hear how vehemently people are opposed to walking around inside a mosque with footwear. 
Why do people remove their shoes before entering a mosque?
Disney+
Plenty of cultures insist upon removing one's shoes before entering a place of worship or even someone's abode. There is a practical aspect to this tradition. Namely, it prevents someone from tracking dirt and mud into a house. But it's particularly important in Muslim culture, especially within the context of entering a holy place.
According to scripture, Allah commanded Moses to take off his sandals before approaching Him at the burning bush because he was on holy ground. The idea behind this is that Moses would depart from his uncleanness whenever in the presence of holiness. This idea continues to this day, with people not wanting to track debris into a mosque before praying. However, it's also a sign of kindness and respect to one's fellow worshippers. People kneel on the carpet to pray, and they deserve to kneel in a place where they don't have to worry about dirtying their knees.
As a result, the fact the Damage Control agents did not remove their shoes speaks volumes about them. It displays their ignorance of Muslim culture and how they would've never surmised that they should take off their footwear before entering a holy place. And it's clear the show wanted to emphasize this point, given the fact there's a shot of an agent's shoes as they're walking toward Sheikh Abdullah. The agents display the utmost disregard for those who frequent the mosque, providing a nice touch to show how "Ms. Marvel" is unlike anything Marvel Studios has done before. And it certainly makes it understandable to those who are aware of the practice why they would react in such a manner.