Deadpool's Brianna Hildebrand Heads To Prom In New Tragedy Girls Clip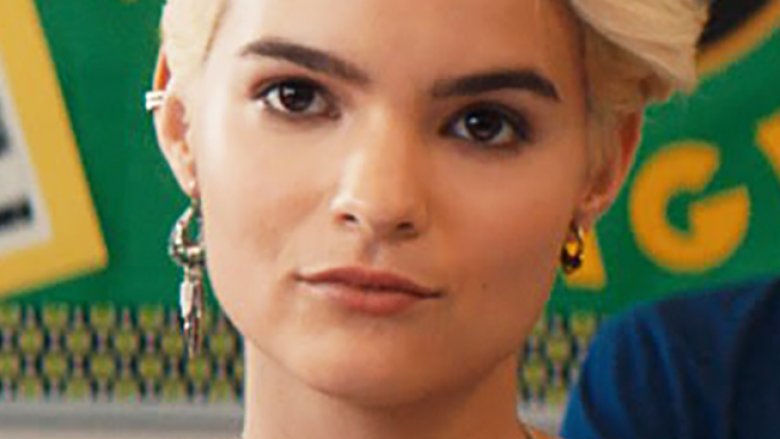 This prom season is going to be killer... literally.
In the upcoming horror-comedy flick Tragedy Girls, Deadpool actress Brianna Hildebrand stars as Sadie Cunningham alongside X-Men: Apocalypse standout Alexandra Shipp as McKayla Hooper. The best-friend pair embark on a mission to up their social media credibility and clout as amateur crime reporters, hunting down and alter capturing an unhinged local serial killer. Things take a dark turn when the titular teenage psychopaths decide that the best way to continue increasing their online standing is to start killing people themselves. 
Of course, the film also features some stock high school milestones, like attending the end-of-year prom. Entertainment Weekly released an exclusive clip showing Sadie's dance date Jordan Welch (played by The Hunger Games franchise actor Jack Quaid) trying to pick her up and take her to the festivities. For a sold thirty seconds, Sadie's father stares blankly at Jordan, who rambles on about how Mr. Cunningham might remember his relationship with his daughter. Sadie finally emerges, wearing a pastel blue dress and a few black clips in her hair, and the two snap a cute picture together. So cute even that you might forget Jordan is taking an actual murderer to prom. 
The video is currently only available on EW's site, but we'll update this post as it becomes available through other channels. 
Before Hildebrand portrayed Negasonic Teenage Warhead opposite Ryan Reynolds' Merc with a Mouth in Deadpool, she had a role in the web series Annie Undocumented. She'll next appear in the second season of the Fox horror series The Exorcist. On the flip side, Shipp has popped up in the Lifetime movie Aaliyah: The Princess of R&B, as Ice Cube's wife in Straight Outta Compton, and as Storm in X-Men: Apocalypse. She is set to reprise her superhero role in X-Men: Dark Phoenix. 
Directed by Tyler MacIntyre, who works from a script written by MacIntyre and Chris Lee Hill that is based on an original screenplay by Justin Olson, Tragedy Girls also stars Austin Abrams, Kevin Durand, Josh Hutcherson, Timothy V. Murphy, Nicky Whelan, Kerry Rhodes, Craig Robinson, and Marycarmen Lopez. The film is due out in theaters on October 20.