Watch Jeff Goldblum Ponder The Meaning Of Thor: Ragnarok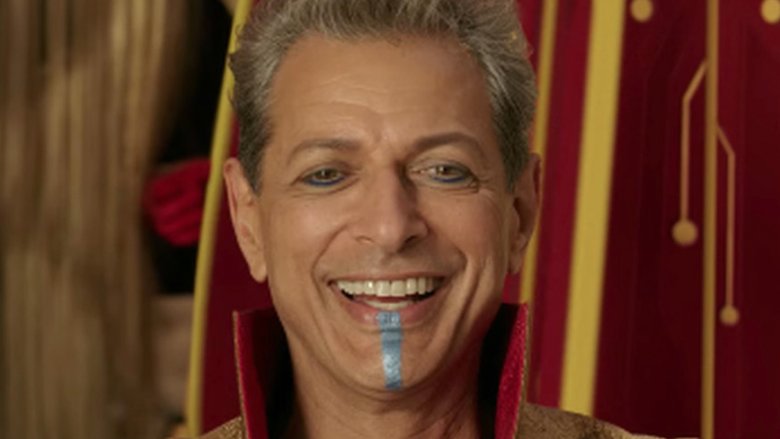 It's official: Jeff Goldblum makes everything better.
To promote the upcoming release of Thor: Ragnarok, Marvel asked fans on Twitter to guess the meaning of the word "Ragnarok." Chris Hemsworth, Mark Ruffalo, and director Taika Waititi then read some of the answers, which range from mildly realistic to completely absurd. However, it's Jeff Goldblum who wins by being inherently Jeff Goldblum. 
In the movie, Goldblum plays the Grandmaster, an alien who runs cruel gladiatorial games for the pleasure of his people. But in these clips, he demonstrates that he's perhaps even more interesting of a character in real life. Instead of just reading the fan responses, he adds his own commentary and goes on myriad tangents, doing an impression of Marlon Brando and an electric guitar in the process. 
For the record, "Ragnarok" is actually the Norse version of the apocalypse. 
You can check out the other videos on the Marvel Studios Twitter, but we collected Goldblum's contributions below. Thor: Ragnarok will thunder into theaters on Nov. 3.
#WhatsRagnarok "Its a subgenre of rock n roll from the city of Ragna somewhere in Eastern Europe – v loud and abrasive music" @furiouscinema pic.twitter.com/kjbDjSU2yU

— Marvel Studios (@MarvelStudios) October 10, 2017
#WhatsRagnarok ⚡️ "A tale of rags and rocks? Raggedy rocks? Rocking rags? Lmao" – @mountainives pic.twitter.com/dO7aMx18PR

— Marvel Studios (@MarvelStudios) October 10, 2017
#WhatsRagnarok "Its when the Chaos Theory marks its Independence Day and goes on the Fly before it encounters a Big Chill" – @KWilsonHunte pic.twitter.com/HuUFo2otcU

— Marvel Studios (@MarvelStudios) October 10, 2017
#WhatsRagnarok ⚡️ "The power Cate Blanchett has over you when she looks you in the eyes." – @JoyPuder pic.twitter.com/c66PVPrerz

— Marvel Studios (@MarvelStudios) October 10, 2017
#whatsragnarok "my head cold 🤧🤧🤧" – @CherryB1ade pic.twitter.com/MC7Hz84M5m

— Marvel Studios (@MarvelStudios) October 10, 2017
#WhatsRagnarok "Ragnarok is the rare breed of Rhino that is located in Botswana. 🦏" – @CarlC86 pic.twitter.com/0SqJDvJJD2

— Marvel Studios (@MarvelStudios) October 10, 2017
#WhatsRagnarok ⚡️"I think it's like the Asgardian version of a Time Out." – @annrudbeck pic.twitter.com/FnSsBHgt8C

— Marvel Studios (@MarvelStudios) October 10, 2017
#WhatsRagnarok "What'll happen to the fangirls getting to see Loki onscreen again for the first time since The Dark World." @AbigailMarie_99 pic.twitter.com/vUG6JG7oRJ

— Marvel Studios (@MarvelStudios) October 10, 2017
#WhatsRagnarok ⚡️ "Ragnarok is the new version of Fraggle Rock. Thor v. Muppets." – @yahwehthegod pic.twitter.com/L50s7B77wd

— Marvel Studios (@MarvelStudios) October 10, 2017