Who Plays Beru Lars On Obi-Wan Kenobi?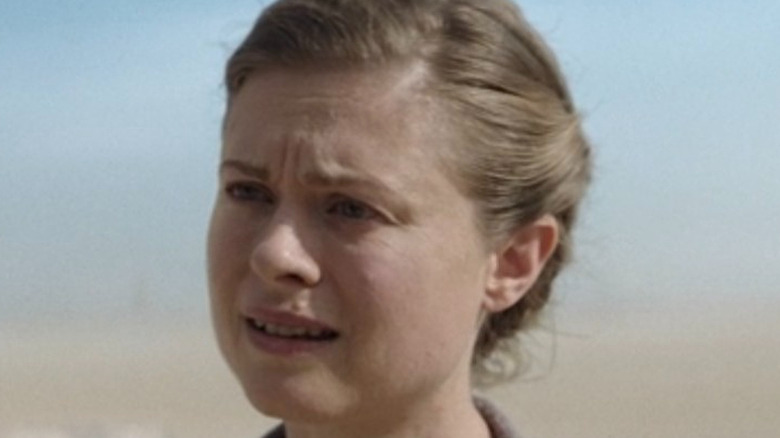 Lucasfilm/Disney+
One of the biggest questions left unanswered before the release of the Disney+ series "Obi-Wan Kenobi" was whether or not Obi-Wan (Ewan McGregor) had ever defended Luke (Grant Feely) while on Tatooine. Fans knew that, between the events of "Star Wars: Episode III – Revenge of the Sith" and "Star Wars: Episode IV – A New Hope," Obi-Wan was stationed on the planet to safeguard the child in the event that anyone from the Empire might learn of his existence. Many fans theorized that "Obi-Wan Kenobi" would primarily focus on the aging Jedi's attempts to keep Luke safely hidden.
To our surprise, it turns out it is not Luke who Obi-Wan protects in the spin-off series' plot, but young Leia (Vivien Lyra Blair). Until "Obi-Wan Kenobi" Part V, it seemed like Luke might never even factor into the story at all. Unfortunately, Reva (Moses Ingram) discovers Luke's existence after her duel with Darth Vader (voiced by James Earl Jones thanks to the magic of Respeecher tech) in Part V and travels to Tatooine in Part VI to kill the poor boy. With Obi-Wan busy battling Vader himself on a distant planet, it falls to humble farmer Owen Lars (Joel Edgerton) and his wife Beru to face off against the vicious Sith Inquisitor and protect Luke.
Although Owen plays a major role in the very first episode of "Obi-Wan Kenobi," Beru is, up to this point, an unseen character. That changes dramatically in the finale once she steps up to defend her adoptive son. Here's who plays Beru Lars in "Obi-Wan Kenobi."
Bonnie Piesse reprises her role from the prequel trilogy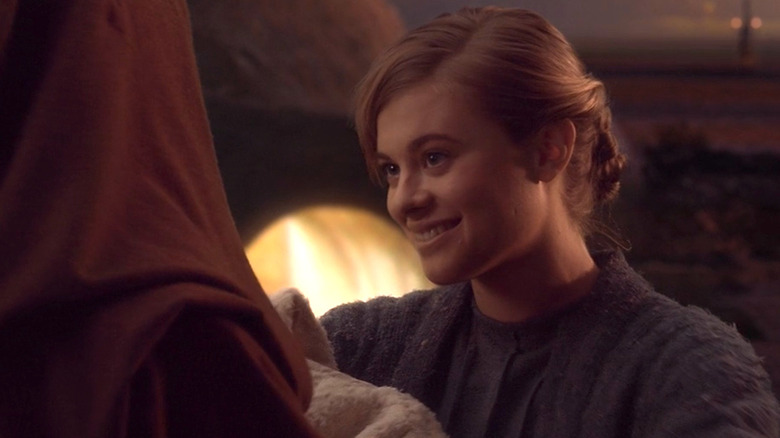 Lucasfilm/20th Century Studios
Australian actor Bonnie Piesse, who portrays Beru Lars in "Star Wars: Episode II – Attack of the Clones" and "Star Wars: Episode III – Revenge of the Sith" (via IMDb), reprises her role as the Tatooine moisture farmer on "Obi-Wan Kenobi" — just like Joel Edgerton, who played Owen Lars throughout the prequel trilogy. As she recently recalled in an interview with Movieweb, Piesse began her acting career on the Australian children's program "High Flyers." She played a trapeze artist on the television show, which centers around the lives of people working for a children's circus. By the time she was in her mid-teens, she was cast as Beru in the "Star Wars" prequel trilogy.
After the prequels, Piesse joined the organization NXIVM. As documented in the HBO series "The Vow," she was one of a small group of former members who played a role in exposing the groups and bringing its leaders to justice (via The New York Times). Although she managed to escape the organization, she admitted that returning to "Star Wars" has been difficult in the wake of all she's been through. "I was still recovering from PTSD," she told Elle back in May. "So I did a lot to heal and nourish myself and strengthen myself to make sure that I had all the energy I needed to be on set."
The Beru we meet on "Obi-Wan Kenobi" Part IV allows Piesse to explore new territory as the beloved character. Indeed, she is almost an action star, scolding her husband for attempting to flee and pulling out a pair of blasters to defend her home. There is no doubt that Piesse brings an incredible amount of energy and life to the climactic series finale.