The Rick And Morty Star You Likely Missed In Chicago PD
Oftentimes, when an actor is most well-known for their work in voice acting, say, in an animated television series or a video game franchise, it might be very difficult to recognize them in live-action, even when that actor is a part of a show as prolific as "Rick and Morty." Indeed, despite the fact that Justin Roiland voices both of the titular characters in the critically acclaimed sci-fi sitcom, we doubt you'd be able to recognize him in a live-action performance unless he began using the voice of one of his very familiar characters.
The fact of the matter is that many of the recurring voice actors within the series radically change their voice while performing, and as such, it can be extremely difficult to recognize them whenever they take on a live-action role. That said, there are a few cast members (such as Chris Parnell) who hardly change their voice at all while performing, and as such it's normally very easy to identify them in cameos or guest appearances regardless of the medium. Indeed, one of the most essential cast members on "Rick and Morty" actually had a pretty significant role in two episodes of "Chicago P.D." — one which we doubt most fans were able to pick up on, despite the fact that she sounds nearly identical to her character the whole time she's on-screen.
Spencer Grammer had a minor role in Season 2 of Chicago P.D.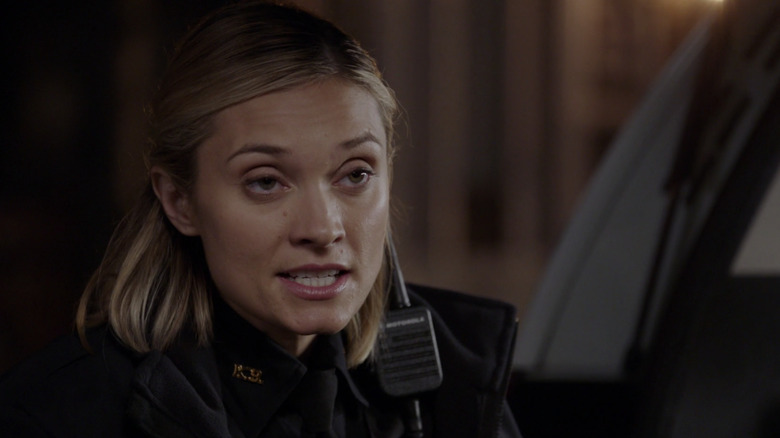 NBC
Although actor Spencer Grammer is undoubtedly most well known for her performance as Summer Smith on "Rick and Morty," she also appeared in two episodes of "Chicago P.D." as Jenn Cassidy: a K-9 officer who also happens to be the ex-girlfriend of Sean Roman (Brian Geraghty). She first appears in the Season 2 episode "Called in Dead," in which she and Sean get into a vicious argument that accidentally causes Kim Burgess (Marina Squerciati) to suffer a near-fatal gunshot wound. The two reconcile slightly in the following episode, "Shouldn't Have Been Alone," although since Jenn is engaged, nothing ever comes from this re-connection, and she does not appear in the series afterward.
Although Grammer's voice sounds nearly identical to the voice of Summer, one of the reasons why her role on "Chicago P.D." might have flown under the radar is the fact that she appears so briefly, and (with the exception of her argument with Sean) hardly says more than two sentences in any scene that she's in. That said, once you recognize her, it's hard to hear anyone but Summer Smith anytime she's on-screen. In any case, perhaps some fans will look at those episodes a bit differently upon their next rewatch, knowing that Sean's ex-girlfriend also happens to be one of the most iconic characters in all of "Rick and Morty."