Klaus' Powers In The Umbrella Academy Season 3 Should Be Familiar To Misfits Fans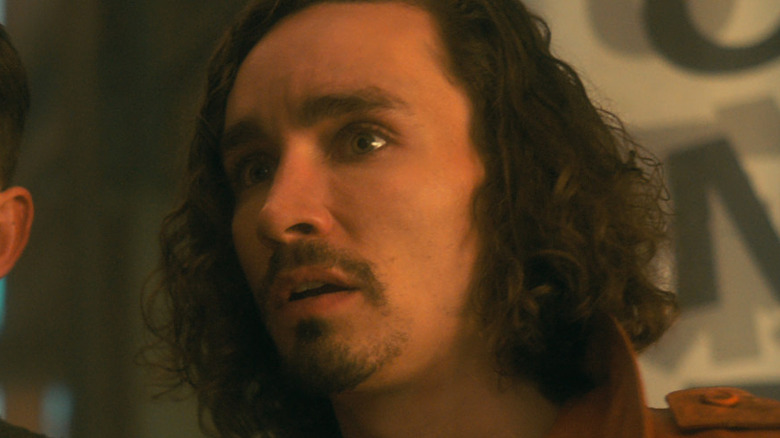 Netflix
*Contains spoilers for The Umbrella Academy Season 3*
If there is a spotlight to be stolen, Klaus Hargreeves (Robert Sheehan) is guaranteed to be the thief to do so. Since the beginning of "The Umbrella Academy," the free spirit who can speak to dead ones has been as much of a liability as he is the winning ingredient to the chaotic formula that is the Hargreeves siblings. Through both thick and thin, we've loved him for his aloof attitude and perspective, always laced with an edge of pandemonium. From a Vietnam vet to a cult leader, Klaus has undoubtedly led one of the family's wildest lives — which is saying something, when one of them has been to the moon. 
However, the biggest surprise of this season was the discovery that it's a life that seemingly can't end.
Klaus, after spending his life haunted by the dead, including his late brother Ben (which led to one of last season's most emotional moments, courtesy of Justin H. Min), discovered an extra feature to his gift that he'd not yet tapped in to. After a nice a game of catch with his father from another time, Klaus was hit (repeatedly) with the realization that it would take more than a harpoon to bring him down or anything else. To quote the eloquent anarchist, he's immortal. This might come as a shock for fans of the show, but for some Sheehan fans, it's almost a revisited revelation — a super-powered plot twist that they've seen him handle years before, when he was living his life as a misfit.
Robert Sheehan handles his powers in The Umbrella Academy just like he did in Misfits
Long before he was waving "hello" and "goodbye'" with his unmistakable hand tattoos in "The Umbrella Academy," Robert Sheehan was causing trouble in the UK cult-favorite sci-fi show "Misfits," which is available to stream on Hulu. The series introduced talents like Iwan Rheon (Ramsay Bolton from "Game of Thrones"), and Antonia Thomas (Dr. Claire Browne in "The Good Doctor"), with a narrative that followed a group of teenagers working in community service. A dull day turns wild when a freak storm blesses all of the young offenders with special powers ... with Sheehan's Nathan seemingly being an exception. That is, until in the first season finale, where he wakes up in his coffin following a horrific death only to discover that his power is immortality.
It's an exciting twist of televised fate that Sheehan is now taking another character through a similar story arc in "The Umbrella Academy." For fans of both shows, there's no denying that Klaus has always carried the same jovial and wild energy as Sheehan's other undying alias, but it's fun to see him handle a major development from a slightly different angle. Also, Klaus speaking with the dead, unlike Nathan, has allowed Sheehan to add an extra emotional layer to a soul tormented by others that he seemingly can't join permanently. For that, we say, more power to him.