Christian Bale's Inspiration For His Thor: Love And Thunder Villain Makes Perfect Sense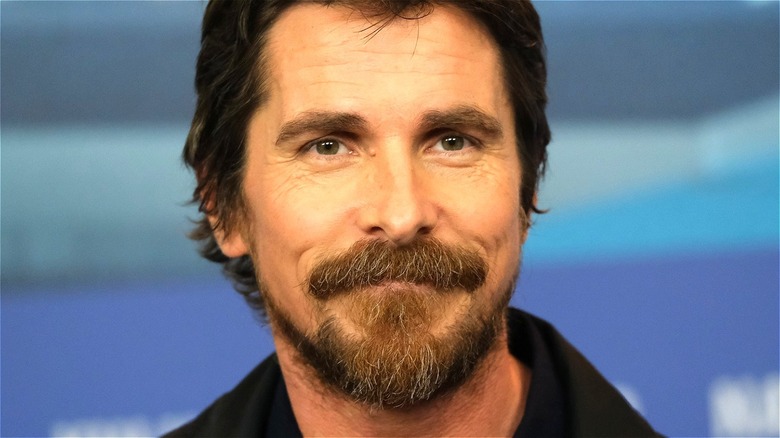 Sean Gallup/Getty
Christian Bale is known for intense physical transformations. He lost a massive amount of weight for his role as Trevor Reznik in Brad Anderson's "The Machinist," rocked a massive amount of muscle in Christopher Nolan's "Dark Knight" Trilogy, and is generally the kind of guy who can portray roles that range from Dick Cheney to the ultra-jacked Patrick Bateman. 
In the upcoming "Thor: Love and Thunder," the actor becomes the latest A-lister to enter the Marvel Cinematic Universe. Bale's Gorr the God Butcher is a dangerous and visually distinctive villain whose black-and-white design doesn't require any too difficult transformations from Bale — aside from long hours in the makeup chair and the obligatory superhero movie fitness regime, that is. However, he still had to find ways to depict the ruthless alien character, and for this, the actor sought inspiration from outside sources. One particular inspiration Bale cites for his "Thor: Love and Thunder" villain can sound pretty surprising, but at the end of the day, it makes perfect sense. 
Bale found inspiration from an Aphex Twin video
In an interview with Total Film, Bale listed some of his influences for Gorr, and revealed that the one he found himself returning to was a music video by British electronic musician Aphex Twin.
"There's obviously sort of a Nosferatu slight attitude," Bale spoke about Gorr, before moving toward more surprising revelations. "Taika [Waititi] and I wanted to do a whole dance, which we didn't get to do, but we had all this sort of Kate Bush stuff that we worked at. But I think he just realised he was never going to be allowed to put that in the final film. I would say that the most common thing I was staring at was the Aphex Twin video of 'Come To Daddy'. But I don't even know if that will be in the final film."
The "Come to Daddy" video features people being terrorized by various entities bearing the artist's visage, and includes a memorable scene of a tall, pale man who doesn't look terribly unlike the MCU Gorr. The clip is a pretty inspired and out-of-the-box choice for preparing to play a major MCU villain, but its combination of whimsy and terror also makes perfect sense when you remember that this is very specifically a Taika Waititi MCU movie. 
It's arguably even wilder that Bale apparently also drew inspiration from the moves of legendary singer-songwriter Kate Bush, who's also studied dance and mime. It's unfortunate that the planned, Bush-inspired dance moment didn't make it in the movie. Bush is already having a cultural moment after "Stranger Things" prominently used her "Running Up that Hill." Who knows what would've happened if Gorr the God Butcher was allowed to let loose with a "Wuthering Heights"-style interpretive dance?