The Real Reason Dennis Is Missing From These It's Always Sunny Episodes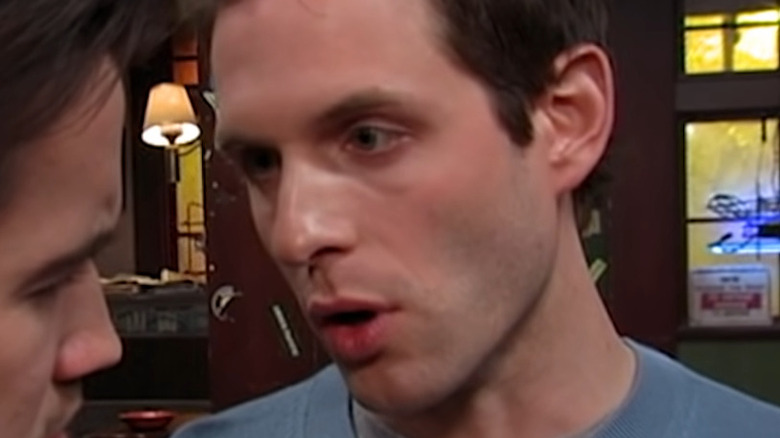 FX/YouTube
Dennis has always been somewhat of a de facto leader for the Gang on "It's Always Sunny in Philadelphia." He has no problem taking charge, which often leads him and his friends into more dangerous misadventures. However, for a little while there, the Gang was without its golden god as Dennis (Glenn Howerton) went missing for a few episodes throughout Season 13. 
It shouldn't have come as a surprise to anyone. For the Season 12 finale, Dennis discovers he has a child with a woman he met during a North Dakota layover. For his final moment, he departs the bar to head back to that state to care for his kid. But his friends are there to remind him that they'll still be there to tend bar in his absence. For Season 13, Episode 1, the Gang attempts to pick up the pieces of Dennis' leaving, and Dennis stops by at the very end of the episode to make it clear he'll still be around from time to time. 
The rest of Season 13 sees Dennis coming and going as he pleases, being absent from the episodes "The Gang Beats Boggs: Ladies' Reboot," "Charlie's Home Alone," "The Gang Wins the Big Game," and "Mac Finds His Pride." So what was the real reason behind Howerton not appearing in a few episodes for Season 13?
Glenn Howerton split his time between Always Sunny and A.P. Bio
Much like his character split his time between Philadelphia and North Dakota for Season 13 of "It's Always Sunny," Howerton was similarly busy around that same timeframe. After spending over a decade on "It's Always Sunny," Howerton branched out to star in the NBC sitcom "A.P. Bio." In an interview with The Daily Beast, the actor spoke about his desire to try new things, "I think after being on the show for 12 years, it's not a knock on 'Sunny,' you just want to branch out and do other things. I saw other people going off and doing other things. The thing that makes it difficult, for me, is that I struggle to identify as a comedy actor because I never set out to be a comedy actor."
Of course, Howerton's absence didn't last for long. Picking back up with Season 14, Howerton's appeared in every episode since, and seeing how "A.P. Bio" was unfortunately canceled, he should have plenty of time for the gig moving forward. 
That should mean there will be plenty more Dennis and his antics in the years to come. In December 2020, it was announced that "Always Sunny" would be renewed up to Season 18, so there will at least be three more seasons on the way, and hopefully, everyone will be back every step of the way.