The Bruce Lee Homage You Might Have Missed In The Umbrella Academy Season 3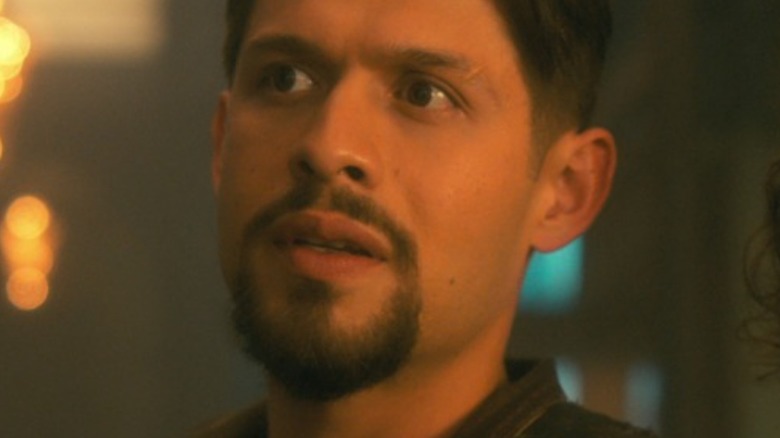 Netflix
Contains spoilers for "The Umbrella Academy" Season 3
Besides a killer soundtrack and time travel plot lines that leave fans in knots, one thing that "The Umbrella Academy" has always prided itself on is impressive fight scenes. The third season is no exception, as characters in this weird and wonderful series dirty up their knuckles, tentacles, or edges (hey, Christopher) and always manage to look good doing so. With that said, there's one character who avoided throwing hands, which is impressive given that he's fully capable of walking on them — and that is the Hargreeves trainer, guardian, and best-dressed ape, Pogo (Adam Godley).
With only a brief history of scratching (to which Aiden Gallagher's Five can attest), Pogo hasn't been much of a fighter up to this point, but times they are a-changin' in Season 3. Besides looking mean as hell as a member of the Mothers of Agony — with a top-knot and eyebrow piercings — the new Pogo dons some equally cool threads while training the Sparrows. 
In a decked-out dojo that saw Ben (Justin H. Min) take on Jayme (Cazzie David), our favorite ape at the academy is seen looking stoic and suitably dressed in an outfit that makes Pogo ten times cooler than he already is. It's an ensemble that also harkens back to one of the most recognizable moments from the career of martial arts hero Bruce Lee.
Pogo's flashback comes with a nod to Bruce Lee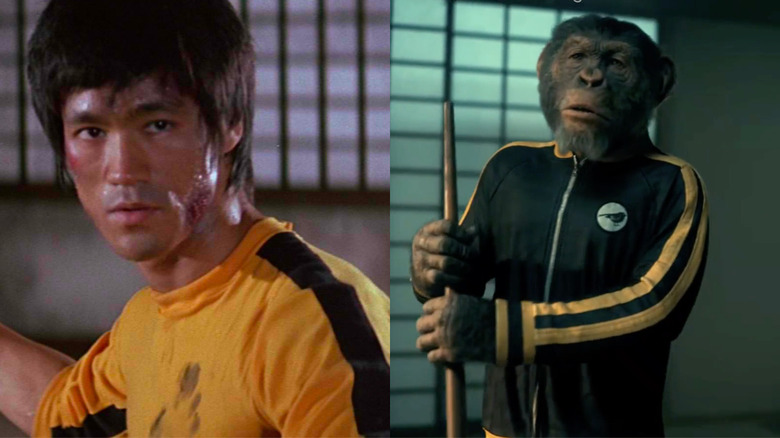 Media Asia Group/Netflix
When it comes to martial arts movie stars, few have looked as good and thrown fists as fast as the legendary Bruce Lee. The action star responsible for bringing Hong Kong action to Western cinema tragically died in 1973 but left behind an incredible legacy with films like "The Big Boss," his magnum opus "Enter the Dragon," and the posthumous release, "Game of Death." The latter released in 1978, debuted what is perhaps Lee's most iconic outfit, a yellow tracksuit with black stripes that has woven it's way into movie history in more ways than one. In 2003, the same getup was given a loving homage in "Kill Bill Vol. 1" from director Quentin Tarantino, when Uma Thurman wore a variation of it to play the sword-swinging Bride. 
Originally, Lee — according to his daughter Shannon (via Medium) — saw this tracksuit as a statement in what he hoped to convey with his art and unique skill. "My father chose the yellow-and-black tracksuit that he wore in 'Game of Death' to represent his idea of 'the style of no style,' she explained. "He wanted to wear something that didn't signal that he was affiliated with any particular style — he was instead representing himself and his own style."
Now we know what you're thinking. Lee's eye-catching outfit was black on yellow, while Pogo's is reversed. Well, here is where — like our astute and well-trained simian — we're about to drop some knowledge that's part trivia, and part theoretical study in alternate timelines.
Pogo's tracksuit is a dimensional deep-cut to Game of Death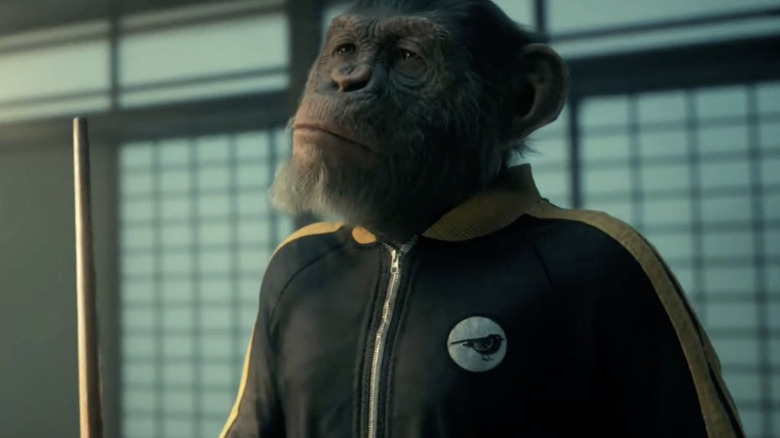 Netflix
While that bright yellow tracksuit is synonymous with Bruce Lee, it turns out that we could have seen him in an entirely different one that was more in line with Pogo's attire. 
According to "Game of Death" producer Andres Morgan, who spoke to the South China Morning Post in 2015, there were two choices in outfits that Lee had his steely-eyed glare on: the one we know and love, as well as another with the colors in reverse. The final decision was settled thanks to a planned showdown involving Lee's last foe, played by Kareem Abdul-Jabbar, who kicked him in the chest, showing a visible footprint on his outfit. Lee settled on the yellow outfit as evidence of the attack would be far more noticeable on this way than the black one, which would look much more like the one worn by Pogo.
While it's not a dead-on accurate nod to the martial arts hero, the iconography in this flashback can't help but conjure images of Lee in his classic movies, while still leaning into themes that "The Umbrella Academy" has established. This season focuses on different choices made and the fallout from them, whether they be picking an alternate group of specially-gifted children, or an alternative wardrobe choice. Pogo certainly made a great one here. Our only hope it makes a comeback in Season 4 — because as history proves, an outfit like that tracksuit never goes out of style.